Thanks MamayuLand for the news.
News and pictures taken from natalie.
Choutokkyuu challenge cheerleading in their first starring movie "SIDELINE"! Picture from the filming is published to the public.
Choutokkyuu's fist starring movie "SIDELINE" revealed its first summary and photo.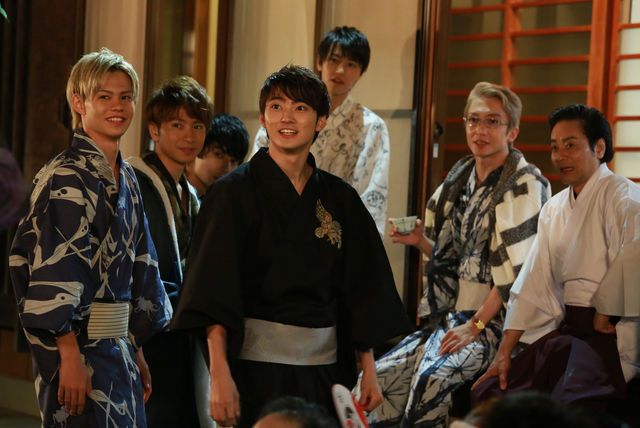 This story is about 7 youths who are childhood friends that have been scattered through out life, coming together for 1 girl to create a miracle through cheerleading. These 7 youths came from the same neighborhood association. Son of of shinto priest, Daigo played by Yuusuke. Daigo's cousin, Kensho played by Kouichi. A child care worker that's freeloading at the shrine, Hyuga played by Ryouga. Kai played an engineering college student that came back from studying abroad in American, Uchu. Takuya played Shinya, the son of a florist. Yuuki played Kisho, son of the greengrocer. Takashi is Hiromi, the son of the shopping mall owner.
In the recent interview, these 7 each talked about their thoughts on this work. When asked about their thought on the "first starring" work, Kouichi answered, "I am in charge of the back vocal in the group, so it felt like 'I'm able to become 'main' through this!'" Before becoming a member of Choutokkyuum, Takuya, who has experience with acting, revealed, "Since becoming a member of Choutokkyuu, I had a small dream of acting together with the 7 members no matter what kind of form it is. So for this dream not only to come true, but included all 7 of us, I'm deeply moved." His face is full of smile.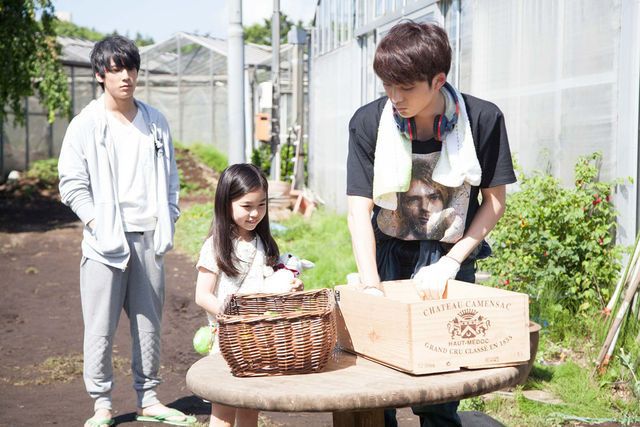 For the members that is challenging acting the first time all felt that it's a hardship worth doing. "My role is a cool guy that doesn't talk much, so it was difficult discovering the motive for me to be on screen. But even so, there were things that make it fun." Kai commented. Once again, Yuuki, who received severe teaching on his acting on the first day of filming, shyly revealed, "Even though there were so much to learn, I was able to have fun by the time the crank up come. It makes me want to know more about acting." He laughed. Takashi said "Because I was nervous, I was anxious about become in character for my role, but after trying, I was able to feel empathy for my character, and acting became fun."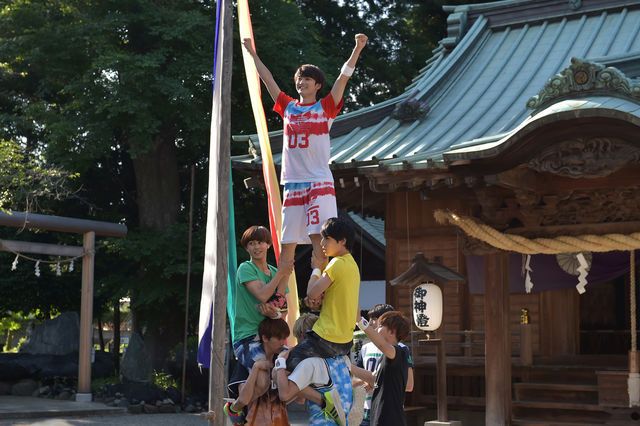 The climax of the story is the cheerleading performance by these 7. The performance that normally required 3 months of practice to master, they were able to complete it in 10 days of harsh training. "Challenging something new and able to achieved it, that happiness is amazing." Kouchi reminiscent.  The greatest technique/stunts is standing at the topmost, that "top" position is carried by Takuya and Yuuki. Takuya said, "Since it's so fun to be at the top, it can't be helped! The ones that have to carry us have to use a lot of muscle strength, so every time I felt sorry, but… I was able to see a scenery that I wasn't able to see up until now." Yuuki also continued, "No matter how long it was, I also thought about the burden I'm putting on the base (the positions that raised the top)."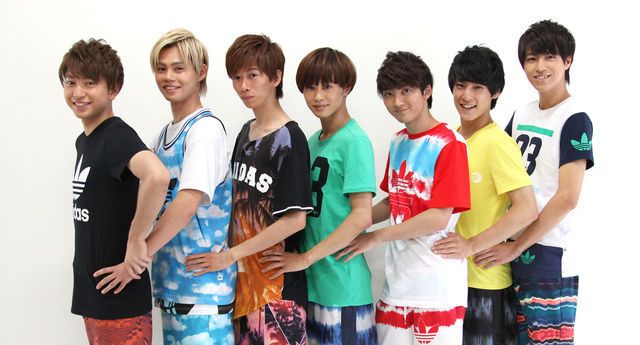 When the reporter asked "How many points would you give yourself on your acting?", "99 points! I don't think I should be satisfied, and I believe there will be more in the future!" Yuusuke exclaimed powerfully. "Because we are normally giving our everything like an idiot, to seriously challenge the severe acting world, there's anxiousness, but… After trying it out, we discovered various fun things, we were able to enjoy working on it!" Ryouga said while showing his confidence. Summing up for the audience, the MC asked "What will you do if there's another acting offer after this?", 7 of them unanimously replied, "We'll definitely do it! There's no reason to reject it!".
With Choutokkyuu as the lead, other casts for this work included Makoto Tsubasa, Yamazaki Ginnojou, Asami Reina, Tategata Hirokazu, Chad Mullane, Iwasaki Miku, and Fukuda Mayuko. Makoto played Yuuki's Kisho's mother. Tategata played Takashi's Hiromi's father. Also, the date of the movie release is already decided. The movie will be open in theaters across the nation from October 31.
Choutokkyuu members from left to right: Kouichi, Kai, Ryouga, Takuya, Yuuki, Yuusuke, and Takashi.
More picture can be seen on the movie's twitter.
Theme song will be sung by Choutokkyuu, titled "HOPE STEP JUMP".
Fukuda Mayuko is labeled as literally "friend cameo" (友情出演). Since I didn't know what's the differences between cameo/guest star and "friend cameo", I ended up looking it up. So in short, it was said that guest star has a guarantee to their appearance fee. On the other hand, "friend cameo" is a cameo in the film that's due to the request of either the director or the lead actor/actress to their friend. The appearance fee is not fixed, and at times, also depending on people, it may be free of charged. My next thought was that who was the one that invited her to appear in this movie? Because of all the cast and the director, I can't find a connection between them… However, I found it pretty interesting… I'm glad Mayuko has friends still that's looking out for her because her agency is not doing a thing for her. *cough* Sorry, I'll leave my own personal opinion to my own person journal.
------------
- Character's names were hard to translate. I got totally different names from Asian Wiki. But ended up using Asian Wiki's names instead…
- Choutokkyuu, also known as Bullet Train, is a 7 members group consisting of 5 main dancers and 2 back vocals. The back vocals are literally standing in the back at all time, where as most of the limelight was put on the dancers. It's managed by Stardust Promotion, the same company that managed Momoiro Clover Z.
- Surprisingly, half of the members are Mayuko's age (1994).
- I spent last night checking out their MV. Their music isn't to my age group so I can't say I would listen to them on a regular basis. Some songs are catchy, some are cringe, however, their MV are pretty funny and silly. They reminded me of sentai to be honest. Do watch if you have a chance.
- Long time haven't update. I've been working too hard, because I'm poor. So on my day off, I literally just lie there and zone out. I'm working and planning for my goal of going to Japan in August 2016 (nothing to do with fandom or Mayuko, it has just been my goal since I was a child). I'd said it. My first time mentioning it anywhere, not even my parents know.
- See you next time there's anything news.
☆