Taken from BS Nippon TV.

Koike Teppei – Endou Kenichi – "Sabu to Ichi Torimono Hikae" (Sabu and Ichi Detective's Memoirs)
From BS Nippon Corporation, BS Nippon TV 15 years special project "Sabu to Ichi Torimono Hikae" has safely finished its crank up.
Starring as the hired detective, Sabu, is Koike Teppei, and his partner, "the master of the cane-sword – Ichi" is played by Endou Kenichi.
Other casts included Uchiyama Rina, Naitou Takashi, and Fukuda Mayuko.
Furthermore, playing the lead in the former "Choushirou Edo Nikko" is Satomi Koutarou, who will come back in this period drama after roughly 22 years.
"Sabu to Ichi Torimono Hikae" is an original work by Ishinomori Shoutarou.
It began serialized in 1966 in Shounen Sunday as "Nawa to Ishi Torimono Hikae".
Afterward, the title was changed to "Sabu to Ichi Torimono Hikae". It won the 13th (in 1967) Shougakukan Manga Award.
The script is by Terada Toshio, who created "Teppan" (NHK in 2010),  Hissatsu Shigotonin series (TVAsahi), "Doctor X" (TV Asahi 2013), and others popular works.
With a strange event happening in Edo, a hired detective, Sabu, and the Anma masseur and master of the cane-sword – Ichi, they will work together to find the truth to a difficult case. A story that give resolution of human nature.
Please look forward to their activities.
The drama SP will be broadcast on Dec 19, 2015 from 7:00pm to 8:54pm on BS NipponTV.
---------------
- The manga synopsis said Ichi is a blind master swordsman, but they didn't say anything about being blind in the article. However in the picture, it is obvious that he's blind.
- Mayuko collaborate with Endo Kenichi again after (one of my personal favorite) "Kiri no Hi".
- Mayuko's name is 4th on the list, so I hope it means she will be having a lot of scenes. I guess she'll end up to be either the victim, the victim's family, the assailant, or the key keeper… ( ̄~ ̄;) I guess that's pretty much all the possible roles in a mystery detective story.
----------------
On to Sideline news, but not really…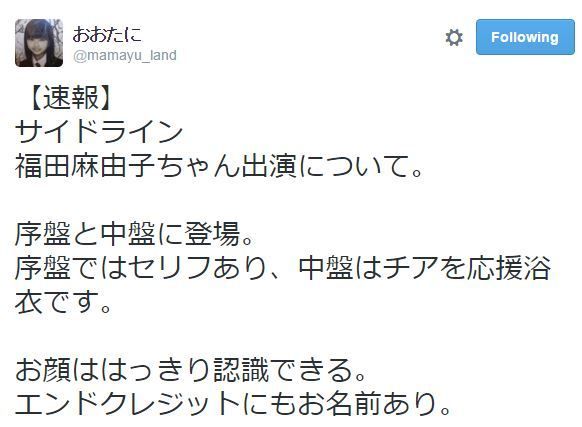 According to Ootani-san, Mayuko has 2 scenes in the movie, on at the beginning and one in the middle.
For the beginning scene, she has line(s), where as in the middle, she is supporting the cheer team in her yukata.
Of course, the ending credits included her name.
☆