There's so many that I don't know where to start. The problem is that most of them pretty much wrote about the same thing.
Translation from Cinema Topics Online because it give the most information. Picture from eiga.com, since I do think they have the best pictures.
Other Sources: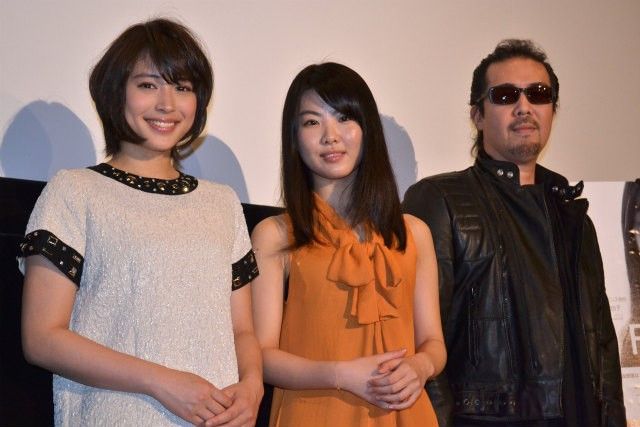 Cinema Topics Online: "FLARE" First Day Stage Greetings, Fukuda Mayuko and Hirose Alice talk about the difficulties of working on the Japan France collaboration!
This time, debuted in the movie "Kamikaze Girls" and appeared in movies such as "Heaven's Door", "Sakura, Futatabi no Kanako", and television drama "Byakuyako" is actress Fukuda Mayuko. Turning 20 years old, she's stepping up from her goal to challenge a "new adult state of mind" as the sole lead for the Japan France collaboration film "FLARE", which is open to the public on April 26 (Sat). Joining her on the stage is Hirose Alice-san, who's active in the movie "Silver Spoon", and director Otsuka Yukichi.
With a full house, each one talked about their thoughts on this film.
"FLARE" First Day Stage Greetings Report
◆ Date: April 26 (Sat)
◆ Location: Cinemart Roppongi
◆ Appearances: Fukuda Mayuko, Hirose Alice, Director Otsuka Yukichi
[Event details]
Comments
■ Fukuda Mayuko-san (playing Mitsui Flare)
I received the script during the winter when I was 18 years old, and I thought to myself, this is a film that I can only do right at this moment.
Because Flare is a person who doesn't show her emotions on the surface, (acting with her) facial expressions and from her point of view was difficult.
If there's a request for a collaboration work again after this, I want to try it. At the filming location for this film, English, French, and Japanese languages were used so it was really hard. Even when we don't understand each other, but because we are working together in this 1 work that miraculously, our intentions was able to be understood. It's an experience that make your heart races, so I definitely want to experience it again.
Though the people that appeared are shameful and not really good people, but because each and everyone of  them are earnestly living their life, so with humors there are parts that you can sympathize with them. I think it's interesting.
■ Hirose Alice-san (Aigawa Saki)
Even at the filming location, Fukuda-san and I have a relationship like that of "Flare" and "Saki", so we talked in a harsh tone toward each other. I appeared in director Otsuka's last film, and I told him that I want to play a girl who's destructive, and I was given Saki this time. You will be able to see a different and new Hirose Alice that have never seen before for this film.
From the onset, Saki is a girl that's become closer with Flare, and different from me, she's someone who's has a great desire, so that part was difficult to perform.
I definitely want to try collaborating work again. The languages and cultures are different, it's a different feeling of tension than Japan (film), so my heart was racing. I want to experience it once again.
For this movie, there's not one person who's upright and honest. But I hope the audience will be able to see the figure of every characters living for the moment.  
Also, please looks forward to the real sounds that was used for the fight scenes.
■ Director Otsuka
Even though Fukuda-san's role is serious, but there's a scene that she showed her original smile with just one cut, and that's a high light. Since Hirose-san was insufficient (not enough of her?) in the previous film, that for this time, she was wild from the rehearsal, putting her all in the quarrel scene. Normally, sounds are added after the movie is done filming, but this time, live sound was used. (laughs)
It has been approximately 1 and a half year since the filming finished. Though there has been various problems while the movie was worked on, in order for the audience to be able to see this, everyone joined forces to make this. Please enjoy watching it to the end.
---------------
From Mamayu-Land:
Mayuko started by saying that she's very happy to see the film she did a year ago was finally able to reach everyone.
When asked what's the most difficult?
Mayuko said (Hirose Alice's) Saki is motion, while Flare is stillness. The facial expressions while acting, for example, unable to divert her gaze, or unable to laugh was difficult.
Director Otsuka talked about the scene when Mayuko showed her original smile. He said it was when she was in charge (?) of the pug, and Mayuko giggled.
☆