Thanks to Mamayu Land BBS for the information.
With the release date for FLARE coming soon, Cinem@rt theater posted the story for FLARE.
Synopsis: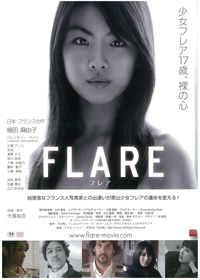 A meeting in the middle of Tokyo between Jan, a middle age French photographer who is living his life carelessly, and Flare, a 17 years old runaway girl with a complicate family background. Charmed by Jan's works, a budding of love soon developed in Flare. While attracted to the wild life of Jan, she holds onto a complicated feelings. With this swaying conflicts inside of her, it painted a vivid picture of growing up in this Japan – France collaboration work of a painful love story.
After failing his second marriage, unknown French cameraman Jan Ozon (40) transferred his work to Tokyo while buried himself in debts and alcohol. Finally, with his last investor, Johnny Walker, giving up on him, Jan decides to commit suicide by swallowing sleeping pills. But he stops on the way to sell off his camera at the pawn shop and using that money to buy alcohol at a convenient store. Sitting in front of the convenient store he drops by, he meets a runaway girl, Mitsui Flare (17). Taking an great interest in using Flare as a subject, using this reason, he takes a picture of her. Days later, Flare comes to Jan's studio to get the picture. This picture gives her a deep impression. That night, while Jan once again comes to the convenient store to buy alcohol, Flare is sitting in front of the store alone. For her livelihood, Flare was forced into child pornography sham by her parents from when she was a child. With a complicated background and nowhere to go, Jan welcomes Flare into his studio. Flare begins Jan's eke out (living while stretching his food) lifestyle, working free of charge as his assistant. Gradually she develops an admiration for Jan and his works. One day, Jan beats up a debtor that comes to collect his debt. In order to support Jan, Flare hides him and starts doing school girl prostitution to earn money. However, Jan continues to have relationships with the models that came to his studio. Because of this, 17 years old Flare develops a strong competitiveness toward the adult models. In order for Jan to see her as the only woman in his life, her inner and outward appearance changes drastically, but……
This is actress Fukuda Mayuko first appearance in this Japan – France collaboration move + challenge in new emotional state that gives a body blowing performance!
Cast – Staff
Director & Script writter: Otsuka Yukichi
Cast: Fukuda Mayuko, Hirose Alice, Hyunri, Tanimura Mitsuki, Katou Masaya, Yamaguchi Sayaka
-----------------
- Byakuyako childhood with Pandora 3 mix, but this is the first role for enjo kousai. Another dark role for Mayuko.
☆