EastAsia.fr wrote a review about FLARE (in French).
I'm just directly copy and paste it from google translate (with minor changes).
Critical Preview - Yuki Otsuka's Flare: Touching drifting characters in search their own marks
Posted March 18, 2014 by Yannik Vanesse
The disorientation of Japanese youth is a subject close to the heart of many directors, and here is another example. Dip in this touching France-Japanese co-production.
Many, indeed, have, in their own way, stressed this fact, this nihilism, despair, choking Japanese teens from the city. Miike Takashi or Tsukamoto Shynia, to name a few, have examined this terrible problem with a powerful style of their own, leaving their camera explore dehumanized city streets where gangs disorientation cling to the most pure violence as the only way to stay alive. How not to shudder at the vision of the fascinating Tsukamoto's Bullet Ballet , and even if Miike has been working on this in a more cartoony style, the same abuses are felt behind films like Fudoh or Crows Zero.
Yuki Otsuka looks to it in a lot more touching manner, gentle, but equally desperate, even if under its camera, light illuminate at the end of a tunnel to the abyssal darkness.
Flare is a runaway teenager. She fled her home and scrapes by since, earning pennies left or right, sleeping where she can. She has no hope, no future. Meeting with Jean, a French photographer equally desperate and lost, broke, alcoholic. She will cling to him as much as he to her.
The story certainly does not shine by the originality of the words, but the intelligence of the writing and the beauty of the images make upsetting situations. The viewer is thus stuck in this heavy and oppressive atmosphere, following the downward spiral into hell of his characters. Valentin Bonhomme, embodying Jean, is very good at showing his sadness by his looks or his actions. Certainly, he recites his texts a little too dramatic, but he plays a tough character with a certain panache. However, the fascination comes from Flare, who literally carries the film on her shoulders. Fukuda Mayuko is simply breathtaking. Beautiful and touching, she sends an arrow through the heart of the viewer with each of her desperate eyes, each of her actions. She embodies Flare as beautiful as sad and unsettling, and as the viewer follows her journey, they can not remain indifferent to her past and feelings.
Perhaps she did not connects to the right person, as Jean is self-destructive, she will discover the world of photography from his side, and after passing through self-destruction, the director will nicely loop the loop while suggesting a brighter future.
The story is certainly wealthy lengths, but the images are beautiful, and the dialogues are interesting, it is mainly through situations, glances, that Yuki Otsuka built his film.
Flare is a French-Japanese co-production. The Asian team has met Robin Entreinger and requested for him to be their director of photography. The choice could not be more relevant, as the image is beautiful, as the city is fascinating. Yes, one of the great qualities of the film is without a doubt the beauty of what is filmed, Flare can almost do without dialogue, both acting and sets speak for themselves. Robin Entreinger however, is not a director of photography, but also a director. Victims, his first feature film, has so fascinated the European Fantastic Film Festival of Strasbourg in 2012, and his second film, Sadik 2, proved to be an excellent blend of slasher and black comedy, all in a cinematic atmosphere to perfection. In addition, if these two films, as well as the following, had nothing to do with the eastasiens territories, his next mischief, Dreamland, will take place in Japan, and yours truly look forward to discover the result, both films is of the director is interesting.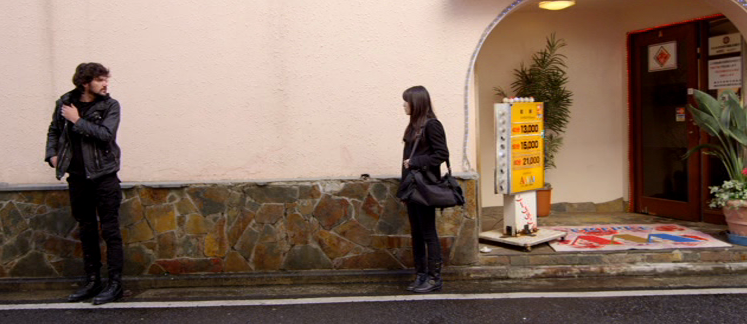 Common to all Robin's movies is Valentin Bonhomme, actor and friend. The latter did not intended to give his reply to the fascinating Mayuko Fukuda, since the character of Jean is considered much older. But the director of Flare, after seeing pictures of the main actor of victims, has considered its position and Valentin Bonhomme could join the cast. A happy choice, again, his presence and charisma, rather than his words , makes his character, and with the extension of the film, upsetting.
The other feature of Flare is the mixture of dialogues from several nationalities. Japanese characters and speak in their language, and Valentin often responds by French (and sometimes English), sometimes a few phrases in German are even scattered here and there. This choice, not only necessarily facilitated filming, also giving Flare a special atmosphere. The film becomes less natural, of course, but the effect is not necessarily unpleasant, making out a little footage of a total realism, for a light international dream, where all the characters could understand all languages. The method gives a strange and difficult to describe flavor, and it is not easy to position itself against it. However, the dialogues are not the most important in the film, it is easy to get carried away by the story and forget that.
Flare was presented to Lyon, in preview, at a great evening with the company of this team. This event was a great success and we can only hope that this will allow the film to be released in France, as it deserves.
Yannik Vanesse
Flare, Yuki Otsuka, presented in world premiere February 6, 2014 in Lyon.
☆