From "Betsuni Futsu no Koi" Gallery.
This work was filmed for 2 weeks, from September 18, 2013 (Wednesday) to October 1 (Tuesday), in Biei, Hokkaido. These photos of the actors/actresses and staffs are taken by Ishida Naoki, our official cameraman. We'll introduce you to the other side of filming.
■ September 26 (Thursday) 9th Day
We started our shoot with park scene of Kaneko-san and Kitaro-san. Though it wasn't in the script, the director suddenly declared "I want to shoot while using the acupuncture foot massage from a park" for the production plan…
"I wondered if I can say my lines when my feet hurts" Kitaro-san said at first, but… sure enough?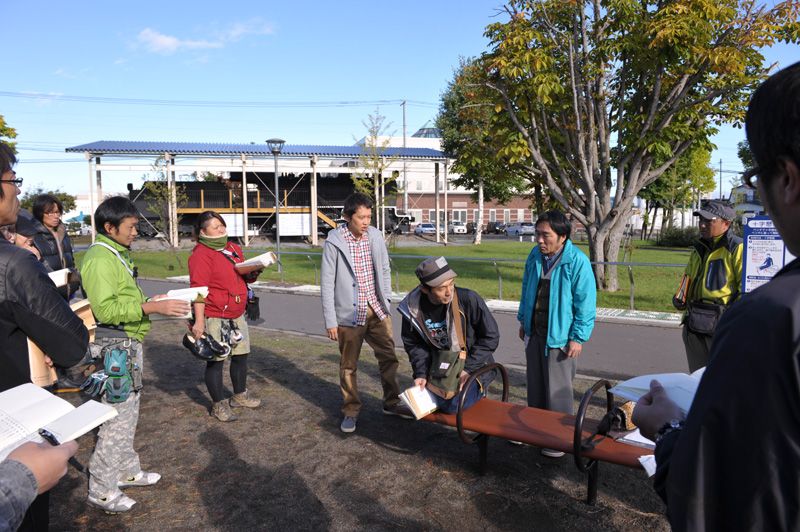 This time, sitting on the ring pull up as if it's the seat of honor while proposing his direction is director Sugiyama. Actually, this person is originally from the variety field, and this is his first time directing a drama. For this, the outline seems like it had a deep (?) hidden joke to it…? How many people was he able to convey that? He seems a bit anxious (laughs)
For this scene, we also used a pretty bold approach for shooting. Shooting everything in its entirely without stopping, it's a one camera show.
Immediately after the cut, Kaneko-san shouted "I've become numb~", once complete, how will that scene turn out?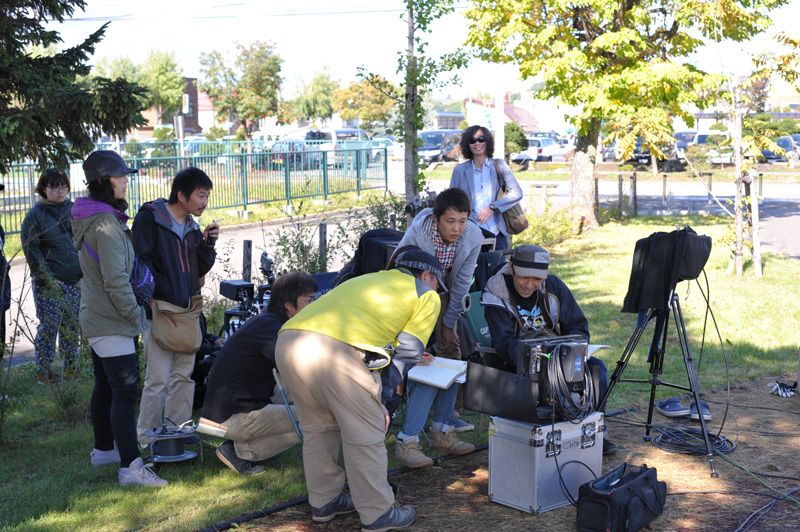 After the shoot, Kaneko-san and the staffs checked the monitor. How was the result?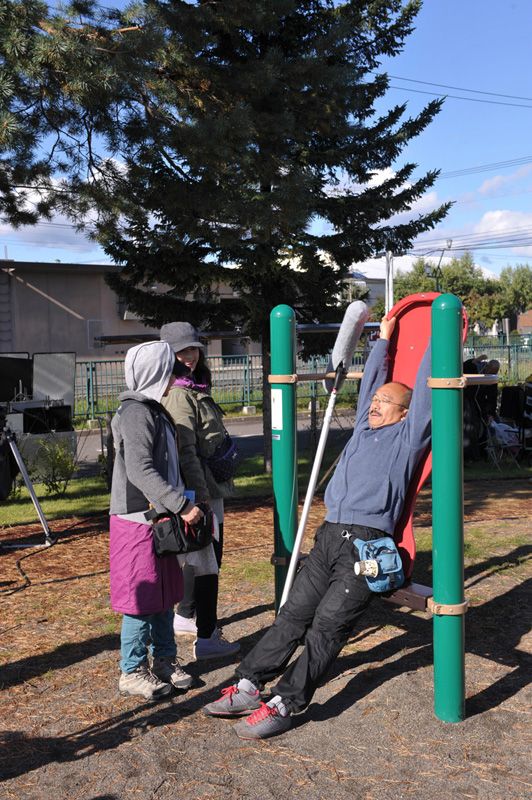 During the break of filming, every staffs used the health exercising machines to prevent insufficient exercise!? (Sound assistant – Sato Yukinobu)
Next up is the scene of Kaneko-san and Ando-san appointment meet up.
The person who rarely ride a bike normally is Ando-san. Will she be okay at driving it?
When shooting a scene that use vehicle, the staffs are more nervous than usual. A serious expression from assistant director Ota.
"Stop over there, then get off from there…" carefully confirming. (Assistant director Nakanishi and production assistant – - Umino)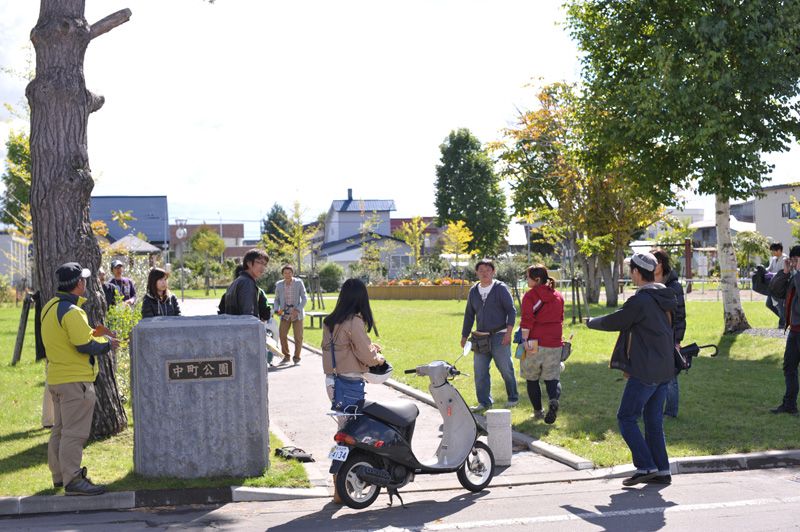 Naka park, a park in the center of town, was used for filming.
World's Super Cub, it's picturesque even from the side.
On this day, HTB announcer Ishizawa Ayako (right) rushed over for interviewing and appearing as an extra.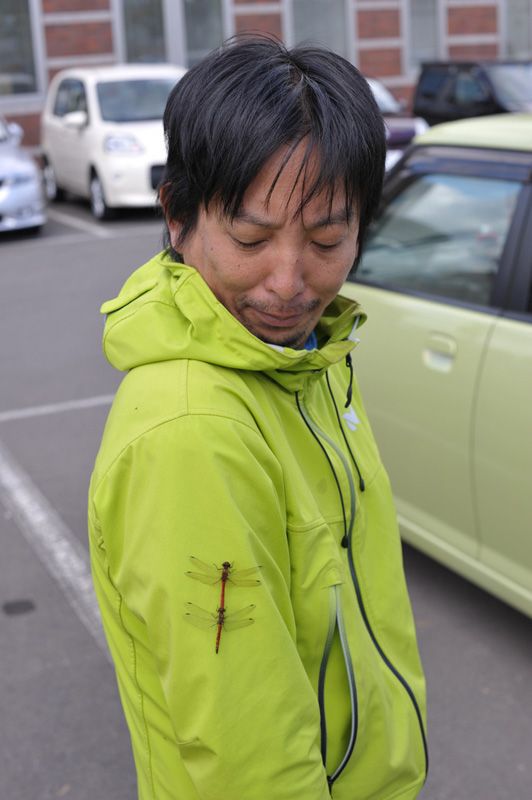 Even though it's September, it's already autumn in Biei? There are a lot of dragonfly flying. I wondered if they like the color green? (Sound effects – Mimura Toshiyuki)
In the afternoon, we moved to Biei's top class, famous tourist attraction "San Ai no Oka" (literal translation: the hill of 3 loves or the hills of San-ai) for the press announcement.
The reporters who came from far away, thank you very much!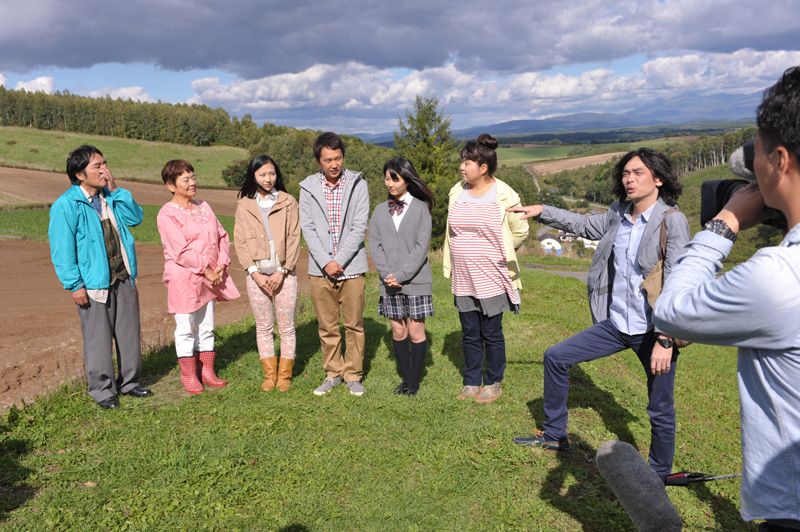 Producer Tada talked passionately about the highlights of the drama along with the casts.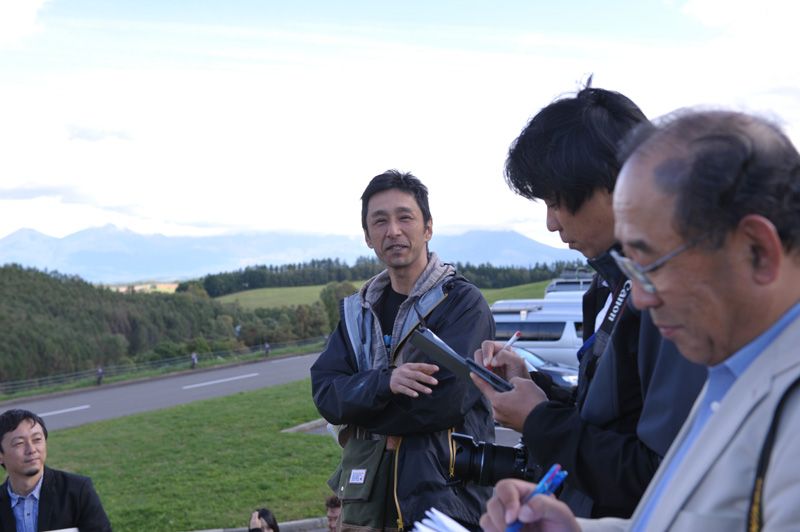 Director Sugiyama also talked passionately about what he put into his work.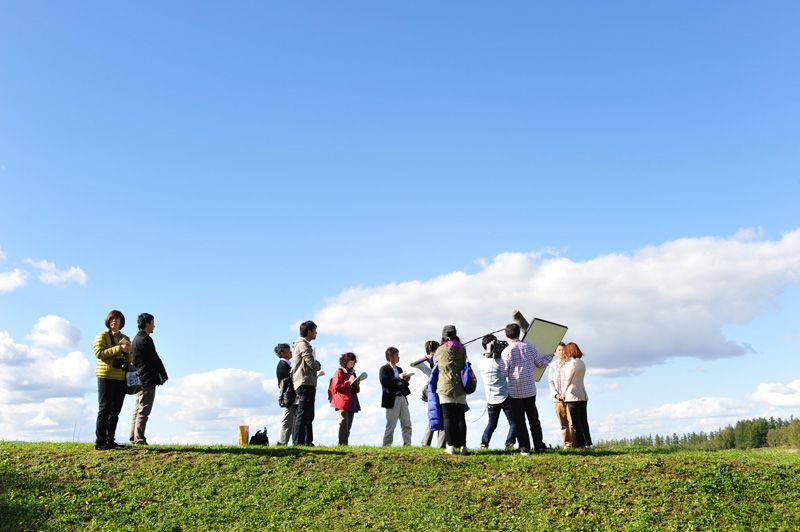 With the wide sky spread out… and the nice weather we are blessed with that give the press announcement a pleasant atmosphere!
We changed location at night, filming the coffee shop scene with Kaneko-san, Kitaro-san, Kobayashi-san, and Fukuda-san in full force. 
The place we borrowed for this scene is from a highly popular local shop "Youshoku ya Junpei"-san. For more information, please refer to "Biei's recommendation MAP"!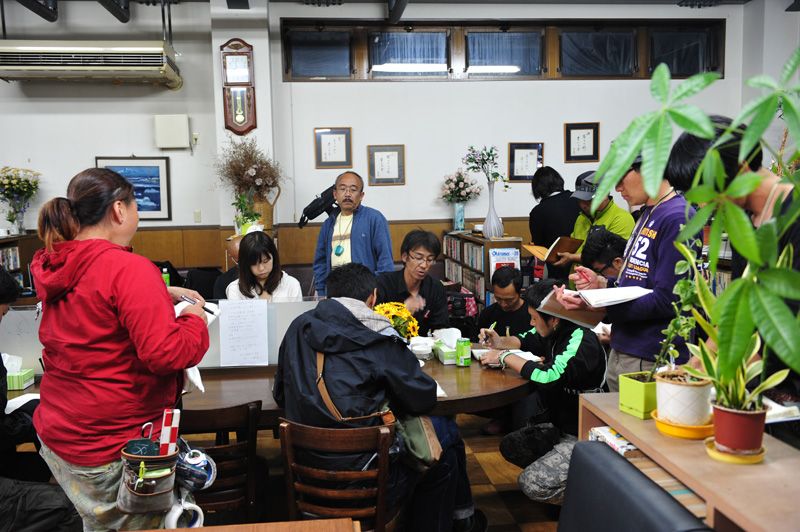 The staffs are in a "matching the Cut ratio" meeting, aka "ratio match".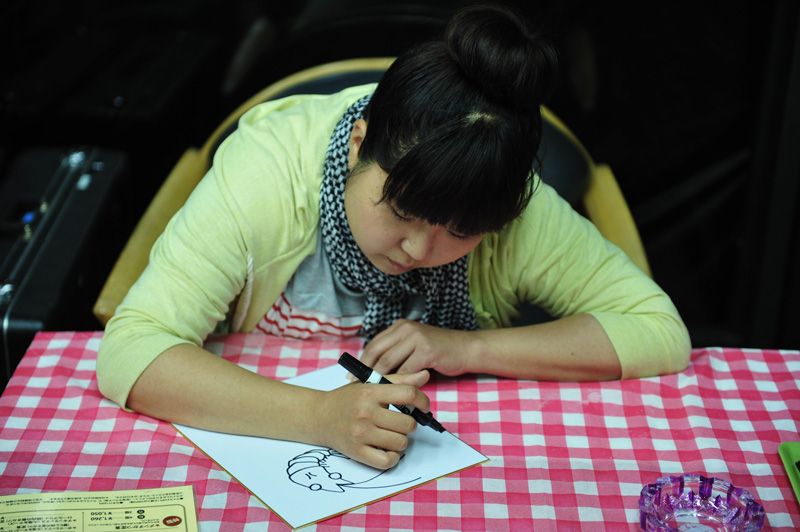 Kobayashi-san was requested a sign from a personnel at the shop.
In this scene at the coffee lounge, announcer Ishizawa is also an extra here! She's playing a shop assistant with some dialogues.
Even though it's embarrassing for her that this is her first drama debut, but how many point was her acting skill?
Normally, announcer Ishizawa worked as the MC for the morning program "Ichioshi! Morning". With her bright and amiable characteristics, she was able to survive through the filming! By the way, the filming ended a bit passed 7 p.m…. She had to return to Sapporo for the live broadcasted, but even with a forceful schedule, she was still cheerful for the broadcast.
Otsukaresama deshita! (by all of the staffs)
--------------------
- While working on this, I felt as if they remove a picture or something… Hmm..
☆