From "Betsuni Futsu no Koi" Gallery.
This work was filmed for 2 weeks, from September 18, 2013 (Wednesday) to October 1 (Tuesday), in Biei, Hokkaido. These photos of the actors/actresses and staffs are taken by Ishida Naoki, our official cameraman. We'll introduce you to the other side of filming.
■ September 28 (Saturday) 11th Day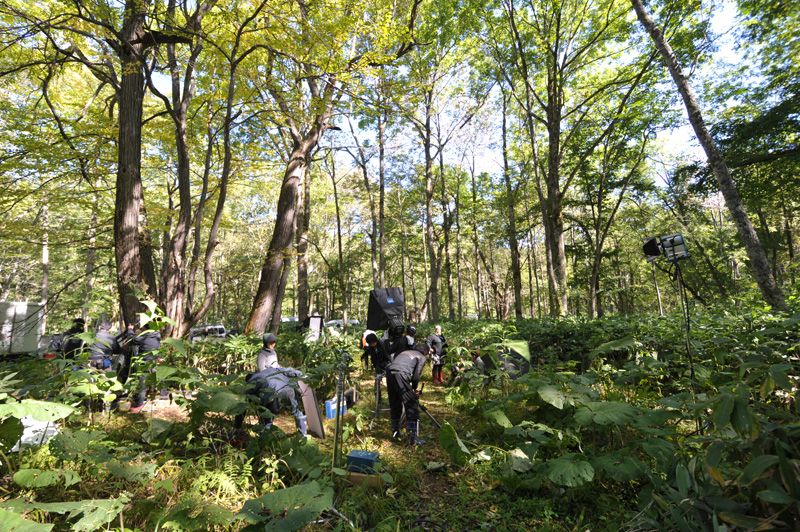 We filmed in a shady part of the forest that's dense with grass.
We're filming the most important scene called "Love Operation".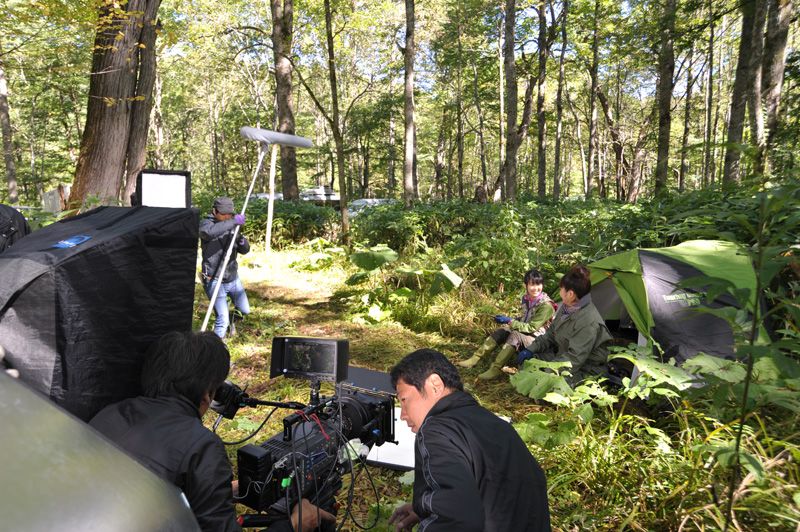 Working in a place with many bugs and bad footing, the preparation time take much longer than usual.
While waiting for the permission to use the forest, many cars and large machine stayed at the entrance.
The sound of the bug, the murmur of the wind, the rustle of the grass, the chirping of the birds, and many other sounds for us to hear is being meticulously recorded by the sound crew.
(From right Sato, Matsuzawa, Sanuki Ryota, and left edge is assistant director – Ota)
In this unfavorable condition, we aimed at getting the best shot, we'll entrusting that to the video crew. (From left Matsubara, Oe, Suzuki, and cinematographer Suzuki)
Freely using the full-length mirror to create the sparkling effect is the lighting crew (Nishide, Nakayama)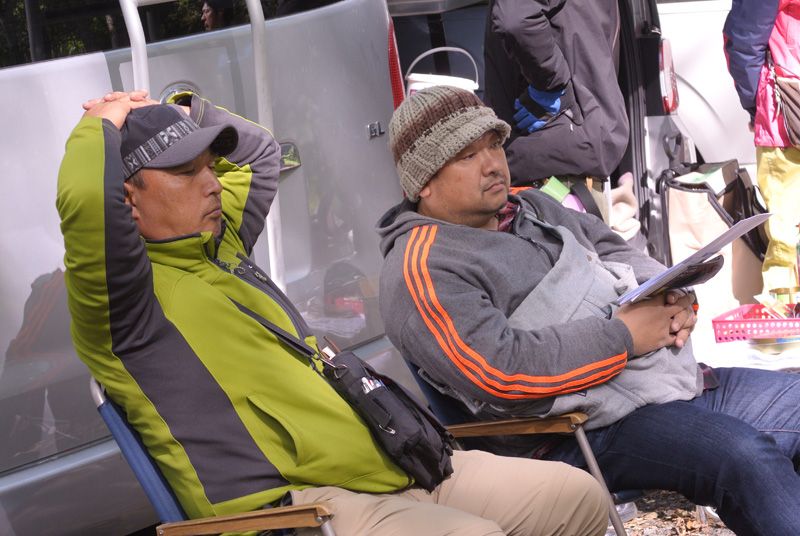 They have similar figures, but they are different people (laughs)… Seriously watching over the filming is assistant director Nakanishi and producer Haneda.
Whenever he has free time, director Sugiyama will stared at the drama bible "the script".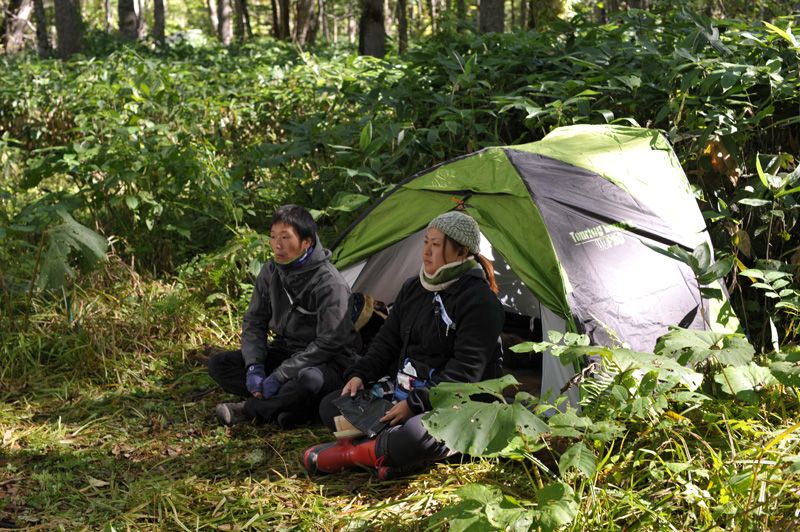 In order to confirm the set-up of the filming, the stand ins (actors' substitutes) is also an important part of the drama. Assistant director Hayashi and Ota combination.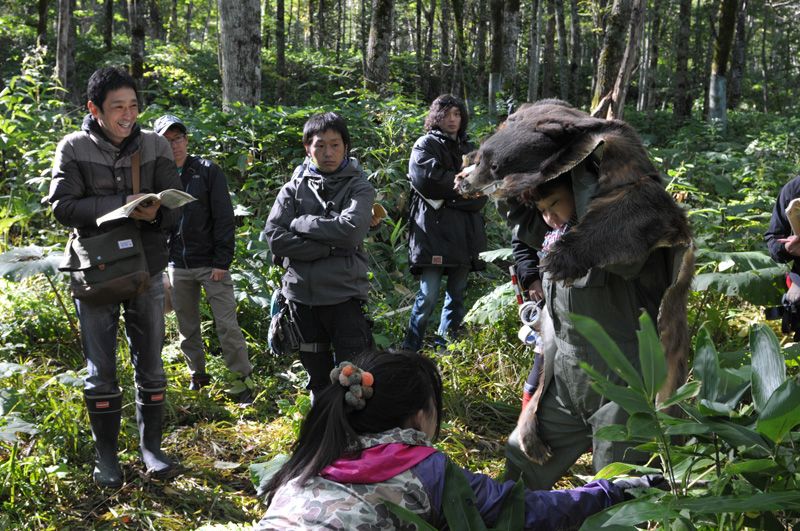 And so, the filming finally start! The director, actors, and staffs, everyone is focused on the drama.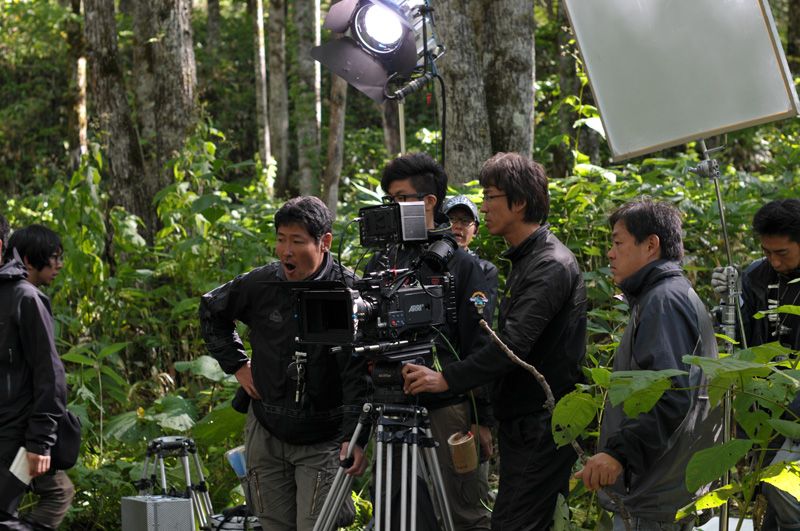 This day, for one full day, was spent in the forest. Even so, there were still scenes that wasn't able to fully film, so those scenes was carried on to the next day or later.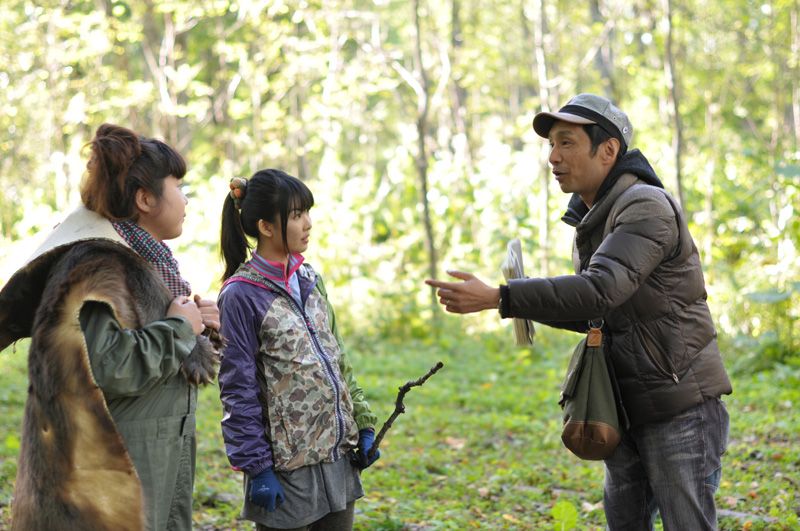 The time was used up to film the important scene in one cut and one cut over time. These will accumulate and become a successful drama.
Even though their appearances are a bit weird (especially Kobayashi-san), but everyone are serious.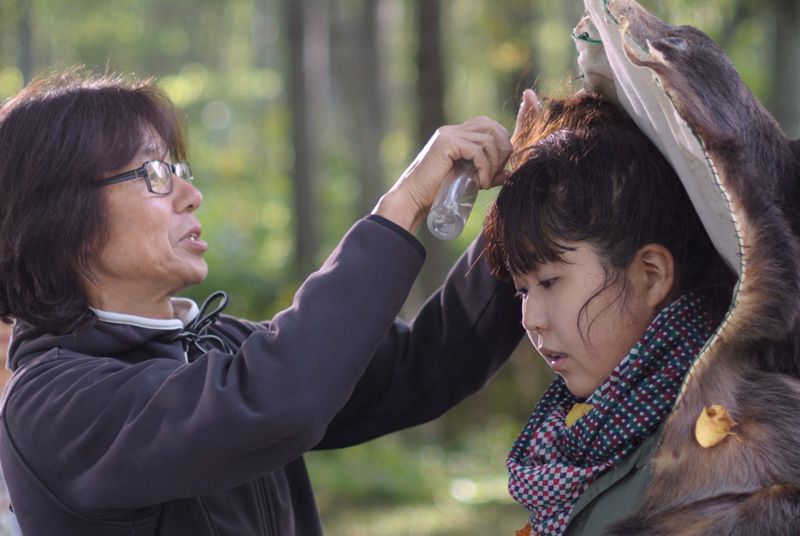 With her utmost effort sweat was sprayed on by the production make-up artist – Mitsumoto Masaaki.
For this forest scene, please look forward to Kobayashi-san playing Nobuyo's painful and unbearable feeling of a delicate woman's heart.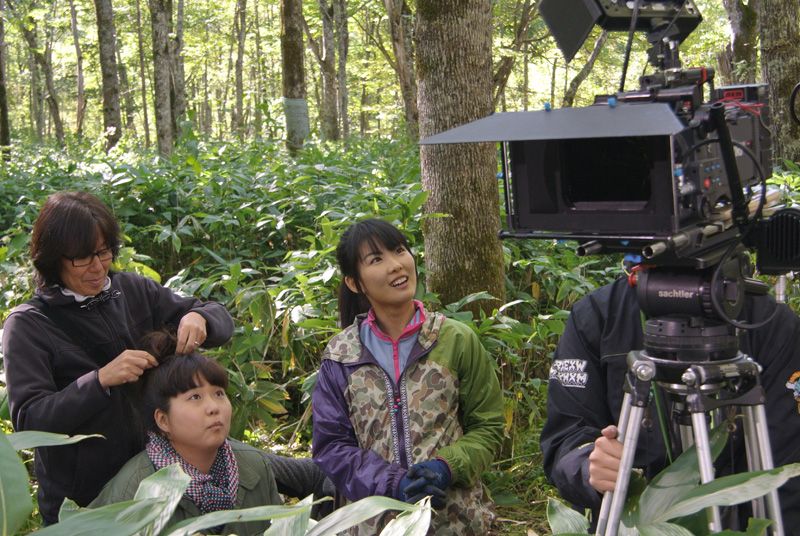 We finally finished filming the scenes at last and so checking the monitor after the cut. I wondered how will it looks after the video is edit? Kobayashi-san and Fukuda-san can finally displayed their relief expression…
The "Beware of Bears" signboard that appeared in the drama. This is in fact also a product of the arts crew!
☆