Text taken from Kato's Today blog. Kato Masafumi is Caramel Box's director/president person.
Fukuda Mayuko-chan From This Morning. "Kimi ga Ita Jikan Boku no Iku Jikan"
March 27, 2008
On TBS this morning, Fukuda Mayuko-chan made an appearance in "Hanamaru Market"!!
On it, I can't think of her as being a first year junior high student!!
Somehow, isn't she such a level-headed and straight forward actress.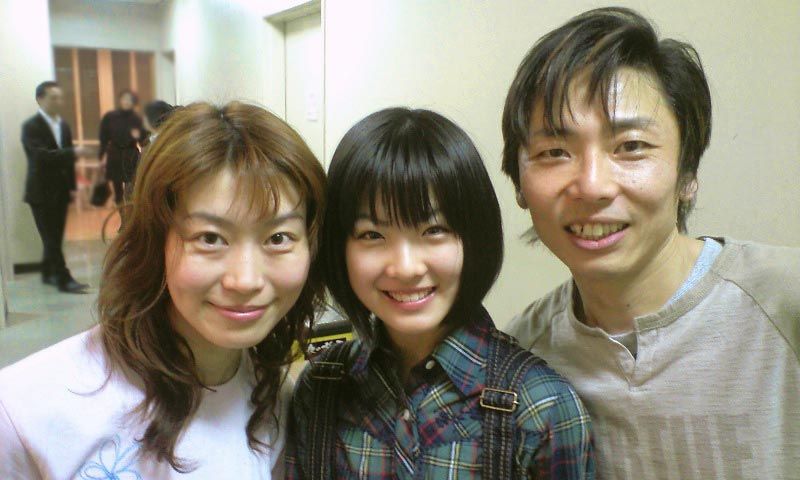 The other day, when I came to watch "Kimi ga Ita Jikan Boku no Iku Jikan", she also came. But because the play might be different if everyone knew that she's coming ahead of time, she gave the actors and actresses a surprised visit, and rushed into the dressing room once the play ended. Once the curtain call was finished, the actors and actresses came back to the dressing room, and while screams were heard, they had a happy reunion with Mayuko-chan.
Her height naturally overtook Kobayashi Chie.
Furthermore, her legs became lo~~~~~~nger!!
Even for today's "Hanamaru Market" talk, topics about her parents also came up, but they are really wonderful parents. For Mayuko-chan to be so dependable and refreshing, I think it's due to the characteristics of her parents.
She'll definitely get more and more works. Right Mayuko-chan?
------------
- I want to translate Hanamaru Market now. Well, maybe one of these days, I'll stop procrastinate and actually do it. ^^;;
☆