Thanks to cie-chan, as always, for the head up!
From twitter:
- Around 19 hours ago from the time that I'm writing this entry, there are sightings of Fukuda Mayuko filming in Biei Station for a special drama.
- Takatoshi Kaneko was also part of the cast.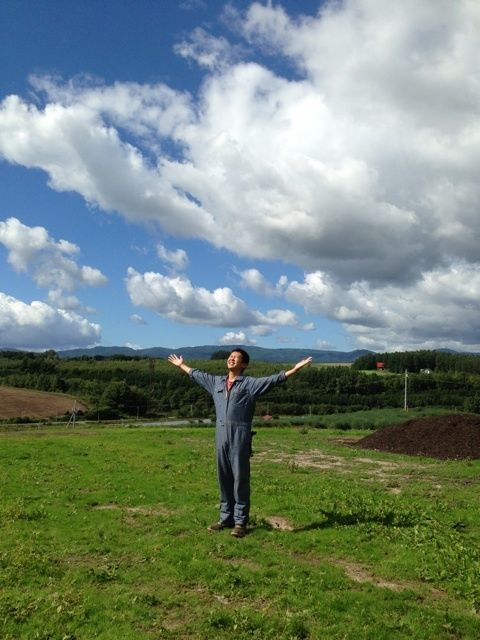 From Takatoshi Kaneko's ameblo:
- The start of filming was on September 18.
- The filming site is surrounded by Hokkaido's nature.
- He's playing the main lead.
- From the pictures, the drama revolved around the hardship of farm works.
- He's also acting along side with Ando Sei, whom he had worked with 10 years ago.
- It's a HTB Special Drama
- It will be broadcast in December.
- HTB = Hokkaido Television Broadcasting Co.
- From the information we have so far, Mayuko started filming on the morning of September 21. The filming location is in Biei, Hokkaido. Mayuko is wearing a school uniform, on her way back home/going to school with her friend.
- So if I were to make a guess on the story, the drama is going to be slice-of-life. No matter how I think about it, it still seems like a drama to promote Hokkaido's tourism.
- My guess is Takatoshi Kaneko will be playing someone who's from city, and he's going to be working at a farm even though he's new at farm work (similar to Ushi no Negai wo). On the other hand, Mayuko will play a high school student, who is also the daughter of the farm he's working at. Their first meeting is at Biei station, when he just came from the city, while she's going home from school, and he's asking her for directions (or something).
- Well, the drama will be out in December (wow that's going to be a few months)! It's going to be broadcast on HTB, I wondered if they will also be broadcast on the other national TV station as well. Like my conversation with cie-chan before, the whole setting seems like an NHK drama. And even on the HTB's website, it said it's an affiliated organization of NHK. So I wondered if they will also be shown on NHK as well.
- I think this is like the first normal drama where Mayuko didn't have to play a mysterious girl, or death theme for a while. I hope she's playing a cheerful-ish girl this time. Also a first in a while to see her in a slice-of-life genre.
- I thought she's going to wait until next year to announce her work, but I'm glad she already has another one. Too bad it's going to be shown in December. So… far… away… >_<
- Which reminded me, last week, her manager's blog was updated, and it said that for her next work, Mayuko went to the beauty parlor. I'm guessing it's also for this. Also:
"In order to established herself in this world, Fukuda Mayuko-chan has the greatest hope to fulfill herself."
- I hope that means more good news will be coming!
- Also hope Takatoshi-san will spam his ameblo with Mayuko's pictures soon! (;A;)
- Takatoshi Kaneko~ ♥ Waterboys memories ♥ I can't believe he already married and has a son. Wow, time flies!
- Ando Sei was also together with Mayuko for the movie "Sakura, Futatabi no Kanako". I have to say, I've never seen her before.
- Since it's Waterboys, time for some Waterboys memories. (Movie version)
☆