Images and text taken from Prolog site.
Fukuda Mayuko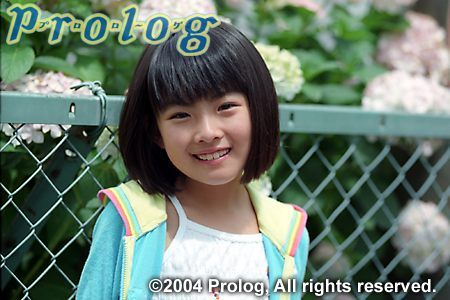 In the QUOQ CM, ignoring the transferred QUOQ-kun, breaking the glasses in the corridor while cleaning up, and having to stand in the corridor is "Yuko-chan", played by Fukuda Mayuko-chan. Beside from appearing many other commercials, she's also acting in many dramas with difficult circumstances and difficult roles, such as the girl with a heart disease in "Summer Snow", and a girl who's parents are divorced in "Ai no Ie" and "Last Present". We were able to talk to the girl that's leading in her generation of child actors/actresses.
Profile
Name: Fukuda Mayuko
Agency: Tokyo Jidougeki dan
Birthdate: Heisei 6, August 4
Height & Weight: 131cm 25kg
Blood type: B
Hobby: drawing, talking
Special Skills: Laughing, making friends
Main Accomplishments:
- 1998 CM "Kentucky Fried Chicken" (debut work)
- 2000 Drama "Summer Snow"
- 2003 Drama "Ai no Ie ~Nakimushi Sato to 7-nin no ko~"
- 2004 CM "QUOQ"
- 2004 Drama "Last Present ~Musume to Ikiru Saigo no Natsu~"
Extracted from "Jikihitsu Survey". Data are from June 12, 2004.
Excerpt from the Interview
~ Drama "Ai no Ie" ~
YE: How was the drama "Ai no Ie" that you did last year?
Mayuko: It was really fun. Because there are a lot of kids there, the break time was really fun, and so is the filming time. Since I'm not by myself, I wasn't nervous at all. Well, normally I don't really get nervous (laughs).
YE: How would you compare your character with your normal self?
Mayuko: Though I felt that her levelheaded-ness is a bit different from myself, but her cheerfulness is similar.
~ Movie "Kamikaze Girls" ~
YE: You were in "Kamikaze Girls" for 5 minutes right?
Mayuko: That's right.
YE: How was it?
Mayuko: I really have to go to Shimotsuma to film. It's really full of rice paddies. I thought it was really amazing, and I want to try living there.
YE: So that's what you thought. Don't you think living in the city is good as well?
Mayuko: No, I think that sort of countryside with a lot of natures are good, but we don't have to go to another city.
~ Dog Goods ~
SO: I heard you are collecting dog goods.
Mayuko: It's not just the dogs, but even pencils, erasers and other stationaries. As long as they have dogs on them, I want them.
SO: What else do you have?
Mayuko: Notebooks, pencil box, and even ruler, everything have dogs on them.
SO: So everything you carry with you all have dogs?
Mayuko: Mechanical pencils and everything have dogs on them.
SO: Doesn't your friends notice them?
Mayuko: I was told "You bought another dog pencil?".
Postscript Edition
In dramas, she has a lot of roles that are either has illness or ill fate, and even in QUOQ CM, she doesn't smile. But with the comedic tone of "Kamikaze Girls", her role take a complete changed to something unexpected. As the interview took place, she gives off the impression of a girl that can do a wide range of drama.
At first glance, there's a quiet and obedient atmosphere about her, but in reality, she's a pretty cheerful and openhearted girl that talks a lot. Although I said "talk a lot", it's not like a one-side rapid fire talk like a machine gun, but more like the type that can skillfully return the conversation. Saying that she has the skills in making friends is definitely true.
During the interview, there are parts of herself that she think "has changed". A normal girl existing normally in this difficult society, I think that the existence of this girl that changed a bit will perhaps become our salvation.
[Endo Yoshitaka]
-----------------
- Old interview with chibi Mayuko for one of her CM work.
- Mayuko is going to be in the 8th issue of the magazine "Engeki Book" with her "Iya Mushiro Wasurete Gusa" sisters. Thanks to Cielo-san for the heads up. Hope there will be a lot of interviews and behind the scenes stuffs.
- Interestingly, the same issue will include the interview(?) for the Caramel Box's play "Ame to Yume no Ato ni" with Yoshida Riko as the new Ame-chan. If you don't remember, Mayuko played as Ame-chan in the 2006 version.
- It would be so interesting if these two have a cross talk… But I doubt it.
☆