Text taken from film-yg.com.
Fukuda Mayuko Interview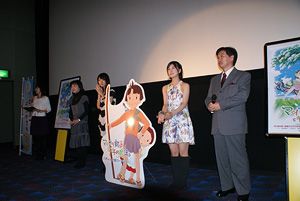 For 2 days, from November 14-15 2009, the movie "Maimai Miracles" has prescreening in Yamaguchi prefecture.
On the 14th, two stage greetings for the movie took place at Warner Mycal Cimema in Houfu city. On the 15th, a talk and live meeting also took place at the Aspirante in Houfu! On both days, the place is crowded with many people.
In such a busy schedule, we were able to get an interview and message from Fukuda Mayuko-san, who is playing the leading part.
The movie is finally screening at Houfu, what's your thoughts?
I'm nervous!
The movie will start to screen country wide soon, so as everyone from Houfu is watching this movie, I hope I'm able to convey the dialect and the atmosphere well.
Rather than else where, I'm the most nervous here.
What's your impression of Takagi-sensei?
Though Takagi-sensei = Shinko-chan, but I also have pictures with maimai (hair antenna thing) (laughs)
So I have an affinity feeling for her (laughs)
How was playing as the main character, Shinko-chan?
To be able to participate in this film, I'm really happy.
Also, my father is actually from Yamaguchi prefecture as well as my grandfather, who is still living in Houfu city of Yamaguchi prefecture.
That's why I'm happily accepted the work (laughs).
I was able to fulfill my filial piety (laughs).
It's really fated (laughs). Have you visit Yamaguchi prefecture when you were younger?
I visited 1-2 times a year.
I always went to my favorite Tokuyama zoo, and before coming back, I looked forward to buying Houfu's kamaboko (laughs)
It's delicious (laughs)
(Laughs) Since we're talking about the local places, please tell us about the lines that you have to speak in Yamaguchi dialect.
At first, I have my dad read it to me, but the era is different so it's difficult.
The director is particular about the words they used during year 30 of Showa period, so I listened to the recordings from those day to practice.
Even at the dubbing location, we act with the guidance of a dialect teacher.
What kind of girl do Fukuda-san see Shinko-chan as?
Shinko-chan is really cool!
For me, when talking to people for the first time, I'm unable to be honest and frank about many things. But for Shinko-chan, even when she's worried or feeling down, she's true to herself 100% no matter what!
That is very cool.
Please tell us your favorite scene and line.
At the end of the movie, where Shinko-chan and Kiiko-chan talk together in the street at night.
Holding a flashlight with the battery almost out, Shinko-chan asked "Are you scared?" and even though she's a bit scared, Kiiko-chan answered "Since Shinko-chan is here, I'm okay". That scene and that dialogue between the two of them is really wonderful, I love it.
Lastly, please everyone give us a message.
As you watch the movie, even just bit, there will be something that will reach everyone, and can be thought about.
Also, if you're able to think "It's good", I think that's already plenty enough.
Even for me as I watch this movie, I came to realize that friendships are important. And I thought that I want to support my family.
As many people watch this, I hope they will be able to reflect on the warmth of a family, and how amazing it is to play with your friends.
Because it's really is a lovely movie, for many to come to know of this movie, I'm happy if those that watch it will lend their power.
Please try to tell it to various people.
Yoroshiku onegaishimasu!!
Thank you very much.
Mizusawa Nako Interview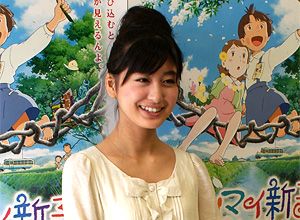 On October 9, 2009, playing Kiiko, Mizusawa Nako-san came to Houfu city for a charity screening of "Maimai Miracles".
Though she is currently working on movie, drama, and gravure, it's her first challenge at voice acting.
We asked a few questions from her.
What's your first impression of Houfu?
When I came yesterday, it was raining, so I wasn't able to see much of the scenery.
But as I woke up this morning, it's nice and sunny, and there's so much greenery!
Just like in the movie, I saw a lot of nice mountain, as if I come to "Maimai" world!
After meeting Takagi-sensei, what's your impression of her?
When I asked her of her age, I was surprised. I'm fascinated by her beauty. I thought she has power, and really energetic (laughs).
How's your first challenge at voice acting?
Matching the silence with the images of the anime, and changing the tension of the voice into different type was difficult.
I worried over how I should do it, but I was reassured to have Fukuda Mayuko-san, who played Shinko-chan, and other voice actors being together with me.
Thanks to that, I was able to enjoy it, and grow accustomed to it.
Fukuda-san's dialogues are in dialect, so what do you think of Yamaguchi prefecture's dialect?
It's cute! Like "shichoru" (laughs)
My character used the standard dialect, so I'm jealous of everyone that used the dialect to speak.
Though it seems difficult, I want to try it (laughs)
What do you think of Kiiko-chan, whom you played as?
Even though her mother died, in the movie, she doesn't show sad facial expression in a great extend. But even so, she's hurt. With that, moving from Tokyo to a place she never knew of so she's insecure. Her image has that of a shy girl.
But as she slowly surround herself to Shinko-chan and other cheerful friends, her heart also open up. At the core, she's a very honest and gentle girl.
And if you were to compare her to you?
If I were to choose, I'm more of Shinko-chan's cheerful type (laughs).
What's your favorite scene?
The part where everyone play at the pond, and also the scene where Shinko-chan, her little sister, and Kiiko ate the wine filled chocolates (laughs)
There were chocolate at the dubbing location, so the three of us ate it as we perform!
It was fun and profoundly memorable (laughs)
About the movie
It's filled with fantasy!
It shows the world of children is a really fun place, and there are a lot of scene where they are playing.
Playing in the mud, and running around in the wheat field that's like the sea.
I've never experience it as a child, so it's really lovely that I became envious of them (laughs)
I thought it must be great living in the year 30 of the Showa period.
This year, though Houfu experienced a difficult disaster, I hope this movie will be able to cheer up those that watch.
Thank you very much.

--------------
- Really awkward translation, so do correct me if I'm wrong.
- In July 2009, Houfu of Yamaguchi experienced sediment disaster (mudslide-ish) due to heavy rain. So I think Nako is talking about that.
☆