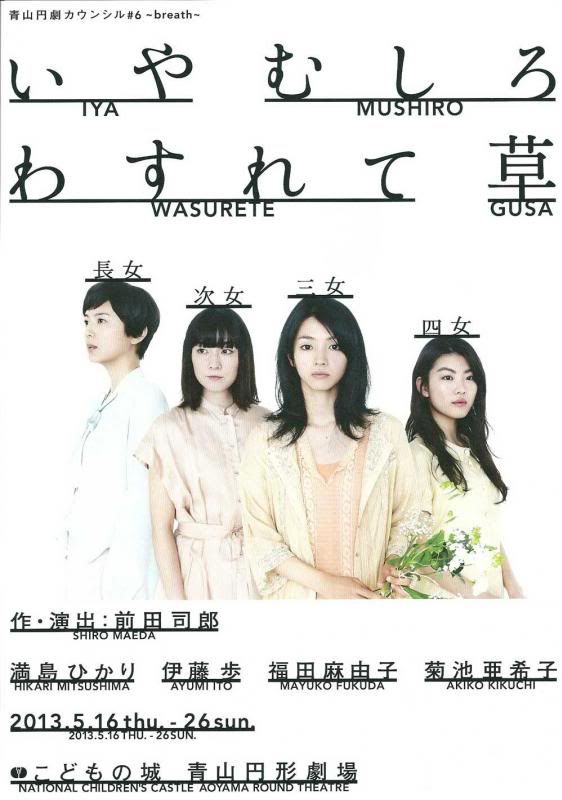 After a few months of nothing, FLaMme mobile recently updated Fukuda Mayuko's "Otona ni Naru Mae ni…" with a special edition.
Starting May 8, part 1 of the special edition was posted. This time included a video interview with Fukuda Mayuko about her newest stage play, "Iya Mushiro Wasurete Gusa".
♫ According to Mamayu-Land BBS, because it has been 7 years since her last stage play "Ame Yume", Mayuko talked about being deeply moved as she stands on stage once again. She also hinted that "Next week, no, even sooner, I'll talk about things I want to forget."
♪ Fukuda Mayuko's image bbs also said that she talked about playing the role of both the 21 years old and infancy period of her character.
So, there will be another special edition coming out next week. Perhaps it will include behind the scene clips of Fukuda Mayuko backstage during her "Iya Mushiro Wasurete Gusa" period?
FLaMmeject, FLaMme's public information site (?), also posted up a teaser clip for the special edition, which included a short interview with Fukuda Mayuko on youtube. Not sure if they will continue to post a teaser clip of each week on youtube…. So crossing my fingers.
The stage play "Iya Mushiro Wasurete Gusa" will start showing next week, from May 16 (Thursday) to May 26 (Sunday).
Much thanks to Kantsuki/Hanyue-san for subbing the teaser video into Chinese. I also managed to subbed into English (and later in Vietnamese). Also thanks to MelonikaQqqq for subbing it into Korean!! So many subbed versions!!! XD
Please enjoy~! (
*Note: If the Chinese subbed clip doesn't show up for you, please click on the link instead.
English subbed
Vietnamese subbed
Korean subbed (If caption doesn't show up, please go to youtube to watch it!)
☆☆☆