Text source: nikkansports
Picture sources: Sanpo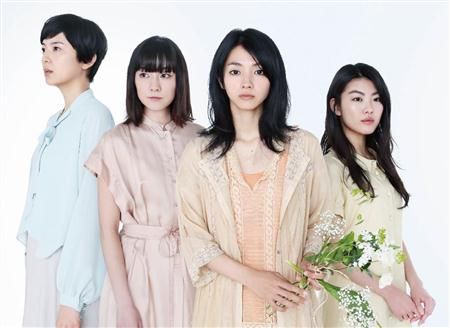 On the 10th, at Aoyama Amphitheater in Tokyo, actress Mitsushima Hikari (27), Ito Ayumi (33), Fukuda Mayuko (18), and Kikuchi Akiko (30) came together to talk about the play "Iya Mushiro Wasurete Gusa" (opening on the 16th, playwright/produce by Maeda Shirou).
The third sister, Miki (Mitsushima), is hospitalized due to weak health. She lays on the bed at the center while her sisters,  Kasumi (oldest, Kikuchi), Futaba (2nd, Ito), and Haruna (youngest, Fukuda) surrounded her. They reminiscence on the sisters' childhood memories. Though the sisters have been close since childhood, the play depicts on the reality and conflicts in their ordinary lives as they grew up. With "wasure na gusa" (don't forget gusa), the title showed the feeling of not wanting to forget, and at the same time, the feeling of it's better to forget, depicting the Miki's feelings. "Everyone that watch it may understand it differently." The four actresses said about the stage play.
In the middle of the stage is a bed, where Mitsushima continuously lays on for the entire play. It's a difficult performance. "I only leave it for around 5 seconds, and stand up 3 times. My body feel like it's going to deteriorate." she said with a bitter smile. There are a lot of scenes where it change from the present to the past and vice versa, as well as one person monologue. Even now, she continues to think about how to deliver those expressions during practices. "I want to show that when everyone is together, I'm forgettable, but when it's only me, 'I exist'."
The four actresses are compatible with each other. After practicing at the playwright/producer Maeda Shirou's home or the practice room, they have nabe together. They went to the supermarket together, and won't return until Kikuchi have to put daikon in her back pocket, sometimes, almost missing the last train. "We are really like 4 sisters." the youngest, Fukuda, laughs.
May 11, 2013
------------------
- A different report said the stage is a circular stage, and the audiences are going to be in all direction, so Mitsushima has to act the whole time. That's why it's more difficult than the normal stage play.
- I'm so excited to see their sibling bonds… If I get a chance to see it. I hope they will get more works together from now on.
☆