Text and pictures from Sanspo.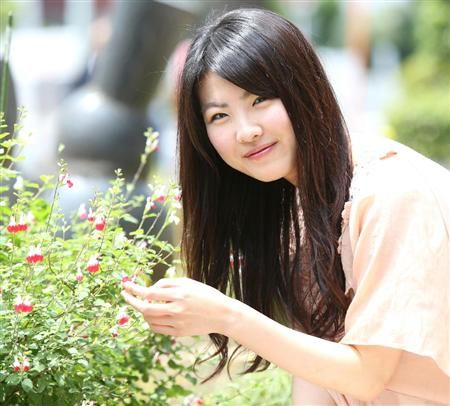 Actress Fukuda Mayuko (18) will appear in the stage play "Iya Mushiro Wasurete Gusa" on the 16th, in Aoyama Amphitheater, Tokyo (until the 26th). After 7 years, this will be her second challenge in theater.
This work is a story about the reunion of 4 sisters. Mitsushima Hikari plays the 3rd sister, the main character, who is hospitalized. And through their "conversations" the sisterly bonds is revealed.
Playing the youngest, it has been a while since Fukuda appeared in the play "Ame to Yume no Ato ni" in 2006, when she was 10 years old. This time, without any movement, but a dialogue play where she is required to harmonize with her costars. "While discussing together with everyone, we carefully create the story in a comfortable setting." She said while showing a satisfied expression.
Entering a famous private university since April, she is majoring in the literature department's Philosophy and Creative Writing. She's also left home to start living alone. "Though my daily life is difficult, I was able to make friends with people at school, so it's fun." Her face burst in smiles.
With the start of this year, she starred in the French-Japanese co-production "Flare" (release date pending), her profile as an actress is still rising. "I want to carefully face the people and the work in front of me head on first." she said, stressing the daily accumulations.
------------------
- Great pictures Mr/s. Photographer! ✿♥‿♥✿
- So glad she has her own news story. Not like a certain other work… *coughSakura*  (;¬д¬)
☆