Taken from Mamayu Land BBS.
The movie "Sakura, Futatabi no Kanako" began showing in theaters across the nation on April 6. On that day, the casts and staffs gathered at Shinjuku Piccadilly hall for the movie greeting.
After the casts entered the stage, Mayuko introduced herself, along with "Please bring back with you the warm feelings from the movie."
When she was ask about the her role as a mother, she said that since she never give birth before, she has to do some preparations for the movie, such as reading the 'pregnancy manual'. This made the host added since it's for a special circumstances (that's why she need to read it), making everyone laughed.
She also mentioned that she consulted her mother and the rest on her own imagination. When meeting her the child that's to be her own child, only her seems to be special. Mayuko expressed that Natsuki helped her (get into her role). She felt that the film gave her a new feeling.
Takada Sho talked about a scene he has with Mayuko, and mentioned how nervous he was.
"The filming took place a year ago, but I can still recalled the feelings of that time. When thinking about other people watching it, my heart races and I'm happy. Please enjoy it until the last minute."
Host: "What would you do if you were to reborn again?"
Takada: "I want to return to being myself."
Mayuko: "I want to have better reflexes. Other than that, I'm fine with my current self."
Mayuko mentioned that since she is bad at running, it seems like each time she start a new work, she always have to run. Fortunately for this movie, she didn't have to run since her character is pregnant.
At the middle of the stage greeting, the child actors and actresses from the movie made an appearance. Mayuko watched over them carefully with a gentle smile.
"I'm very happy if I'm able to hear your warm applauses."
When asking about her acting, "It's strange to see myself with a large stomach." She also consulted with the director and Hirosue Ryoko about it.
Hirosue mentioned that Mayuko tried her best, but she was also worried. It was impressive that she consulted with the director so many times.
Host: "Since she also consulted the 'pregnancy manual', that it all became a helpful supplement (to her acting)."
Others also commented on Mayuko's great effort during the filming period.
Takada said that even though he is actually older, he saw Mayuko as the older one.
Sources: cinemacafe, Walker plus, eiga, billboard Japan, and Mantan Web.
♪♫♪♫♪♫♪♫♪♫♪♫♪♫♪♫♪♫♪♫♪♫♪♫♪♫♪♫♪♫♪♫♪♫♪♫♪♫♪♫♪♫♪♫♪♫♪♫♪♫♪♫♪♫♪♫♪♫♪♫♪♫♪♫♪♫
During an interview between Hirosue Ryoko and Fukuda Mayuko about the movie on Cinemaholic i # 58.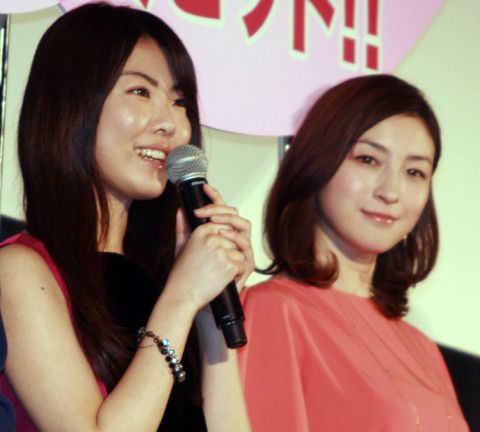 Mayuko expressed her troubles during the filming period, "The feelings that I have as I look at my child is I think that the person that's borne is this person that already has her own aura and transformations. If that is not true, she will become a different person. So I would always worried about what kind of mother I should be."
For the troubled Mayuko, Hirosue asked, "Would you not be delighted the moment she is born?"
Mayuko asked back, "But shouldn't you be happy the moment that she's born?"
Hirosue told Mayuko that it's best that she's awkward about it. Whenever she's having any trouble, she would immediately asked the director.
-----------------
- My DS lite broke so I kidnapped my brother's DS. Recently, I've been playing Rune Factory 3 on it. Such a good game! It took all of my free time. ヽ(;▽;)ノ
- Translation ended up mostly guesses. Please correct me if you see any problems! Translation is after all, my studying Japanese sessions.
- I need to add Takada Sho to the list of people that see Mayuko older than them even though she's younger.
- The kids are so cute! (ღ˘⌣˘ღ)
☆