Text taken from mayukofukuda.seesaa.net.
From "CINEMA GIRLS 9th issue" 2012 January 23
Fukuda Mayuko was chosen to select her top 3 favorite films.
1. "All About Lily Chou-chou"
Starring: Ichihara Hayato, Oshinari Shugo, Aoi Yu
Directed by: Iwai Shunji
Fukuda: The world's outlook is wonderful. I can't simply say that I love it. There are various pain that we experienced in this world, but as it is shown from this movie, I can't help but think that it's really amazing.
2. "Onna no Ko Monogatari"
Starring: Fukatsu Eri, Ohgo Suzuka
Directed by: Morioka Toshiyuki
Fukuda: It evokes both a girl's various pain and sorrow. You'll definitely cry. But because it's shown in a sparkling way that after you finish watching, the movie will point you to the right direction. I can't forget the last fight scene between them.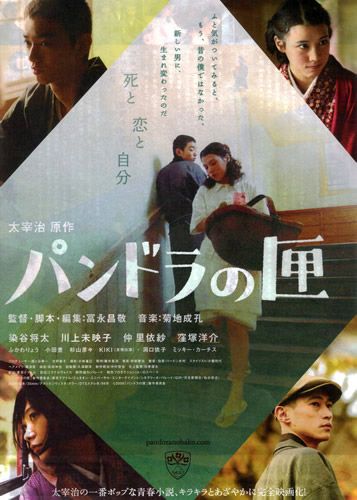 3. "Pandora no Hako"
Starring: Sometani Shouta, Kawakami Mieko, Naka Riisa
Directed by: Tominaga Masanori
Fukuda: Even though I love the original work, I was surprised after seeing the movie. The casts are perfect. The characters are full of energy that really move my heart. Also, it's interesting.
--------------------
- I am disappointed to say, but I didn't have a chance to watch any of these movies. Though I did try "All About Lily Chou-chou" a long time ago, but I ended up stopping in the middle (I don't remember why though). Maybe I should try watching them one of these days.
- "All About Lily Chou-chou" also has Ito Ayumi in it. Perhaps she became Mayuko's idol through this movie. You can read a review of the movie here.
- "Onna no Ko Monogatari" also has another of Mayuko's idol, Ohgo Suzuka. It also has Mayuko's younger sister from Chibi Maruko-chan, Ei Morisako.
- "Pandora no Hako" has one of Mayuko's favorite writer, Kawakami Mieko.
- Mayuko's bias-ness is very apparent. (。 >艸<)
☆