Thanks Mamayu-land BBS for the heads-up.
The filming report taken from JR Nishi Nippon.
Travel (Nonfiction) "NONFIX Searching For a Dream After This ~Shoujo to Tetsudou 2013 Spring"
Actress: Fukuda Mayuko
Broadcast date: Heisei 25, February 27 (Tuesday)
Filming date: Heisei 25, February 6 (Tuesday) ~ 11 (Monday)
Filming locations: Kuresen, Sanyohonsen, Hakubisen, Inbisen, Saninhonsen, Yamaguchisen, Kaku eki, Tsuyama untenku, Old Tsuyama Fan shaped Train Garage.
Contents:
In 2004 and 2005, Horikita Maki-san went on a trip through West Japan and Kyushu with "Seeing Japan beyond that point ~Shoujo to Tetsudou – Summer" and "Looking at myself beyond that point ~ Shoujo to Tetsudou – 2005 Spring".
This time, 18 years old, actress Fukuda Mayuko will be going on a trip from Hiroshima station. While looking forward, she come face to face with people and scenery on her trip.
Filming Location Contents
☂ Kuresen (Filming date: Heisei 25, February 6)
After using the lCOCA card at Hiroshima station, we started our one stroke trip. We waited at number 3 boarding area and entered the train. Inside the train, Fukuda-san chose a seat with a spread of windows that showed the Inland Sea. At a stop on the way, she waved to a child on the next train, which left a great impression.
☂ Kuresen and Sanyo honsen (Filming date: Heisei 25, February 7)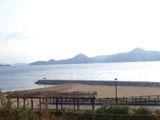 On the second day, we headed east from Takehara station to Mihara station. Through out the morning, the morning sun shining over the Inland sea, giving us a comfortable scenery. We had great weather that day, and Fukuda-san's smile shines.
As the snow started falling on Kuresen, we arrived at the famous "Movie town", Onomichi. The north entrance's ticket gate near the station building is cutely made. Even with the sudden requests for a signature from fans and guests, she still responded with a smiling face.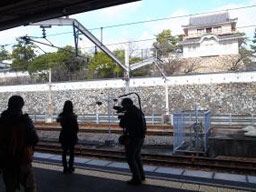 After getting off at Fukuyama station, we were able to see the castle from the platform. There are around 500 sakura trees grown in Fukuyama Castle Park, so during the flower viewing period, the place will be packed with visitors. Once the sakura are in full blossom, the color of Fukuyama castle become deeper, and the weather become warmer, I think we should go back once.
☂ Hakubisen and Kishinsen (Filming date: Heisei 25, February 8)
We traveled on Hakubisen and Kishinsen on the third day.
Yesterday's good weather suddenly changed to snowing. You can feel the strong force at Niimi station as the cold penetrated deeply into us.
It will definitely be harsh for those who have not experienced snow.
As we are warming up inside the Kishinsen's train, we arrived at Tsuyama. We visited the fan shaped garage, a garage that spread out like  a fan and each track leads to a hanger. Fukuda-san enthusiastically listened to the explanation about each vehicles.
☂ Kishinsen, Inbisen, and Sanin honsen (Filming date: Heisei 25, February 9)
☂ Sanin honsen (Filming date: Heisei 25, February 10)
☂ Sanin honsen, Yamaguchisen, and Sanyo honsen (Filming date: Heisei 25, February 11)
During the national holidays, we had a lot of students boarding the Yamaguchisen. There are a lot of people recognized Fukuda-san, but she was relaxed and calm.
We transferred to Sanyo honsen, and got off at Iwakuni station. Fukuda-san visited Kintai Bridge, one of Japan top 3 famous bridge. With Kintai Bridge as the final destination, she looked back a the 5 days travel starting from Hiroshima station. As she traced her route on the map with a marker, she recalled the time she passed on her trip from Hiroshima station and ended at Hiroshima station, showing us a half happy and half lonely expression.
The sky darken as the train arrived at Hiroshima station around 7:00pm. And then watching the train leaves, our one stroke trip came to an end.
As our filming came to an end, with no apparent fatigue from the 6 days travel, Fukuda-san courteously thanks us with her cute smile.
----------------
- I didn't include everything, like which stations the line connected and such, since I'm lazy. Translation may not be correct. Correct me!
- I'm still waiting for the announcement about the DVD version.  (*´・v・)
- I still don't know which project Mayuko is working with Hirose Alice. (」゚ペ)」
☆