Since the news site didn't report anything about Mayuko's comment, summary of the report taken from mamayu-land BBS and Inagaki Goro's fan on twitter.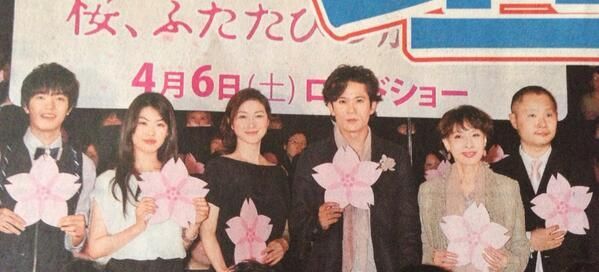 On March 24, 2013, the movie premiere for "Sakura, Futatabi no Kanako" was held in Shinjuku Piccadilly. The event included greeting, questions, photo session, and movie viewing. The theater was decorated in pink while keeping with the "sakura" theme of the movie. The casts and staffs presented for the premiere are Hirosue Ryoko, Inagaki Goro, Fukuda Mayuko, Enami Kyoko, Takada Sho, and director Kurimura Minoru. As the casts entered the theater, the aisle guests greeted them with showers of sakura petals.
Inagaki Goro greeted "Thank you for coming instead of going to the cherry blossom viewing. Since it's cherry blossom viewing, we also have it in the movie."
Mayuko greeted calmly in her usual polite, 2 hands-mike manner, "This movie is packed with a parent's feelings toward their child. I hope you'll enjoy yourself."
As the director said about the movie, "There are heavy and gloomy scenes at the beginning. As Hirosue-san and Inagaki-san walked together through this painful and harsh road, no matter what, I'm sure they will be able to see that small light." Hirosue Ryoko's and Mayuko's eyes met and they exchanged smiles.
When she was asked about her role in this movie, Mayuko revealed that because she was 17 when the movie was filmed, she read the book in order to understand more about the feelings of a parent to their child. However she still didn't understand it. It's not until she got a chance to meet the children that she was able to understand a bit of it. She said it was a strange personal experience for her.
When talking about the location shoot at Ashikaga, Mayuko said "For the children, rather than being heal...", making the host asked "Rather?" After pondering for a bit, "It's more like we are doing our best to create the movie together."
Hirosue Ryoko revealed how they were able to make the girl cry. By placing a shortcake in front of her, and tell her she can't eat it. This caused Mayuko laugh.
Enami Kyoko also revealed that she actually thought the plan was for her character to be Yoko's (Hirosue's character) mother and Kanako's grandmother. However, in actuality, she is Yoko's grandmother, and Kanako's great-grandmother. This caused many to be surprised, Mayuko included.
Last is the photo session, where the casts and fans stand in front of a man-made sakura tree. The host yelled "Sakura", everyone responded with "Mankai!" (full blossom), while the sakura petals are scattered, and the photo are shot.
The movie will be in theaters on April 6.
Source: NTV News 24, eiga, Oricon, Cinema Café, Mantan-Web, Mainichi.jp
❀❀❀
There are several reviews posted already.
From Mamayu-land BBS:
- Even though it's based on the book, Mayuko has a lot of scenes in the movie, to the point that she's almost like the main. She did a well in amplifying her character, who has a sad past. There may be a shocking scene for fans.
As for the movie itself:
- The movie continues to be gloomy up until the first half. The climax will make you feel deeply moved.
- The movie is filled with foreshadows, which will be tied together in the end. And showed pains, sadness, and a bit scary, but after it's over, you can feel the warmth and happiness.
- It's a bit like a suspense/mystery genre.
- Yoko's role is perfect for Hirosue Ryoko. And everyone else did well.
- It may also make you cry.
-------------
- My mind is jumbled up. I didn't really include things about the other casts, since you can get it at news site. ψ(`∇´)ψ
- I wondered if the shocking scene for Mayuko may be her kiss scene? I think it was hinted in the Special... (・_・ヾ
- I'm not surprised that Mayuko has a lot of scenes, because it seems like Mayuko and Takada Sho (pretty much every main characters) appeared before Kanako died. Wouldn't that mean the scenes from the beginning? Well, unless they have flashbacks and stuffs.
- Somehow, after reading the "foreshadow" part, I felt as if one of the character may be responsible fore Kanako's death.
- I really need the movie to be out in DVD soon. I can't wait to watch it.  O(≧▽≦)O
- Lastly, "Sakura Mankai!" (*≧艸≦)
❀❀❀