Thanks Rin for the news.
News taken from nikkansports.com.
As usual, I'm not going to translate everything, just the important parts. We can wait for an official source for the whole thing.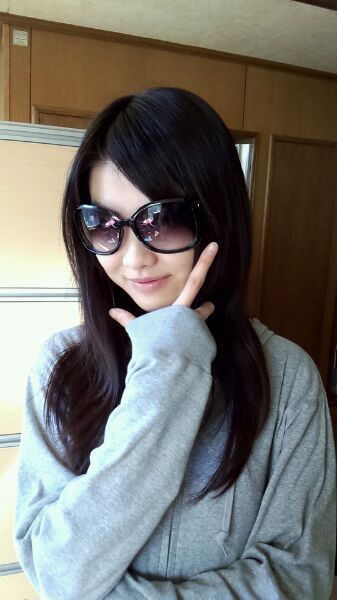 Fukuda Mayuko (18) will be staring in a collaboration movie between Japan and France called "Flare".
The movie will be first screen in France on August of this year, and will be shown in Japan. The movie will also be shown in Cannes foreign film festivals.
The movie is about a photographer and a runaway girl meeting, conflict, and growth.
With Tokyo as its base, "Flare" is about a 40 years old French photographer Jan (?) meeting with a 17 years old runaway girl named Flare (play by Mayuko). Fascinated by the photographer's work, Flare started working as an assistant, and before long, a love is developed. Facing the wild Jan, whom she is attracted to, while holding in her complex feelings, this is a difficult role.
The filming started in the middle of January of this year with the center of Tokyo as its stage. Though the script's direction is handled by director Otsuka Yukichi, the photography director is a Frenchman. At the filming site, English, Japanese, and French are constantly tossed about. For Fukuda's first challenge at collaboration film, "It's as if we crossed all the nationals' borders for this film. I think I'll be more proactive in learning languages from now on." She said while realizing the importance of communication.
Acting as Jan is the rising French actor, Valentin Bonhomme (32).
Graduating high school this spring, she's also entering as an actress to an new stage. When talking about the similar timing of state of mind of someone stepping on a new path to life, she said "I'm very happy to work on this film now, not a year ago or a year later. I think it's a role that I can only do this moment".
---------------
- Around the end/middle of January, Mayuko's manager's blog finally updated after more than 2 years with the titled "2013" and the picture above. It talked about Mayuko is currently filming for a new movie. On twitters, there are also many fan accounts of Mayuko and Hirose Alice filming together, as well as accounts of her traveling to many different places. Well, good things to those who waited, because unlike before this news about this movie is really fast. It's even faster than the news about "Sakura, Futatabi no Kanako". They are even planning of showing in in August. Wow, that's really fast. August = Mayuko's birthday. I bet she's going to have a lot of things to say for the promotion.
- Anyways, I don't know who Valentine Bonomu is. I'm not even sure if it's his name. Tried google and it gives me Valentine Bonomo, which I doubt is the same person. Thanks French link for name correction. Apparently Valentin Bonhomme was in the movie Victimes. To be honest, I've never heard of it.
- Director Otsuka Yukichi is the same director for "Soup" with Ohgo Suzuka, Hashimoto Ai, and Hirose Alice.
- I wondered how many times Mayuko play a "runaway from home" character. There's Pandora 3, Heaven's Door, and now this.
- I'm not really sure how I feel about liking older man thing to be quite honest. But since she's the main role, I hope the movie will be told in the eye of the girl.
☆