I didn't realized I've never talk about this even though it was last year and I've posted about it in several other social networks. ( ̄◇ ̄)ゞ スンマソーン
On October 26, 2012, Fukuda Mayuko had a short interview for SUBARU Dramatic Cinema, talking about a movie that changed her life. The movie is "Josee, the Tiger and the Fish". After it, they also posted a story about the filming on their Facebook page.
Video is translated by me, please do not take and repost, it'll make me cry. (´;ω;`)ウッ Because the translation is so bad that I feel really embarrass.

☆☆☆☆☆☆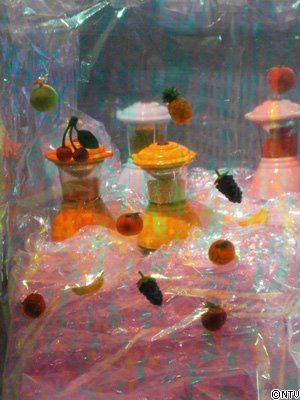 How was last night's SUBARU Dramatic Cinema?
"Shuroku Playback" will report on what happened while filming.
The fish tank that's reflected during the recording of the guest's story contain items that the guest is interested in at the moment.
Recently, Fukuda Mayuko-san is interested in making juices using a mixer.
Due to the health aspect, she has been making and drinking vegetable juice as well as fruit juice.
Fukuda-san recommended banana, yogurt, and lemon juice mixed. It's pretty tasty.
That's why this time, we presented 4 miniature mixer.
Truthfully this mixer is miniature lamp that the art team use to make the juicer-mixer. The miniature lamp that are used are produced just for this OA (Office automation)!
When it was shown to her, Fukuda-san was really impressed. With the art team's consent, they were given to her as a present after the filming ended.
☆☆☆☆☆☆
- Other news… Hmm, I'll just post it on a different post. :/ No point writing about what everyone already know. XD;;
☆