Text taken from mayukofukuda.seesaa.net.
For the request of hopeful_colour.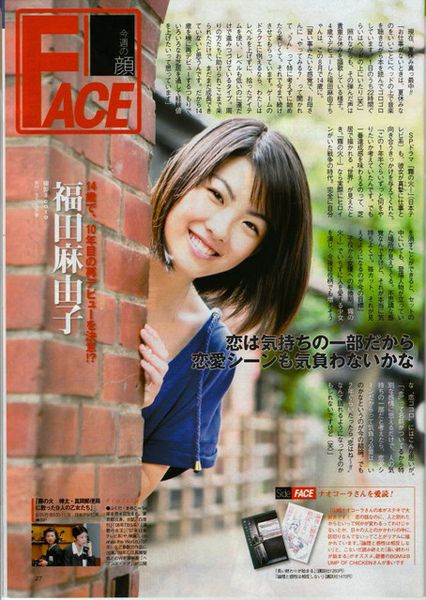 Currently, we're in the midst of summer break!!
Fukuda: When I don't have work, since it's summer break, I lay on my bed while listening to music or reading, and just idle around. In one day, I spend 22 hours on my bed (laughs).
Though she looked embarrassed, with that splurging voice, she glorified her precious break. Made her debut when she was 4 years old, Fukuda Mayuko-chan became 14 this August.
Fukuda: With a sense of accomplishment, my mother asked "would you like to try?" and I said "Un" without any thoughts, and it was enjoyable from the start. Because of that, I continued on until this very day. Let's take the game "Dragon Quest" as an example, though my level is low, using an item I picked up and even then my level is still low, I'm the type that progress the game based on that luck. I still required people around me for help, so I'm still unable to grow up. That's why as I become 14 years old, I'm planning to have another debut and persist on various dramas to gain experience points.
For the SP drama "Kiri no Hi" (NTV), she's also earnestly facing her work.
Fukuda: For around this half past year, I've been thinking about what I want to do. But the only time I can taste a sense of accomplishment best is for a drama can depict 'the world'. The heroine in "Kiri no Hi" exists during the era of war. Able to erase myself completely, even on the set, I can see the characters together at that place. Though it's a strange feeling, it's a really great feeling. In order to reach a point where each cuts are done, that is my goal. (as in cut, after filming a scene)
She's transforming from a child actress to an actress. For "Kiri no Hi", she's acting as a girl who wholeheartedly love people, and as her 'Koi Gokoro' (literally: love heart, as in someone in love) roles after this increase, her thoughts are...
Fukuda: With the name 'koi' (love) attached to it, a special feeling come to mind. If you think about one part of a person's feelings, since it's a scene with love, perhaps it's not something to be worked up about, that's my current conclusion. Even so, for the past 2 years, I have been "Love is~!!" and talked about it a lot (laughs)
She enjoyed reading Yamazaki Nao-cola-san!
Fukuda: Yamazaki Nao-cola-san's books are wonderful, and I love them! Even though it's a love story, comparing one from the other, they are not necessarily different. Within the connections between people from day to day, there are no pauses. That give it a real depiction. I recommend "Ronri to Kansei wa Souhan Shinai" (lit translation: There are no conflicts between logic and sense), and a book I recently finished "Nagai Owari ga Hajimeru" (lit translation: The long end is just begin). My BGM (background music) for reading is mostly by BUMP OF CHICKEN-san.
(Data & Written by = Miyoshi Miho)
--------------
- So hard. Sorry if it doesn't make sense.
- Though the picture looks like it's in a different magazine, the interview is the same. I have a feeling I've seen a much bigger scan before, but I'm not sure where.
- Ah, Merry Christmas and Happy New Year everyone!!
- Because I'm moving out for a month, I will try, but I don't think I'll be able to update her news as regularly (if Mayuko does have news).
- Perfect for the season, a Christmas song medley by one of my favorite group, Goosehouse.
- By the way, what ever happened to d-ize? I missed him so much!
☆