Text from the ever reliable mayukofukuda.seesaa.net.
Scan from Mayuko's Baidu.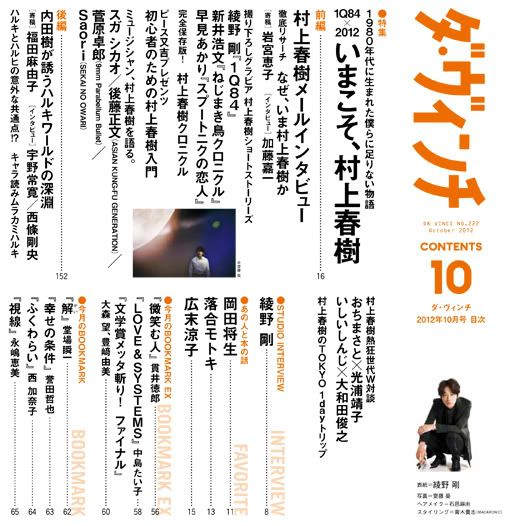 Fukuda Mayuko "After the dream, after the battle"
"Reading Murakami's works is the same as dreaming. It's as if the story and my memories become one. Even though I have no such experience and connection to the situation and thus unable to see it, but it's as if it came from a memory and from my own experiences. It's somehow a mysterious sensation.
My first experience is when I was 14 years old. I was suddenly hospitalized for 2 weeks and had a lot of free time. Since I love to read, my dad bought me many books. In those books is a book by Murakami. A few days before I was hospitalized, I saw a book cover with a cat and stone that left a great impression on me at the bookstore. Even though I didn't know what the contents was about, I suddenly wanted to try reading it.
In that dim hospital room, forgetting to sleep, I read it all in one night. It's really as if I'm dreaming. I have always thought that it was a miracle for the 14 years old me to encountered "Kafka On The Shore". As if waking up from a dream, there exists a whole new world. The world spread out many times wider, by no mean so much that the arms can't reach, but also very near. Even though the arm can't grow longer, you can still hear its voice. After that, though I started to read other Murakami's works, "Kafka On The Shore" is still my number one favorite. Other works have a unique but different stinging world, though I can't describe how much I love this book, it's just more. I also really like "The Elephant Vanishes" and "Blind Willow, Sleeping Woman". Perhaps these two works is the closest to the expression of to be able to see your dream. While they are just an inorganic matter, they are packed with Murakami's charming words that can resonate the heart. In that dream, I'm always alone. Inside me is a small battle. I wondered what kind of dream will I be shown next."
-----------------
- I'm sure there are mistranslations, please tell me.
- I don't know what she's talking about for the battle. It may be just a misunderstanding of the text on my part…
- I think the most shocking part of this interview was that she was hospitalized for 2 weeks when she was 14. I didn't know about this until now. I wonder when that happened, and why… This part is as shocking as when I learned that she had thoughts of quitting acting. Σ(っ゚Д゚;)っ
- I seriously didn't know "The Elephant Vanishes" was a collection of short stories. I still have it on my tablet, but no time to read it… And I still haven't finish the 2nd Hunger Game book yet. Need to start reading it again.
☆