► Fukuda Mayuko (福田麻由子) Part 1: Life and Personality
► Fukuda Mayuko (福田麻由子) Part 2: Work.
► 2010 - 2011: The 16 Years Old Fukuda Mayuko (福田麻由子)
It's that time of the year again. That time where I have to go back and look at all the things that she has accomplished the past year. It's a pretty tedious job, especially when I rather just sleep and watch dramas. But I will do it! Because she is Fukuda Mayuko… (*≧▽≦)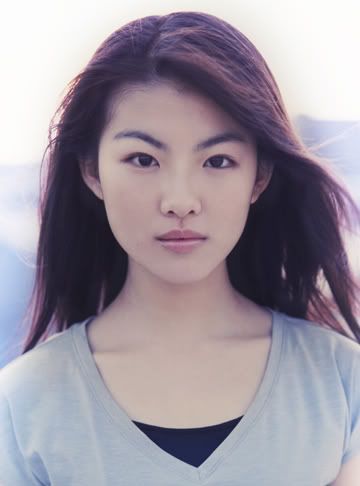 Happy 18th Birthday Fukuda Mayuko!!
(。・д・)ノ★⌒☆【祝】☆⌒★ヾ(・д・。)
If you haven't already know, August 4th is Mayuko's birthday.
The 17 years old Fukuda Mayuko had a fruitful year. She appeared in dramas, had another guest appearance, participated in commercials, and returned to variety after a long time. Because of many different projects that she has been involved in this year, it's not surprising that she also garnered many new fans. Of course, it is also not surprising that she also gained anti-fans as well.
April 2013 will mark her graduation from high school, I hope she will continues to create many more memories of her high school life, and I hope she'll get more jobs before then. I really can't believe she's already a third year in high school. Because of this, many fan speculate that she will be focusing on her university entrance exams rather than continue working. By the way, there were sightings of Mayuko going to a college campus open house. So yes, she is seriously thinking continue onto college. Though I'm not exactly sure which school she's aiming for, but time will tell.
A few days after her 17th birthday, news were out that she's casted in a WOWOW drama, as a homeless girl, Yuuki Kae. For this drama, she played a girl that went against society due to the lack of love from her mother. Most of her scenes are with Izumiya Shigeru-san, who praised her acting. Though, in the end, her role was rather insignificant to the overall storyline, viewers still get to see a different side of her acting.
- The drama starred Eguchi Yosuke and Uchino Masaaki. In particular, Eguchi Yosuke has worked with Mayuko for a few things, such as Goemon and Kyumei Byoto 24 Ji 3. This is the third time they work together.
- Mayuko always has an image of being a proper ojou-sama. However, in this drama, she is anything proper, as you see her finding spare coins under soda machine, shoplifting, covered in dirt, sitting on the road side, or being with the garbage.
- Many fans are amused at the fact that Mayuko has several scenes of her eating in this drama. And seeing as her role is someone who is homeless, her eating is actually more like "stuffing her face".
- She once again got another chance to shoot a gun in here.
Around September, members of 2chan and twitter announced of Mayuko's voice being used in a new commercial about DoCoMo Xi. Weeks later,  the commercial was posted on Youtube. Added to that, fans who emailed the company received a confirmation letter about her new work.
This is another one of her voice work, and at the same time, it's another commercial from Mayuko after a long time. 2011 was really the year that Mayuko displayed the growth in her voice. Many fans, and of course myself, were captivated by what she got to show in this video. It's definitely very different from her usual voice.
3 Maime no Bodyguard DVD Release
At the end of 2011, the DVD for "3 Maime no Bodyguard" was released. And later on, the video was uploaded to the internet. If you didn't get a chance to watch it, please click on the link to download the files in MF.
After saying so much about this, I'm seriously don't know what else to say. Erm, even though there are quite a few inconsistencies and plot holes, I enjoyed it quite a lot.
- I think what stood out and amused me was that it's the second time (?) we see her sing. This time she's singing AKB48's "Aitakatta" and failed while singing it. It was rather awkward, but funny nonetheless.
April of 2012 started her newest drama, Mirai Nikki, which starred Okada Masaki and Gouriki Ayame. It's based on a popular manga, Mirai Nikki, where the owners of the future diary need to kill each other in order to become god.
Mayuko played Okie Haruna, the person who happened to started the whole game for the majority of the characters. However, it turned out that everything ended up to be one big lie.
- 2012 is the year where Mayuko became a little sister, because in this drama, she is the little sister of Hongo Kanata's character, Moriguchi Rui. Instead of calling her by her character's name, Haruna, Japanese fans of the show called her "Imouto" (or little sister).
- I actually really like her character. Haruna is a calculative person. Even though she is a mirai nikki owner, it wasn't know until the middle of the show. Her reasoning for hiding it was that she want to wait until all of the players battled each others out and when one of them is left, she can beat him in order to win. Even if it's a cowardly way to win, but I like such a manipulative character. If I'm in the same situation, I would do the same thing tbqh. ( ̄∇ ̄)ニヤッ
- It's her first time working with Hongo Kanata, and their sibling bond was very well received. As both of them tends to play similar character types and story, the Japanese fans were very happy with the castings. On the other hand, the international fans are impressed with their chemistry on and off screen. Thus, a creation of the Mayuko x Kanata was established. In particular, the hug scene between the two brought a lot of stir to the fans, even though it's only the last 5 minutes of the first episode.
- Mayuko also bond quite well with the rest of her costars. Fans that went to be an extra for Mirai Nikki, noted that Mayuko and Gouriki Ayame would always hang out with each others. They even go to the restroom together, and waiting for each other to finish before leaving. On the other hand, Okada Masaki also talk about the closeness between the casts. In an interview, he said he and Hongo Kanata usually go out and have a drink together, but because the female casts (Mayuko and Ayame) are underage, they weren't able to come along.
- Unlike Pandora 3, where we see a lot of her eating scenes, Mirai Nikki showed her sleeping scenes. lol
- Since Mayuko played a first year university student, she got to wear a fashionable clothes. Unlike Yuno, who got to wear a lot of feminine and frilly dresses, Haruna's outfits are mostly shorts and high socks. Whenever she's on screen I always thought "Oshare!!".
- This drama also marked Mayuko first time wearing a suit.
Kagi no Kakatta Heya episode 2
Her "imouto" appeal further increase as Mayuko guest starred in Ohno Satoshi's drama, "Kagi no Kakatta Heya. Once again, she played the little sister, Takazawa Miki, of Wada Soutarou's character, Hiroki. Hiroki died in a locked room by carbon dioxide poisoning, but their uncle, played by Nakamura Shido, felt that there was actually more going on.
- Since the drama was a lock and key type, Mayuko's character literally become the key to "unlock" the room.
- It was Mayuko's first time to work alongside with fellow FLaMme's actress, Toda Erika. This made me remember one of the relay question from flamme.mobi, where Toda Erika asked Mayuko a question about her goal. Erika started out the question with "Each time I see you, you've became more grown up" and then calling her by Mayuko-chan.
- This is also her first time working with Ohno Satoshi. And this drama also marked Mayuko and Shida Mirai working in the same drama together, albeit as guest stars in different episodes with Mayuko in episode 2, while Shida Mirai in episode 8.
- Even though she played Wada Soutarou's little sister here, but as I looked up him, she's actually 2 years older than him. Σ(っ゚Д゚;)っ
- Since Mayuko played a student in this drama, she got to wear a school uniform, specifically a seifuku. After being in Q10 and wearing blazers, I think a seifuku really suited her better. On a second note, I think navy blue uniform suited her a lot (I just remembered her uniform in "Zettai Reido"). Just a random note.
Are you guys watching the Olympics? It's currently airing now as I type this. The 2012 London Olympics is a special since we can only wait 4 years to watch it. Mayuko got a chance to appear in a commercial on NHK for the Olympics. This time, she's playing a studious student. The CM only has her in 2 scenes, where she looks up from her studies toward the camera as she displayed a curious expression.
- This is a first time appearing in a CM in person after many years. I don't even remember the last time she, physically, appeared in one anymore to be honest. It was when she was less than 10 years old. Sure, she has appeared in CMs before recently, but most of them only included her voice, not herself. So this CM is really a big step forward for Mayuko, even if her scenes are a second or less. Hopefully, she will appear in more CMs in the future.
Mirai Nikki on VS Arashi (June 28)
After her return to the CM world, another news came out. Mirai Nikki team is to film for VS Arashi. VS Arashi is a game show, where the guests get a chance to compete with Arashi members while promoting their show. Luckily, both Mirai Nikki and VS Arashi are on the same channel, thus Mirai Nikki team get a chance to visit.
- This marked Mayuko return to variety shows after a long time. Though it is not as long as her appearance in CM, it still has been a while. The last time she was on a variety show was when she has to promote for "Heaven's Door" with Nagase Tomoya.
- The sibling bonds that was created in Mirai Nikki is shown here as viewers and fans alike got a chance to taste it first hand. Hongo Kanata and Fukuda Mayuko really have a lot of chemistry together, and the friendly bonds between them is really apparent. Every chances she get, Mayuko will talk about Kanata. Even calling him by Kanata-kun, while in an earlier interview, she was more formal and called him by Hongo-san. Not only the things that she said, but their interactions is also oozing with chemistry. This made shippers (me included) quite ecstatic.
- Her appearance in VS Arashi really outshine most of the casts as she became the most searched name on Google search for that day and the preceding day. Whereas, Hongo Kanata is the second most searched. There also seems to be an increase of fans after this show. However, at the same time, anti-fan for Mayuko also increased. Many found her to be annoying and was unhappy at the many times that she mentioned Hongo Kanata. Even saying that she seemed to be in love with Kanata, which could be true or it could not. As for me, I think it's because she's the only child, she seems very happy to have a big brother (even if it's for a drama). If you're happy about something, you would want tell it to the world.
- Mayuko always mentioned how clumsy she is, but after watching it, I found her to be not as clumsy as she has said. In fact, she did pretty well in gaining some points for her team at the beginning.
- On the day of the broadcast, fellow FLaMme's member, Nishiyama Mayuko tweeted about the show. She also shared a tidbits about them as they have the same name. In the company, Fukuda Mayuko is known as the "younger Mayuko" while Nishiyama Mayuko is known as the "not young Mayuko". FLaMme members' loves! ♥
- After the show, Japanese fans also pointed out that Mayuko has worked with all the members of Arashi before. The earliest was with Sakurai Sho and Matsumoto Jun (cameo) in "Yoiko no Mikata". Mayuko also appear with Aiba Masaki in one episode of the variety show "Tensai! Shimura-ken Doubutsuen". For the movie "Heaven's Door", Ninomiya Kazunari guest starred as a host for Mayuko's character's, Harumi, first kiss. Of course, last is her appearance in "Kagi no Kakatta Heya", starring Ohno Satoshi. So I guess we can now say she worked with all the members of Arashi before, if counting this time, twice. ( ´∀`)
FLaMme Mobile: "Otona ni naru mae ni…"
I really wish I wrote down all the information from her journal up until now, because I don't really remember the contents of each one of them.
Of course, each time Mayuko updated her journal, the fans ended up being confused by the abstract uses of words. There is one journal post that I happened to come across this past year that I haven't translated yet due to the large amount of abstract sentences. It is hard to understand for a beginner like me.
- Even in the heat of summer, Mayuko always sleep with the air condition off. She don't like the cold, and preferred the heat better. She wondered why the AC in the building is always so strong, but she do like drinking hot cocoa and hot café au lait in that setting.
- In the heat of summer, whenever she can't sleep well, she always ended up having dream about the supermarket.
- On twitter, there have been fan sighting of Mayuko and her dad going to The Pees concert. Of course not surprisingly, she talked about it during one post. She also mentioned that recently she has been listening to Linkin Park, and she like their vocalist, Chester Bennington. She said they are very cool.
- She started reading Okazaki Kyoko's works. If you didn't know Okazaki-sensei was the one that wrote Helter Skelter manga. The movie version starred Sawajiri Erika and is already in theater.
- When going to a shop with her friend, Mayuko discovered pollock salad udon, pollock udon with grated yam, and pollock udon with soft boiled eggs. She likes pollock. In order to prepare herself for living alone (it's very soon by the way), Mayuko has been learning how to cook. Recently she has been mastering how to make curry udon. The next will be pollock salad udon.
- Mayuko and her friend went to Vietnam for a trip with just the two of them. There, she aimlessly visit a temple for good luck.
- Mayuko was in the committee for her school's sport festival this year. Since it's her last year, she wanted to make memories, that's why she joined.
A Japanese fan noted, after going to a FLaMme event, that they are going to have a smartphone version for flamme.mobi this fall. Though I'm not sure the exact date, I'm very excited about this because that means (praying) that all smart phone users can navigate through the mobile site. O(≧∇≦)O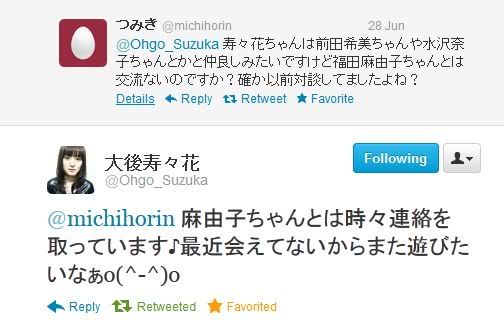 Another information that doesn't really fit anywhere. A fan asked if Ohgo Suzuka still keep in contact with Mayuko. Suzuka replied that they do hang out sometimes, but because of how busy both of them are recently, she's unable to.
I'm glad and surprised their friendship continues. I hope that after she graduates from high school, Mayuko will start her own twitter. (人・_・)♡
This bring me to the next point. Tomorrow (August 5th) will be Ohgo Suzuka's 19th Birthday, so happy birthday!! As usual, no post about Suzuka this year, but you can always wish her a happy birthday via twitter. She is very active!
Sources: Mainly Mamayu Land.
Pictures: Mainly Mayuko's baidu (except for my personal stash).
Lastly, a fan created this song in 2008 for Mayuko's birthday. Even though it has been 4 years, I thought I want to bring it back for her birthday. Very awesome. I hope you enjoyed.
●◎●◎●◎●◎●◎●