WARNING: Semi-nothing-news. (・_・;)
On June 8th, FLaMme website posted a new work for Mayuko in the other section.
2012.6.8~  NHK「全力応援!ロンドン」キャンペーンスポット

NHK "Zenryoku Ouen! London" Campaign Sport
Your eyes have not deceive you, it does say starting from June 8th. FLaMme's usual habits of posting things until the last minute appeared once again. Not only that, putting it in the other section made a lot of fans confused on what kind of work this is going to be.
When searching for the title, as expected, a website about the London Olympic came up. Other than that, no information is given out.
Today, as I was doing my daily ritual news checkup for Mayuko, on one of her picture BBS, an image appeared dealing with the new work.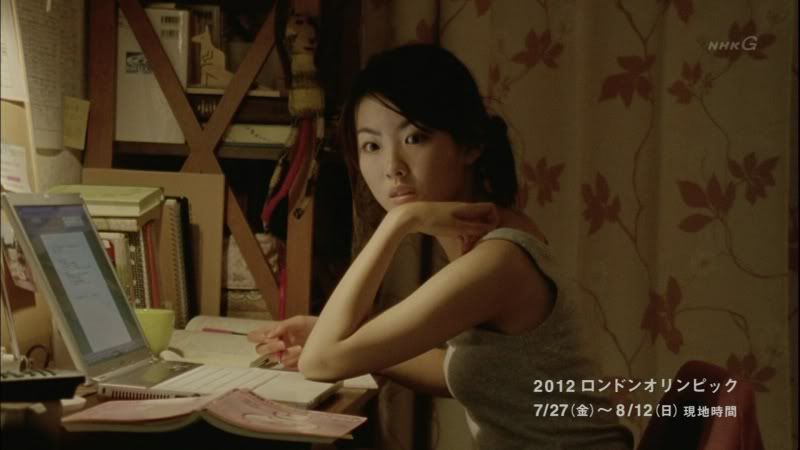 2012 London Olympic
7/27 (Fri) ~ 8/12 (Sun)
The poster wrote "Came across this by chance."
On 2chan, another poster wrote "Seemed like the theme for her role is a 'unfortunate girl'".
So what does this all mean?
1. She's acting.
2. The show, or whatever it is, is short, since it's "by chance".
3. Support + London Olympic.
My guesses are:
1. CM
2. A dramatize version of a documentary where Mayuko playing the role of an athlete preparing for the Olympics.
Since the date on FLaMme's website say 2012.6.8~, it makes me think that it will be continuing on until the start of the Olympic. So because of that, many guessed that it's a CM, and she's going to be supporting the Olympics. So perhaps in a few days, more information/pictures will come out. Until then, I guess we will have to wait.
The thing I'm confused about is if it really is a CM then why didn't FLaMme just categorized this in her CM section. It will be easier to understand what it's supposed to be.
So… Mayuko's new work(?) is a CM(?) for the London Olympic! I do hope someone will post it up soon.
☆
EDIT
- Much loves and thanks to an anonymous poster (why are you still anon? I can't credit you properly) who graciously send me the link to the video about her next work. As expected, it's a CM. Just a few seconds of Mayuko being a studious student with Ikimonogakari singing Kaze ga Fuiteiru in the background. Anyways, it's easier for you to just watch it for yourself. ♥
- For some reason, I'm starting to get excited about the Olympics… Which I have never really been before. >:3
☆