Ohno Satoshi's and Toda Erika's newest drama, "Kagi no Kakatta Heya" just started this week with the first episode. The rating for the drama seems to be very good with an 18% rating. Though I haven't have a chance to watch it, since it just air Monday morning (my time), it is on my must watch list for this season.
A few weeks ago, FLaMme finally did something right on time for once, and posted the news that Mayuko will guest on the second episode of this drama. This marked the first time she appears on a Getsu9 drama time slot for FujiTV.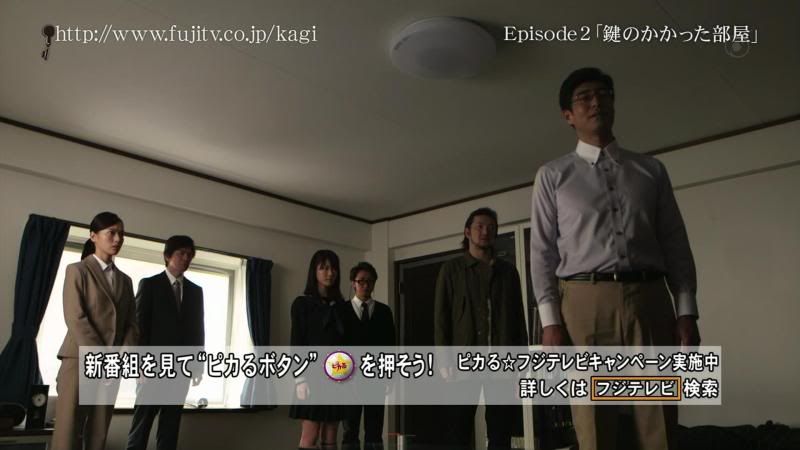 Today, a screen cap of the preview was posted on one of her Japanese BBS, showing her in a winter sailor fuku, along with her fellow FLaMme member, Toda Erika, and ARASHI's Ohno Satoshi (as well as other casts).
Though Fukuda Mayuko has several chances to be in the same works as Toda Erika, such as Liar Game/Spin Off (Mayuko starred as a young Kanzaki Nao, Erika's character), and Death Note/L Spin Off,  this will marked their first time ever to be on the same screen/small screen together.
I have absolutely no doubt, that this chance of her guesting is due to their management. However, with her recent works (Pandora 3, Soredemo Ikiteyuku, Zettai Reido, and Mirai Nikki) all appeared on Fuji networks, the exposure may also helped her gain this chance. I tends to like FujiTV stuffs, since they tends to have very flashy stories. They seems like they spent more on their productions than the rest of the networks. Though some most of the time, their stories are lackluster, I do enjoyed the good shows that they have.
Anyways, in episode 2, Mayuko played Miki (美樹). Her older brother died from carbon monoxide poisoning. Because it is a death behind closed door, the authorities believed it to be suicide. However, Miki may know something about his death that can change everything around. Or from my quick glance at the synopsis. ('~`;)
So if you are even more interested, make sure to tune in to the second episode of "Kagi no Kakatta Heya" for more information. The second episode will be shown next week, on April 23.
FLaMme's princesses collaborating! 〜( ̄▽ ̄〜)(〜 ̄▽ ̄)〜
☆