This week Kaizoku Sentai Gokaiger Making Of, taken from Toei's Gokaiger Official site.
I kind of missed this episode.
But actually, the guest star for this episode is the psycho Naoki from "Kokuhaku", played by Fujiwara Kaoru. I was thinking that he looks familiar, and then suddenly remember "Kokuhaku" lol. He definitely grew taller since "Kokuhaku".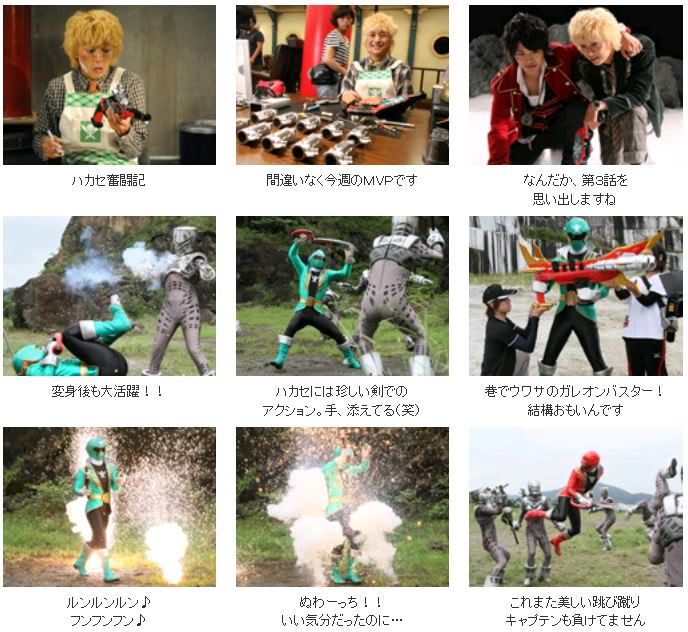 1. The record of Hakase's strenuous efforts
2. Without a doubt, he is this week's MVP
3. Somehow, it's a reminiscence of episode 3
4. Even doing a lot after henshin!!
5. An unusual sword play from Hakase. Putting up his hand (laughs)
6. Finally, the rumors' Galleon Buster!
It looks interesting
7. Run run run run ♪
Fan fan fan ♪
8. Nuwa-cchi!!
Even though I had a good feeling...
9. Another beautiful flying jump kick
Captain isn't going to lose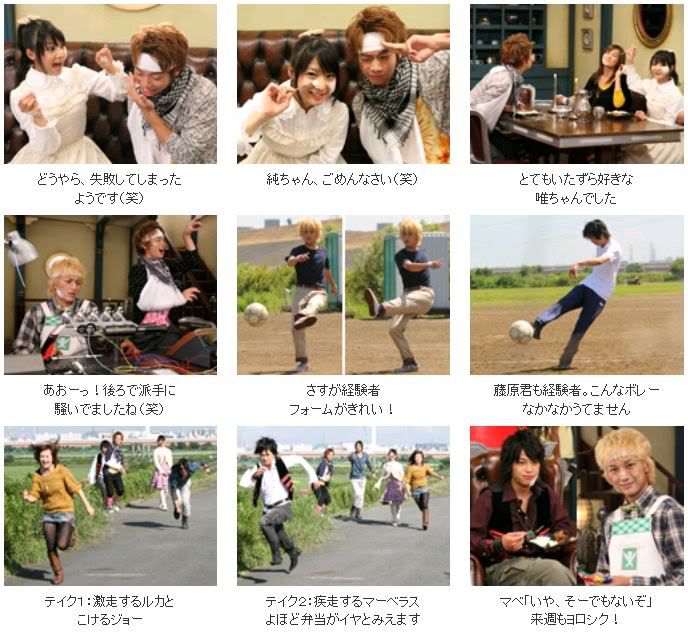 1. It looks like an accident (laughs)
2. I'm sorry, Jun-chan (laughs)
3. It's Yui-chan who really love to play pranks
4. Ao-! He really made a lot of sounds at the back (laughs)
5. As expected, his experienced form is beautiful!
6. Fujiwara-kun is also experienced. Wouldn't such volley be dangerous
7. Take 1: Running intensely Luka and the tripping Joe
8. Take 2: Dashing Marvelous, seems like he doesn't like the packed food
9. Marve "No, that's not true"
Be sure to tune in next week!
★━━━━━━━━━━━━━━━━━━━━★
Yamada Yuki's Birthday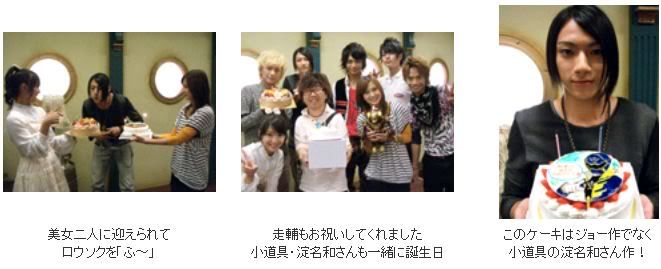 1. Receiving the cakes from 2 beautiful ladies
A long "Fu~" (blowing)
2. Sousuke (Go-Onger's Go-On Red) also came to celebrate
From the props' department, it's also Yodonawa-san's birthday
3. This cake isn't made by Joe
It's made by Yodonawa-san from the props' department!
[ミ☆ HAPPY BIRTHDAY ☆彡]⌒ヾ(・ω-。)~♪
Kokuhaku trailer
じーっ (。・.・)┣[TV]┫