This week Kaizoku Sentai Gokaiger Making Of, taken from Toei's Gokaiger Official site.
This week is the second part of the Engine Sentai Go-Onger tribute. I just realized how little screen time Buson get. Speedor, BeaRV, and Machalcon trying to fix their family problems. Lol I don't even know what to say, but I guess I like that Machalcon felt neglected by his parents storyline. It's just a bit silly when you look at them as car.
Going to miss Sosuke.
Next week, Joe focus, aka Joe being emo again.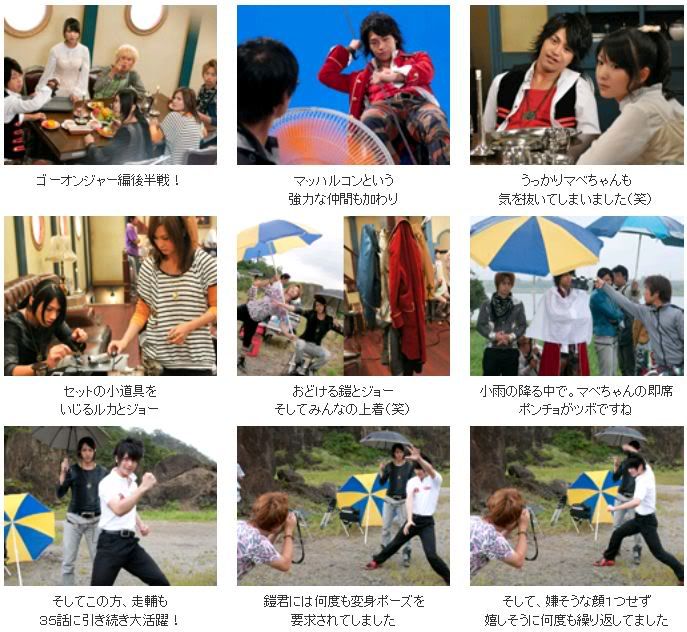 1. Second half of the Go-Onger tribute!
2. The addition of a strong partner, Machalcon
3. Careless Marve-chan also relaxed (laughs)
4. Playing with the props on the set, Luka and Joe
5. Gai and Joe acting silly
And also everyone's coat (laughs)
6. There was a small rain. Marve-chan's impromptu poncho looks silly right?
7. Also, this person, Sosuke continues to play a big part from episode 35!
8. Gai-kun continuously requesting for the henshin pose
9. Without even one unpleasant face
He happily obliged again and again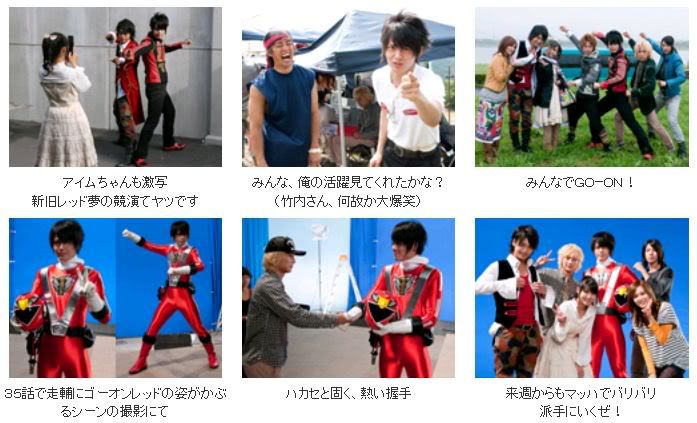 1. Ahim-chan also took a picture
These two who are the old and new Red
2. Everyone, were you able to watch me?
(For some reason, Takeuchi-san break out laughing)
3. Everyone, let's GO-ON!
4. From episode 35, filming the scene where Sosuke become Go-On Red
5. A fierce handshake with Hakase
6. Let's also be Mach, baribari (crunching/work hard) , and showy next week!
☆