This week Kaizoku Sentai Gokaiger Making Of, taken from Toei's Gokaiger Official site.
This week is Ohranger tribute. Excuse my lack of comment, as I'm currently busy with exams. x___x;;
1. Ohranger, Uwahh~!
2. Director looks like he had fun meeting with the OB-OG (old boy/old girl)
3. I'll give you some fun clothes ♪
4. And then, the entire staffs celebrate the director's birthday!
5. It happened unexpectedly during a filming period
6. It was a bustling birthday
Happy Birthday!
7. Able to meet the Ohranger...
8. I'm really happy! Waaoh!
9. A requested two shot! YaY!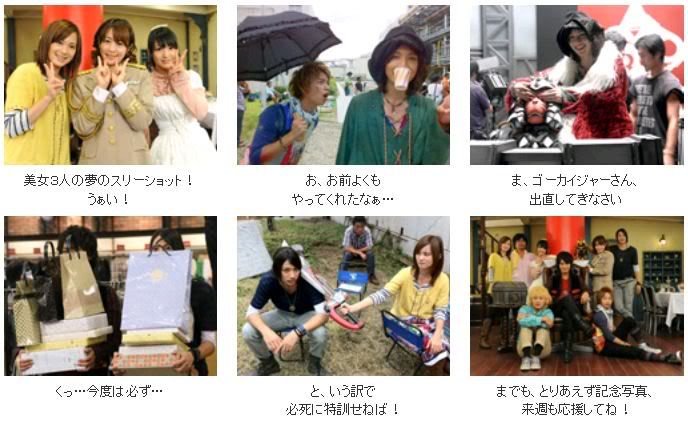 1. The dream 3 shot of 3 beautiful ladies! Wai!
2. You, you really did it this time...
3. Oh well, please get better Gokaiger-san
4. Damn... It's only this time...
5. So, with that said, we need to frantically train!
6. But until then, let's have a memorial photograph,
Please root for us again next week!
☆