Old interview for "Karigurashi no Arrietty" on Yomiuri Online.
Kamiki Ryunosuke, if I'm a little person, I want to be at the train station and take pictures of trains…. His 5th "major" work with Ghibli.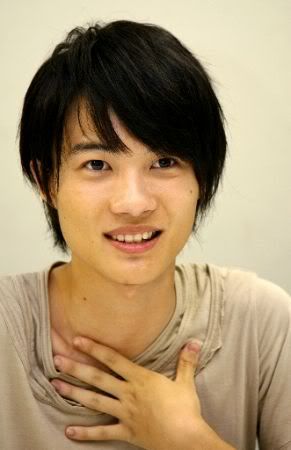 Kamiki Ryunosuke (17), who voice acted for Studio Ghibli's newest animated movie, "Karigurashi no Arrietty" (directed by Yonebayashi Hiromasa), has accepted an interview with sports news. While his work with Ghibli has already reached 5 numbers, when looking back to his experiences from when he was 2 years old, "I really hated to be call a prodigy." Unexpectedly revealing that he's a torietsu (撮り鉄= train fans who like take pictures of trains) , you can see the normal expression of a 2nd year high school student.
Kamiki has been performed in 5 Ghibli's works, such as "Spirited Away" (2001), "Howl's Moving Castle" (2004), and others. "I received a New Year card from Suzuki-san (Toshio, producer) and Director Miyazaki Hayao saying 'We'll looking forward to the Summer movie'. I thought, could it be, I'll be participating in that move?" and showing his shocked expression.
For this work, the character Sho is created using Kamiki's image. A 12 years old with a health condition, in order to recuperate, he come back to the old house that his mother used to live in, there, he meets with Arrietty, the borrower. "It's actually really hard. For 'Howl's', Markl's face and movement are pretty much comical, but this time, there's none of that. Because he's a calm and flat human, deciding how he should be for the drama is really difficult."
As for "The Borrower", they are little people who borrowed necessities from human in order to live. When asked if he become a small "borrower", Kamiki quickly replied "the station!". "Because I love trains. I want to be there, forever. I want to always have my camera ready and take pictures of it. I also went to the Fuji-Hayabusha retirement (discontinued in March). Ah, I also have the ICOCA (a rechargeable contactless smart card to use on JR West rail network)" he revealed excitedly.
Debuting when he was 2 years old and brilliantly continues his activities. Though everyone around him praised him as a "prodigy", for Kamiki, it's a complicated feeling. "For me, I think I'm not particularly a prodigy (laughs). It's embarrassing… and I don't really like it. It's not a good feeling." He added, "I don't really have a special ability, I'm just a normal human. Even now, I still like what I do, and if there's something about myself that I want to change, it's still the same as when I was a child."
Not taking into consideration of his own special talent while modestly continues pushing forward, perhaps, that's what supporting his growth. With a high school student-like hobby for "torietsu", Kamiki is not showing his boyish innocence anymore. Instead, he has an impressive atmosphere of nearing adulthood.
July 16, 2010
-------------------
- Problem with translation? Please tell me. It's not 100% correct.
- I find it funny that Kamiki's train obsession is too confusing for the normal reader that the writer need to put an explanation between the brackets. (´w`*)
- I'm trying to make a system for my titles. Still not sure if I should do:
Kamiki Ryunosuke: [source] [date]
[source] [date] : Kamiki Ryunosuke
[date] [source] : Kamiki Ryunosuke
- What do you think? ( ̄~ ̄;)ウーン・・・
- For this particular post, I used the second option, if you haven't notice.
☆