This week Kaizoku Sentai Gokaiger Making Of, taken from Toei's Gokaiger Official site.
This week is part 2 of the two parts tribute for Hurricanger.
Keyhole is as usual, wanky, so I wasn't really interested in this week episode as I should have.

But next week!!! Next week is the soul change between Hakase and Luka.  ♥ Which means we'll may be able to see "domestic" Luka and "manly" Hakase. (>w<♥)
1. Extremely gorgeous Gokai & Hurricane special collaboration!
2. Were you satisfied with the VS series' appeal?
3. Hurricanger's long awaited revival!
4. The filming atmosphere is the best
5. Teaching Gokai Change to Shioya-san
6. For us it's totally different... and they are extremely interested
7. Merge Attack, Shinobi Change together with Fukuzawa-san!
8. And, a storm of memorial photographs at the filming site
9. Ikeda-kun who love sentai are happy from beginning to end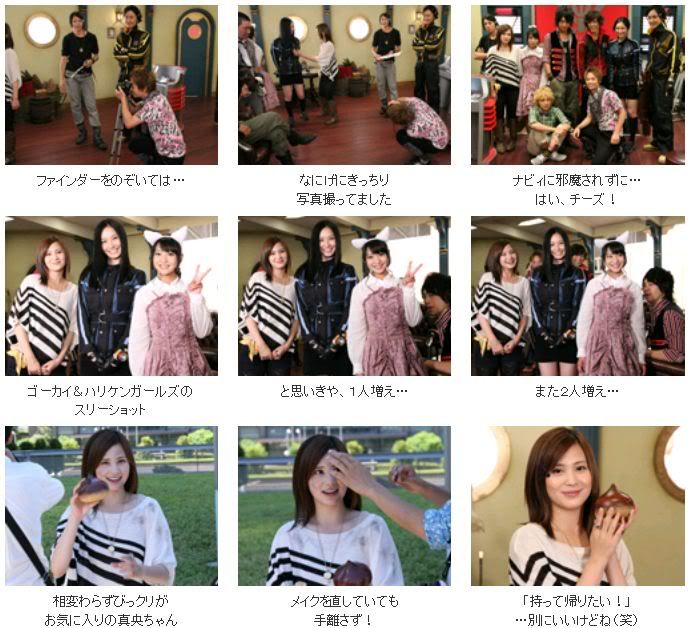 1. Looking through the finder...
2. And suddenly taking pictures
3. Navi isn't being in the way...
Ok, pose!
4. Gokai & Hurricane girls' three shot
5. Or so we thought, but +1 person
6. Now +2 people
7. As usual, Mao-chan's favorite chestnut
8. Not letting it go even when fixing her make up!
9. "I want to take this home!"
... I think it's alright (laughs)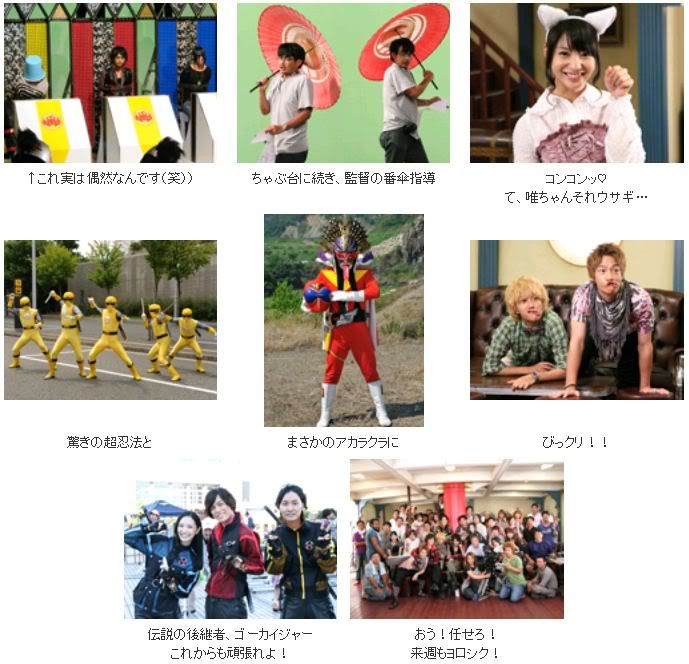 1. This actually by happened by chance (laughs) (Luka with the bucket)
2. Continue from the low table, the director's umbrella teaching
3. Konkon♡
Or rather, Yui-chan, that's a rabbit's noise... (not a cat)
4. Surprise Chou Ninpou
5. Could it be, Akarakura (a play on word with Akared and Satakura)
6. Suprised!! (Another play on word with the human chestnut and surprise)
7. As a tradition, our successor, Gokaiger, please do your best from now on!
8. Yes! Leave it to us! Next week also, yoroshiku!
♡