Little DJ interview for City Wave Tokyo.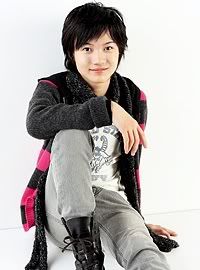 Kamiki Ryunosuke
I want to be a person that have courage no matter what happen!
With firm eyes and bright smile, giving a strong fascination to the hearts of those that watch him, this is Kamiki Ryunosuke-san. Exhibiting his vast talents in drama and movie, this time it's his first challenge as a DJ.
The movie "Little DJ~ Chiisana Koi no Monogatari" is a story about a young disk jockey at a seaside hospital. "Sitting in front of the mike and saying conscientious words to the people that listen" for Kamiki-san "conveying his thoughts" is an important part of the protagonist – Takano Tarou.
The movie's theme is "conveying one's thought". The scene where protagonist- Tarou and his father has a disagreement, comparatively Kamiki-san tell it straight.
"In my family, we argue about anything. Whether it's a good thing or bad thing, it'll come out (laughs). There are also times where parent and child will say embarrassing words. But because words like 'thank you, I'm sorry' are very important, it's my favorite words, that's why I want to say it." Then, when you have a girl you like…
"For that~, I probably can't say it. Definitely can't say it (laughs). I'll start trembling and act weird. But when we suddenly meet face to face, I'll probably hide it (laughs)." For that Kamiki-san, there's a scene that he admired about Tarou.
"There's a scene like that for Tarou on Mt. Hakodate. When he's deciding which action he should take to confess. That scene showed his courage, it's really cool, I want to become like that."
Tarou's obsession is radio DJ, what about Kamiki-san? "Clothes! Before I wasn't really interested, but recently it's fun going to buy clothes."
With his eyes glittering while talking, we decided to ask Kamiki-san about this movie's message. "The importance of to live, the importance of living, if you can feel the courage from this movie, it'll make me happy."
He has a strong image of being a "child prodigy", but lately, he's becoming more manly. For his number 1 fan can continue to feel the loneliness and happiness, from now on, we'll look forward to his increasing activities.
2007.11/28
☆