Interview from Zakzak during his Little DJ days.
Kamiki Ryunosuke
Shedding the prodigy image
Kamiki Ryunosuke, born on May 19, 1993, currently 14 years old. From Saitama prefecture. Entering the show business world at 2 years old. In 2002 acted in "Tantei Kazoku" (NihonTV), 2005 "Aikurushii" (TBS) and other popular works. For the taiga drama in 2005, "Yoshitsune", he played as the young Yoshitsune. His activities in voice acting include the anime "Spirited Away" and "Howl's Moving Castle". As for movie, he's the main character in 2005 "The Great Yokai War", 2007 "Into the Faraway Sky". In 2006, he was nominated for the Newcomer of the Year for Japanese Academy Award for "The Great Yokai War". For the movie, "Little DJ", with another young prodigy actress, Fukuda Mayuko, they will have a kiss scene. Currently, he's 165 cm tall. "I pretty much passed my father's height. I'm currently weight 45kg. I don't want to pass 50kg."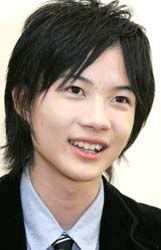 Truthfully, he's just a normal 2nd year junior high student.
Having deem highly as a prodigy child actor, he's very popular. But, honestly, he's just a normal 2nd year junior high boy. Enjoying ping pong club everyday while he goes to school.
The reason why he entered the ping pong club is "When I tried ping pong at an onsen, I was really bad at it that it become boring. That's why I thought, 'I can't do this~'. So if I were to be able to say 'So I can do this!' it would be nice, that's why…" As expected, a normal boy.
And yet, it seems like he's unable to participate in the competitions, in the end, it's only for enjoyment. The real battle for him is acting.
On the 15th, he'll be appearing in the movie "Little DJ ~Chiisana Koi no Monogatari". Setting in Hakodate 1970, a young 14 years old boy, being force to experienced hospital life due to leukemia, became a DJ. His heart stirred after meeting with a girl one year older in the same ward. Even though it is a "Sekachu" youth version, remembering his youth, even an old man can't help but spontaneously shed tears.
"The movie finished filming a year ago, I felt that there's a big change within myself. When I'm limited myself to the protagonist of the movie, there are a lot of things I was able to do, and I was able to convey it to many people. I need to learn by observing, I thought."
"I want to give the audience energy and courage"
Only getting sick once every 2-3 years, he has a healthy body, but even so, he was told by the adults that when he' still an infant, he was sick with a survival rate of only 1% chance. But some how, that was what allows himself to enter the road of acting, a human life is hard to comprehend.
"Even though I was saved, I don't know when there would be another relapse. My mother want to have a remain of my existence left, that's why she entered my application when an agency was putting auditions for child roles. Even though a normal picture is good (for his application?), but I still remember it was a picture on the front cover of a magazine. I don't think it's to flaunt myself, but rather, for more and more people to know that it's the proof I exist."
Even now, it seems like his mother will sometimes say "If it's too harsh, then it's okay for you to quit.". However, "For me, I came to really love my work. That's why whenever she says that, I'll answer back 'What are you saying?'".
When meeting face to face, he's a very cute boy. But for this child actor who will make adults loose face, the term "prodigy" stuck with him before you know it. No, perhaps it's impolite for us to call him a child actor?
"I wonder if I can call myself an actor yet… Because I'm still just a child in 2nd year of junior high, so I think I'm still a child actor. But I have a goal, I think it'll be good if the people who watch my acting able t feel better and have more courage. This type of job, you can influence and change a person, that's why I want to perform carefully."
For him, Tsumabuki Satoshi's acting in "Nada Sou Sou" left a deep impression in his heart.
"In the movie, Tsumabuki-san wasn't Tsumabuki-san, rather, I can't see him as anyone else but Okinawa 'Nii Nii'. He completely become his role. I think that is the differences between a child actor and an actor. Am I wrong…"
Being a prodigy child actor, he haven't lost himself from being a boy. But, to be able to leap over that hurdle from being a child actor to an adult actor, he continues to work. That time will soon be in front of our eyes.
☆