Interview taken from MOVIE Collection.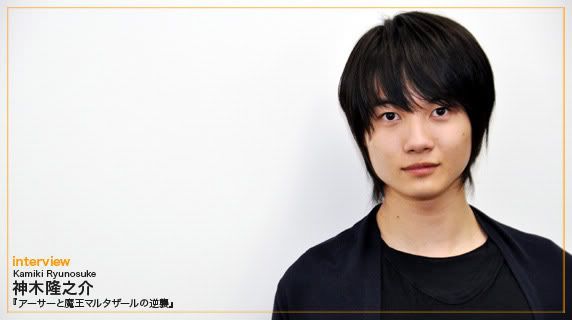 Recently, I'm in the middle of looking for more from my roles.
Director Luc Besson produced this big hit fantasy adventure "Arthur and the Invisibles". For this "Arthur" triology, the second work, "Arthur and the Revenge of Maltazard", will be shown to the country on April 29, 2010.
For the last movie, a young boy named Arthur turned into a 2mm Minimoy and helped saved the Minimoys' world. This time, Arthur once again come back to the world of the Minimoy in order to help the crisis of the wizard Maltazard's revenge.
Continues from the previous work, Kamiki Ryunosuke portrays the voice for Arthur. Director Luc Besson had said "Only he could be the Japanese Arthur!" and give high praises to this 16 years old young talent.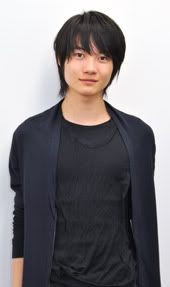 - It has been 3 years since then, did you experience any growths?
Kamiki: First, my voice become lower. Also, for the last work, I was in junior high, now, I'm in high school. I'm treading upon a fresh area, so I was able to experienced various growth.
- What's the differences between voice acting and acting?
Kamiki: The face don't appear, and you only use your voice to convey the meanings. Because of that, unlike a drama, I think it's necessarily to over react. But, because I was able to try something that I can't when acting in a drama, it's also a great challenge.
- In the English version, Arthur is played by a famous child actor, Freddie Highmore, who also appeared in "Charlie and the Chocolate Factory" right.
Kamiki: Because the last movie also starred him, it felt like he's a relative (laughs). Even though I haven't able to meet him, it also seems like Freddie-kun's voice become lower as well.
- Kamiki-kun entered the show business industry at a young age, what do you think is interesting being an actor? And also, have you ever thought of quitting?"
Kamiki: I've never once thought about quitting. I love it because it's fun. About the work of an actor, recently I've been trying to look for more from my role. What's the true meaning of this line, or why does this character say such thing, I'm always wondering about it. I try to investigate my character before acting, so if people were able to recognize that while watching, it would make me happy.
- Beside from being an actor, what other challenge would you like to try?
Kamiki: Music. From before, I really like to sing, so recently I start trying to learn a new musical instrument. Even though it's just an electric guitar, I'll tell my friends, "Let's form a band". My favorite bands are Mr. Children and flumpool.
- Please tell us about the highlights of "Arthur and the Revenge of Maltazard".
Kamiki: This work shows that you'll become stronger when you have something important to protect. For this trilogy, "Arthur and the Revenge of Maltazard" is the middle movie. Even so, after finishing the last scene, you'll quickly feel curious about the next movie, so I also hope that you'll look forward to the 3rd work as well. Please be sure to watch it!
(2010/4/27)
☆