With the summer approaching, Mayuko will have more times, thus she will be appearing in dramas.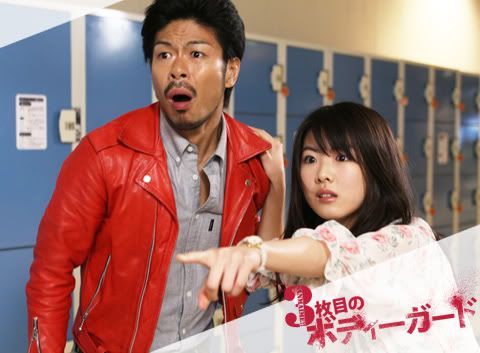 3-maime no Bodyguard ~Boku wa Kimi Dake wo Mamorinuku~
Okay, the first news, I'm sure you all have heard about it. From Tokyohive and TokyoGraph.
- Mayuko will play the heroine, Natsumi, who witness a murder, thus, need the protection of Matsu's character, Nobu.
- It's released by BeeTV, for DoCoMo mobile phones. There will be 13 episodes in all, with 5 minutes each. The drama will start showing on June 1st, and of course, you need to be a paying member to view it.
- Other actors include Takenaka Naoto, Kyomoto Masaki, Moto Fuyuki, and Nukumizu Yoichi also appear in the series, with fellow EXILE member AKIRA will make a guest appearance.
Characters:
► Mishima Nobuo – Matsumoto Toshio (MATSU of EXILE)
- (Freeter) No job, no money, but has more sympathy than normal people. Unable to stand by when he sees a person in trouble, always lend a helping hand. Nicknamed Nobu.
- An unexpected turn of events results in him entering a contract to serve as a bodyguard for a spoiled girl named Natsumi.
► Fukusawa Natsumi – Fukuda Mayuko
- (College student) A girl that's overflowing with the sense of justice in helping weak people. She's strong will, but also holding on to a secret. Since meeting Nobu, she slowly open her locked heart.
- Daughter of the powerful Osai clan. Her father is a member of parliament.
► Hikaru Genji – Moto Fuyuki
- (Show Bar manager) A man always living the moment. Helping Nobu and Natsumi out with their troubles.
► Policeman – AKIRA (guest)
- (Policeman) Appearing unexpectedly with his mysterious policeman outfit. As expected, is he a friend or foe…?
► Ryogoku – Yamazaki Shigenori
- (Silver hair man) Having Natsumi witnessing a murder scene he caused, he's desperately trying to find her and shut her up.
► Secretary – Kyomoto Masaki (special guest)
- (The secretary of Fukusawa, a member of parliament) With Natsumi's father, Fukusawa Daigorou, a member of the Japanese's Diet, he is his private secretary. Being an ambitious person, what's the reason for his interests in Natsumi's whereabouts…?
► Bannai Katsuji – Takenaka Naoto
- (Loan shark) Even with his flashy outfit designs, he's actually helpful. To Nobu, he's like a good older brother. Somehow, always worried about Nobu. Even though helping him at first, but ended up betraying him.
Trailer
- Watching the trailer, it's going to be a comedy. I laugh at that part where both Natsumi and Nobu are freaking out over the killer and Nobu suddenly ran away, making Natsumi calls after him "Hey, you're supposed to protect me!!!" (> w <;;)
- The drama will be out starting June 1st, like I have mentioned. I'll translate the interview in a separate post. Please wait for it! :)
- Oh, I didn't realized it, but MATSU is in Hagane no Onna 2 with Kichise Michiko and Arimura Kasumi. Both actresses are part of FLaMme, Mayuko's agency. Interesting...
- By the way, who is this AK person (in TokyoHive) that's so well verse in the way of Mayuko?! We must become friends!! *______________* jk
☆☆☆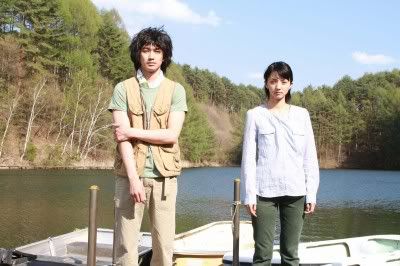 The second news is Mayuko is announced as one of the supporting cast for Eita's new summer drama "Soredemo, Ikite Yuku".
Taken from Jdrama Weblog:
Date: From 10.00 p.m., Thursdays, July 2011

Station: Fuji TV

Cast: Eita, Mitsushima Hikari, Kazama Shunsuke, Tanaka Kei, Sato Eriko, Fukuda Mayuko, Murakawa Eri, Kurashina Kana, Emoto Akira, Danta Yasunori, Ono Takehiko, Fubuki Jun, Tokito Saburo, Otake Shinobu

Synopsis: In 1996, Fukami Hiroki's (Eita) younger sister was killed. Hiroki had been asked by his mother to take care of his sister that day, but he had not kept his word. Furthermore, it is determined that the assailant is Hiroki's friend … … Hiroki's family breaks up after that and he lives with his father. He still feels guilt-ridden even now. On the other hand, the assailant's family tries to live in solitude, but they are forced to keep moving as a result of someone's anonymous tip. 15 years go by and Hiroki encounters a girl whom he should not meet. She is Toyama Futaba (Mitsushima Hikari), his friend's younger sister … … The two of them, who have been living courageously and trying to find hope, are drawn to each other despite their strange twist of fate … …
- This is going to be Mayuko's first full length drama (aka, not special nor guest) in FujiTV since Kyumei Byoto 24 Ji 3rd Season.
- Though we still have no idea about their roles at the moment, I wondered if she's going to be playing Eita's sister or a young Mitsushima Hikari.
- Eita!!! ♥ Seriously, I'm still looking forward to this even if it doesn't have Mayuko in it. Eita is great! And I quite enjoyed Mitsushima Hikari as well, though I can't stomach Love Exposure (only managed to watch half of it before stopping. Yea it's a good movie, but too much blood and gore for me).
- Seems like there's going to be a lot of crying scenes in this one and who dunnit.
- Mayuko is going to be in the same drama as Eita, Kazama Shunsuke, and Tanaka Kei. It's her first time in a drama together with Eita and Kazapon, but she worked with Tanaka Kei before in a drama special.
- Love Eita and Tanaka Kei since I watched Waterboys drama with them (though I really like Eita more). And love Kazapon since watching Akibahara@DEEP.
- Kazapon is actually a good actor (despites being a Johnny), so I'm really glad he has a drama out. The last I saw him was in LADY ~Saigo no Hanzai Profile~ as a guest. Since it's pretty recent, I'm thinking they might be pushing him in drama more. If that's true, then YES YES YES!!!
- Most of the casts are really solid actors, so I hope the story is going to be good and interesting.
☆☆☆