Not a translation, since JPop Asia already did it for me. XD
Team Amuse!!, as you've probably guessed, are a collection of artists and performers from Amuse, coming together to record a song together to help fund raise for the victims of the Tohoku earthquake. The song is called "Let's Try Again".
The songs and PV will be release for sale on April 20, 2011. All proceeds from the sales will be donate to the Japanese Red Cross. So if you have spare money, please consider buying. Hey, you know, this is probably Kamiki's first single. (●>ω<●)
Amuse artists taking part:
Itaya Yuka, Ueno Juri, Okada Yoshinori, Ogura Hisahiro, Katou Takako, Kamiki Ryuunosuke, Kishitani Gorou, Kuwata Keisuke (Southern All Stars), Koide Keisuke, Komatsu Ayaka, Sato Takeru, Samples Nakano-kun, Skoop on somebody, Sudou Risa, Sekiguchi Kazuyuki (Southern All Stars), Takahashi Yuu, Terawaki Yasufumi, Tomita Yasuko, Naka Riisa, Nozawa Hideyuki (Southern All Stars), Hara Yuuko (Southern All Stars), Pappara Kawai, Perfume, BEGIN, Hiraoka Yuuta, Fukuyama Masaharu, FLOW, Porno Graffiti, MIHIRO ~Milo~, Matsuda Hiroshi (Southern All Stars), Miura Haruma, Miyake Yuuji, Murakawa Eri, MONOBRIGHT, Mori Yukinojou, Yoshitaka Yuriko, ONE OK ROCK.
But, while waiting, you can watch the preview. Kamiki is pretty easy to spot!
Look at how incredibly happy Kamiki is while singing and dancing para para. (●>v<●) It made me laugh (in a good way).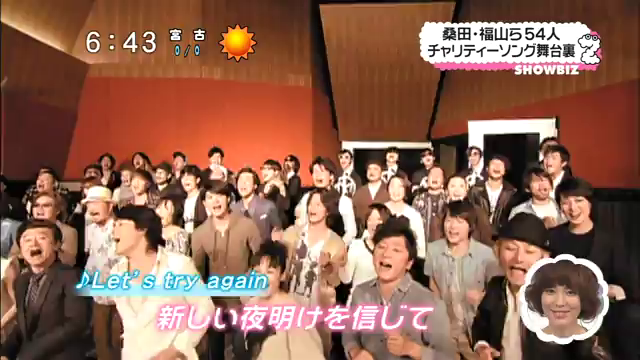 On another note, Miura Haruma and Sato Takeru standing next to each other. BFF♥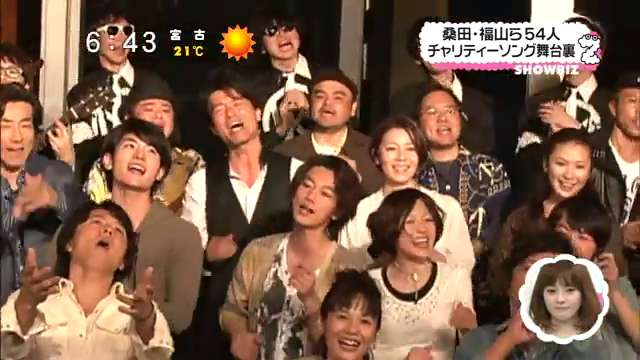 Too bad Kamiki isn't right beside them (close, but separate by someone else… who is that? I'm thinking Katou Takako-san? Yes? No? Maybe? XD).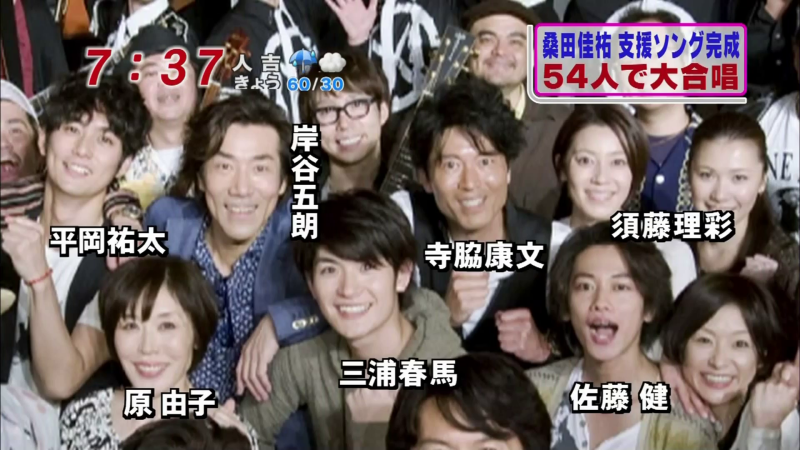 There's Porno Graffiti and Perfume in it… so you know who will definitely buying. *coughMayukoahem* LOL (*≧▽≦) Just saying. ( ̄ー ̄)ニヤリ
☆