Kaizoku Sentai Gokaiger, the 35th anniversary Super Sentai series, also the sentai series of this year, just started. The theme is pirate!!! (・w・) Today will be its third episode, but you can get the earlier episode sub by TV-Nihon, which is where I get mind. I don't really bother getting it elsewhere, since they have been very good and consistence with supplying me with good subbed tokusatsu shows. On another note, TV-Nihon also sub few dramas as well. Which reminded me that I need to watch "Sexy Voice and Robo". [壁]ii ̄)ブー
I'm enjoying Gokaiger so far. And I love the appearance of Ozu Kai (Magiranger) at the end of episode 2. Σ(●゚д゚●) Mahou Sentai Magiranger is my favorite sentai series. O(≧▽≦)O ワーイ♪
Nakazawa Shojiro is one of the director for Gokaiger. I'm guessing because he's the one who directed the episodes of this making of, that's why it's 'Nakazawa Gumi' (Gumi = group).
Anyways, this week Gokaiger Making Of, taken from Toei's Gokaiger Official site.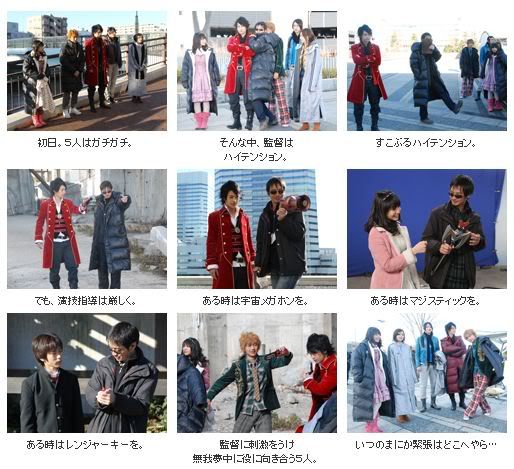 1. First day. The five are nervous.
2. In the midst of that, director is high tension.
3. Extremely high tension.
4. But his guidance in acting is strict.
5. There's a time with the universe megaphone
6. A time with the Magi-stick (reference of Magiranger)
7. A time with the Ranger keys.
8. Being motivated by the director, these five immerse themselves in their roles.
9. Before you know it, the nervousness disappeared…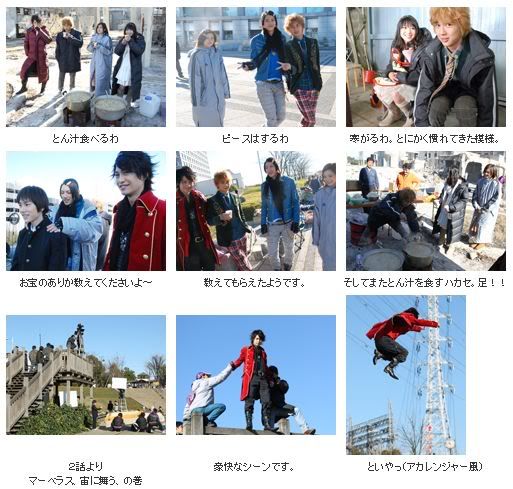 1. Let's eat tonjiru
2. Let's do a Peace sign
3. It's cold. To put it simply, they became familiar with each other.
4. Tell us if there's any treasures~
5. Seems like they were told about it.
6. And then, Hakase went back to eat tonjiru. Fast!!
7. From the second episode, a part of Marvelous dancing in the air
8. It's an exciting scene.
9. To-iya~ (Aka-ranger-like)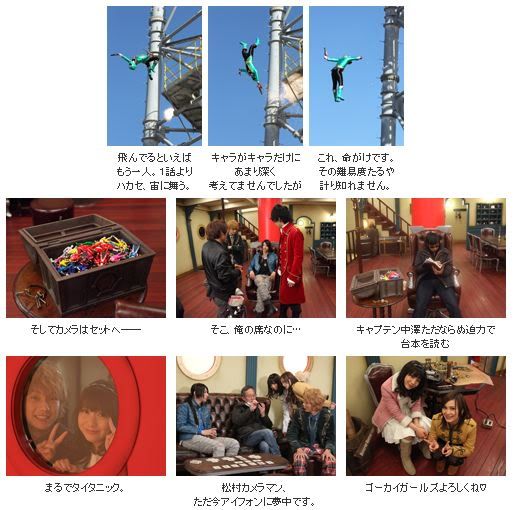 1. There's also another person that flew. From the first episode, Hakase also dance in the air.
2. Even though it's not the character themselves that did it
3. They risk their life to do this. You can't measure the degree of difficulties.
4. And then, to the camera set~
5. That's my seat…
6. With uncommon intensity, Captain Nakazawa read the script
7. As if it's Titanic.
8. Cameraman Matsumura is just now engrossed with the iPhone.
9. Please treat the Gokaiger girls well ♡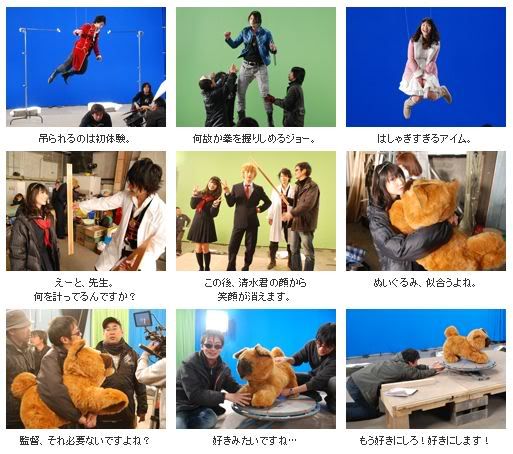 1. First experience of hanging in midair.
2. Somehow, Joe is grasping the rope tightly.
3. While Ahim is having fun.
4. Erm, Sensei. What are you measuring?
5. After this, a smile spread on Shimizu-kun's face.
6. A stuffed toy, they suited each other.
7. Director, we don't really need that do we?
8. It looks like he became fond with it…
9. Do as you like! I'll do as I like.
The Gokaiger casts in "Toei Hero Mask Vol. 36"
Ahim and Luka in "BOMB March Issue"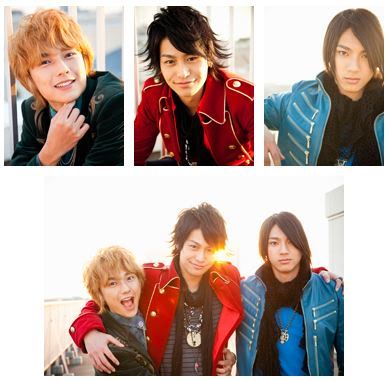 Hakase, Captain Marvelous, and Joe in "TV LIFE Issue 5"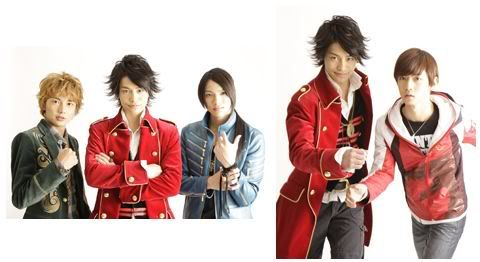 "HERO VISION 39" with the Gokaiger boys and Captain Marvelous and Alata (Goseiger)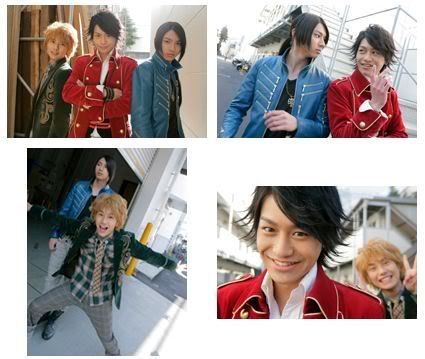 "Emugura Vol. 9" with Gokaiger boys.
☆