Kamiki Ryunosuke, A Son's Conversation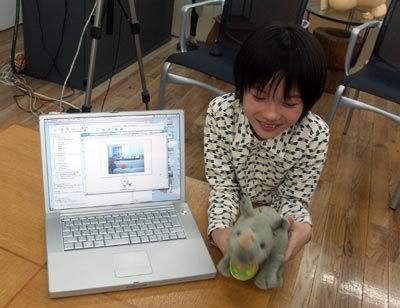 Ryunosuke: (Looking at the computer) That's my picture!
- At last, you finally noticed the existence of Kingyo (Goldfish) Camera. Even though it's a background image, right now, Ryunosuke-kun image is seen throughout the country.
Ryunosuke: Eeeehhh~!!!!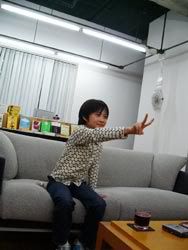 - That's a sudden peace sign. Even though you're a talent, Peace…. And also, extremely Peace. I haven't done the peace sign in a while. It's only one shot every minute, so you need to do the pose for a long time.
Ryunosuke: (Looking at the Kingyo camera while continues to smile and do the peace sign)
At the time, the girls: There are a lot of mails coming it.
Ryunosuke: The peace picture was sent! Yay~!! Eh, what is it, mail?
Girl 1: Un, more over, just now, from New York.
Ryunosuke: Eh, just now? Just now? It cam just now? Just now? Wha!!! Let's read it, read it.
Girl 2: Wait a second. How about this person's mail.
Ryunosuke: Just now, today, it came?
Girl 2: That's right.
Ryunosuke: Waah, there are a lot that came. (Excitedly) Eeerrmm.
mail: He's so cute!! Kya~ ☆

I'm currently an exchange student in American, right now it's 4 o'clock in the morning.

Normally, I'm already sleeping, but since it's Friday, I'm having a night life out with my friends, and just came back.

While trying to sober up, I thought of looking at Kingyo, and there, Kamiki-kun!!

Cute!!! I'm glad today is the weekend.

Bou's voice from "Spirited Away" is really the best.
From Ayakoba-san! (smoothly)
- Amazing! Like a narrator. As one would expected! I thought since you're a 5th grader that you won't be able to read some of the kanji. But when you think about it, normally the scripts are full of kanji.
Ryunosuke: Aaah, if Papa were to sit in front of the camera, he'll become popular.
- Let's have one of the staff sit in front of it for a test. (Producer Harada Izumi was chosen)
Ryunosuke: Harada-san, please make sure to face the camera, and stare at it while wait!! That's no good, you can't move. (Absorbed)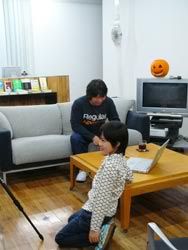 Girl 2: There's a mail that said "Right now, there's a picture of an old man"….
Ryunosuke: Then I'll be in the picture!! (Ryunosuke-kun having fun with the Gingyo camera)
Girls: Kya~ Kya~ Kya~ So~ Cute~.
Ryunosuke: I wan to look at the camera, is that ok?
- Go ahead. When this lamp become green, that's when the camera take a picture. And this computer will send the picture to the internet, so anyone in the world with internet can see it.
Ryunosuke: Heeee. Ah! My picture isn't there anymore!! (a bit dejected, Ryunosuke-kun quietly head back to the sofa)
- When the image is captured, it will be drop into the computer and will become a picture. Look, when you print it, it's a picture.
Ryunosuke: Agyaa~!!
Saying such honest tings, the time Ryunosuke-kun come to the building, half of it is spent playing with the "Kingyo Camera". Rather than "While playing with the Kingyo Camera, Ryunosuke-kun roughly make the eyes of the girls turned to hearts as they gaze at him".
Ryunosuke-kun, thank you for making the whole world have that calm down time.
---------------
- Kamiki is such a hyperactive kid. ♥
- I'm guessing Kingyo camera is like a live camera that must've been popular back then. Though it'd been 5 years already.
☆