Text taken from mayukofukuda.seesaa.net.
Scan taken from MyMayuko.com.
Fukuda Mayuko and Takahata Mitsuki interview for the drama Q10.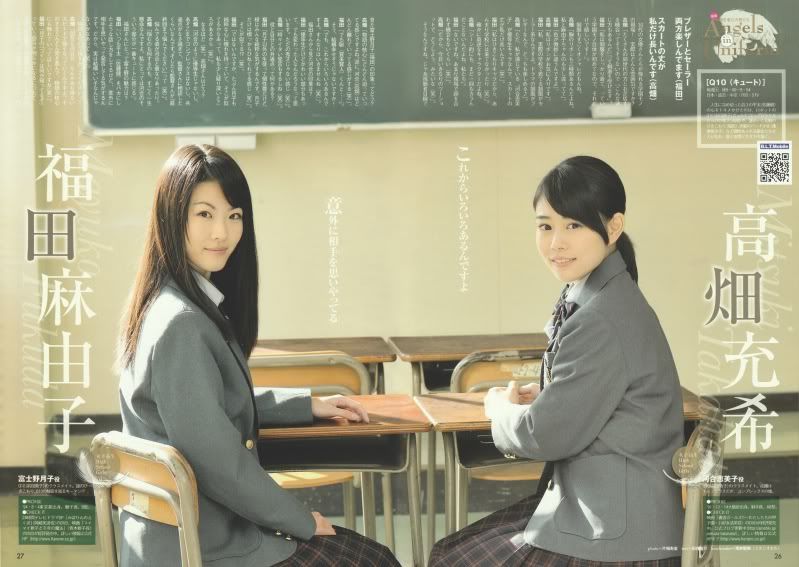 "B.L.T." Issue January 2011, page 26-27
Angels in Uniform
As the drama continues into its climax, we noticed the trend in pretty girls in uniforms.
We'll introduce these gallants girls in uniform to you.
- All teenage actresses want to be involve in a school drama! In actuality, how is the atmosphere like?
Takahata Mitsuki: It was a place with many people from my generation working for this drama that I thought, "There are such and such performer here" and was able to be motivated by it.
Fukuda Mayuko: It's my first time that I get a chance to properly wear a uniform for a school story, just that really make me happy!
-  The uniforms are also very fashionable
Takahata: Our ribbons are  also of three varieties. Mine and Mayuko-chan's ribbons are also a bit different.
Fukuda: The color is subtly different from each other.
Takahata: The ribbon is my favorite.
Fukuda: For me, in reality, my school uniform is the sailor type. For the drama, the uniform is a blazer kind, so I can enjoy both world.
Takahata: However, because the character Kawai Emiko that I played is an "honor student", so only my skirt length is longer than the rest (laughs)
Fukuda: Because I'm a shut-in character, so I don't really go to school much (laughs)
- That's because it's your character (that you don't get to wear uniform much/skirt are longer than the rest).
Takahata: Even for our scenes, we don't have a chance to act together.
Fukuda: That's right, we have no scene together. We also don't have any opportunity to meet at the filming location either (laughs).
Takahata: That's why, suddenly we have a two shot together, I didn't know what to do (laughs).
- Is that so. From your perspective as a viewer, what's your impression of Fujino Tsukiko (Fukuda Mayuko)?
Takahata: She's a character that feels like increasingly bringing the story closer to its core. On the contrary, it felt like it's rapidly moving away from Kawai Emiko (Takahata's character) (laughs).
Fukuda: But, with Hisashi-kun (Kaku Kento)…
- That right, doesn't they seems like they will pretty much have a happy end!
Takahata: But from now on, there are going to be a lot of things happen. You can't seems to ignore it (laughs).
- As for Fukuda-san, what's your impression of Kawai Emiko?
Fukuda: Even though she's a honor student, she also has a cute part to her, but I wondered how she's going to change later. It felt like she's not just a honor student (laughs).
Takahata: Sometimes she do say strange things (laughs).
- Do you have something in common with your character?
Fukuda: Different from other students, Tsukiko has an abundant of individuality, but everyone is interest in her true intention. It felt like her true intention is being rebellious (laughs).
- That's your common point!?
Fukuda: That's not our common point, perhaps Tsukiko also yearns to possess a genuine heart, I guess that's our similarity. It's because I also have a bit of distrust in myself (laughs).
- I see (laughs). What about Takahata-san?
Takahata: Compare to Kawai, I'm not really a honor student, until now, I also don't have a complex, because we really don't have any similarities, that's why I had a lot of discussion with the director. Then the director told me, "Please continue to be worried until the last episode" (laughs).
- Being worried is just like Kawai.
Takahata: Being worried and also not knowing what to do, it's like she's really trying with her best effort. I think that is Kawai's most cute part.
- What is Fukuda-san's think is Fujino Tsukiko's charming part?
Fukuda: She's always talk to Heita (Sato Takeru) in a mocking way, but I noticed that unexpectedly she says a lot of considerate things to him. That's why I think perhaps she's actually a good girl (laughs).
- Please tell us about the story and your character from now on!
Takahata: The timid Kawai is becoming strong in unimaginable speed. Just like that, she'll continues to push forward, and I wants her to experience the story's core (laughs).
Fukuda: "What do you know about that girl" that part about Tsukiko will become clear, and in proportion, the secret of Q10 (Maeda Atsuko) will perhaps be reveal. Please don't miss it!
☆
Text from mayukofukuda.seesaa.net.
In the same magazine and issue, on page 154, there's a present corner for January issue, as well as a message.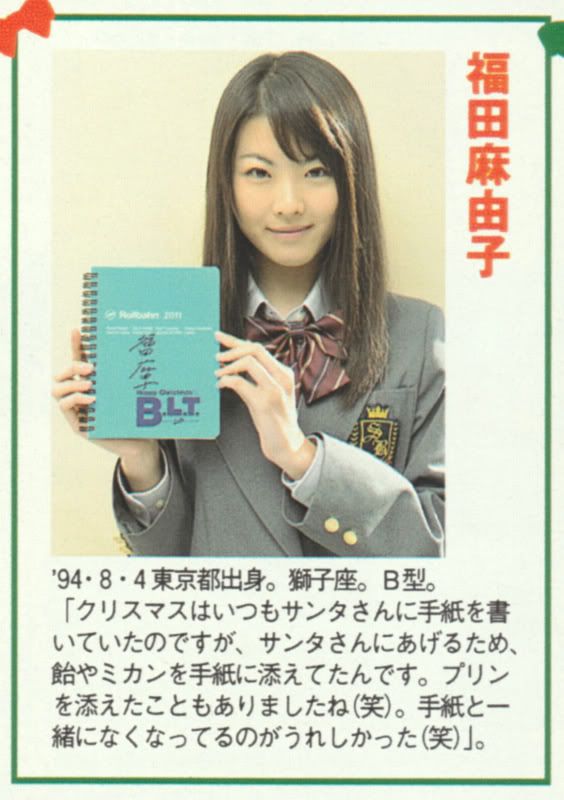 Fukuda Mayuko's Christmas Memory
I always wrote a letter to Santa every Christmas, but in order to liven him up I also accompanied the letter with hard candy and mandarin. There are times where I included pudding with the letter (laughs). It made me happy to find the letter and the food disappeared the next day (laughs).
---------------------
- Translation may be incorrect at some part. I didn't translate word for word, so… :x
- Takahata Mitsuki wrote in her blog about their first meeting for the photo shoot. Of course, like everyone else, she described Mayuko as like an adult even though she's much younger. lol
-  Funny how she always mention her co-stars names compare to Takahata. Mayuko must really be in to the drama. :3
- Speaking of which, did you know that FlaMme (Mayuko's agency) finally put up a blog site for cellphone, called "FlaMme Mobile". Of course, in order to access it, you need to live in Japan, and there's a subscription fee of 315 yen per month.
- FlaMme Mobile is a blog site for the talents in FlaMme and the managers to write about things happening with their talents. Mayuko's manager's blog is called "Shiritai desu ka?" (「知りたいですか?」) or "Do you want to know?". Up until now, I think there are around 3 entries, one about NTV's mascot, Da Bear, one about her photo shoot with Shukan Bunshu, and another about the end of the filming for "Q10". As for Mayuko, her blog is called "Otona ni naru mae ni…" (「大人になる前に…」) or "Before becoming an adult…". At the moment, it only has one entry, which included a greeting for first entry.
- Of course, since I don't live in Japan, I have no idea of the contents, so no translation until it's found somewhere. :<
- On another note, on FlaMme's Mayuko's official page, it's seems her height is now 161cm (around 5.3 feet). She already taller than me. lol. XD;;
☆