Image taken from
mymayuko.com
.
Text for Fukuda Mayuko's interview taken from
mayukofukuda.seesaa.net
.
On page 22 the weekly magazine "The Television", issue December 19 2010, there's a short interview of Fukuda Mayuko and Ikematsu Sosuke for the school drama, Q10.
Large scans for the other fans if they want to translate their favorite actor/actress answers. :)
☆☆☆
In Class 3B, observation of these two who are not much seen.
Interview with the story's key person Tsukiko, played by Fukuda Mayuko, and a special questionnaire for 2nd year student, Kubo, played by Ikematsu Sosuke.
Fukuda Mayuko as Fujino Tsukiko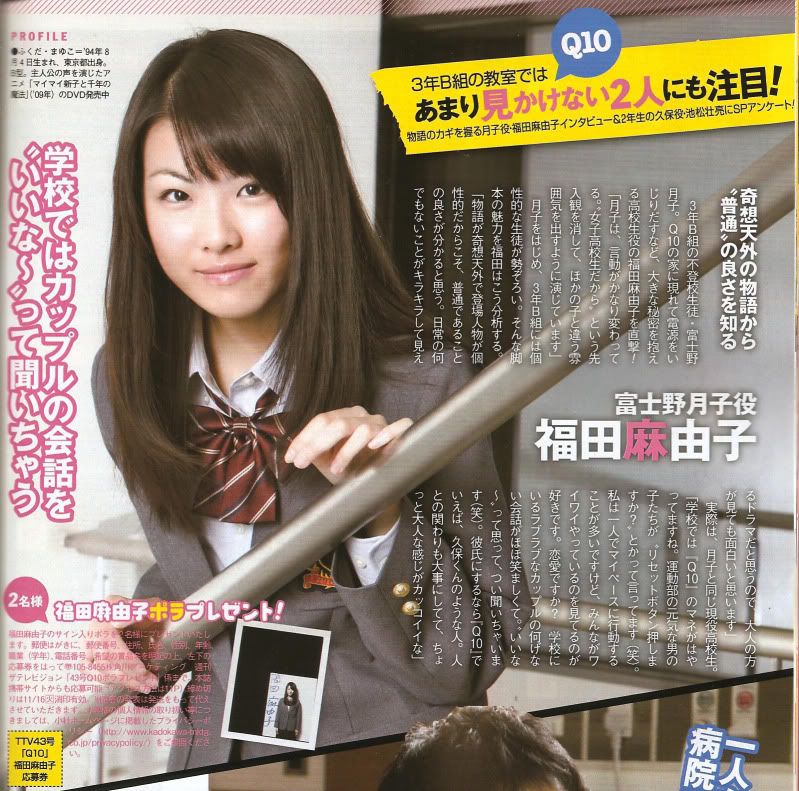 - Class 3B non attendant student – Fujino Tsukiko. She is seen at Q10's house, fiddling with the electric cord head as well as others things, the role of a high school student holding on to a big secret is Fukuda Mayuko!
Fukuda:
Tsukiko's speech and conducts are pretty peculiar. I have to delete that perception of "a high school girl", and perform her with an atmosphere that's different from the other girls.
- At first, Tsukiko is pushed as an individualize student in class 3B. Please tell us about the appeal of the script.
Fukuda
: Due to the reason that the story is bizarre and the characters are individualistic, I think you'll able to realize how good normal things are. Because it's a drama that shows the beauty of common things that we don't tend to think about, I think the adults watching it will also find it interesting.
- In reality, you and Tsukiko are both high school student.
Fukuda
: At school, a lot of people are doing "Q10" imitations. The guys from the sport clubs will say, "Can I push the reset button?" for example (laughs). I usually do a lot of things by myself in a my pace way, but I like it when I see others do things excitedly.
As for love? At school, there are couples in love chatting casually with smiles on their faces. I would thought "How nice~" as I unintentionally eardrops on them (laughs). If I were to choose someone from "Q10" as a boyfriend, it would be a person like Kubo-kun (Ikematsu Sosuke). Treating human connection as something important, that type of adult feel is cool.
☆☆☆
Ikematsu Sosuke
as Kubo Takehiko
DOB: July 9, 1990
Hometown: Fukuoka Prefecture
Blood type A
"
Tomehane!
" (2010, NHK)/ DVD for the Movie "
Looking Up at the Half Moon
" will be on sale on December 2nd.
1. What kind of student is he?
Ikematsu
: He has a bad illness since young, because of that he repeated a year and is currently a 2nd year.
2. How do you spend your break time?
Ikematsu
: I pretty much do nothing.
3. What do you think is "cute" about the opposite sex?
Ikematsu
: Smile
4. Your charm point?
Ikematsu
: I don't have anything special
5. What word would you teach to a robot?
Ikematsu
: Hakata dialect
(of his hometown)
6. A message to the students of Class 3B!
Ikematsu
: Even though the school is also wonderful, but how about experiencing youth together with me at the hospital?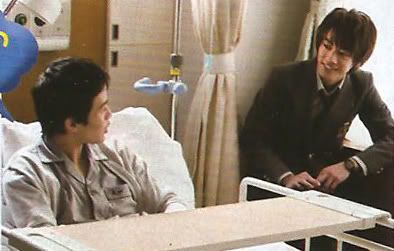 An off shot of them talking together
Kubo and Heita are very close from a young age, that's why there are a lot of scenes with them together. Talking together with a small voice in order for it to not reach the mike, we are able to see a lot of stiffed laughs.
--------------
- Quick translation so it is not 100% correct.
- Actually, about Kubo being Mayuko's ideal boyfriend in here, since the show started, she pretty much became a fan of Ikematsu Sosuke. In the JUNON's Jan 2011 interview (which I just quickly read over the other day), she pretty much said that she hopes to have a chance to talk to him soon. XD;; Ah… Though I probably said it before, but I'm so glad they have the chance of working in the same show. :3
- Sosuke's short answers made me laugh. XD Also the last one, I guess he must be lonely acting by himself most of the time. ^_^;;
- I think it's about time Ikematsu Sosuke has his own Drama wiki page now, don't you? XD;;
☆