This week of
Goseiger
Making Of, taken from
Toei's Goseiger official site
.
Erm yea, did I ever tell you that
Nakamura Sakuya
, who's playing Nozomu, is actually played as one of the patient in "Little DJ ~ Chiisana Koi no Monogatari". Small world huh! XD;; Oh, and he's also part of Amuse along with Kamiki Ryunosuke, Miura Haruma, Satou Takeru, etc...! Even smaller world. >:3 Oh, and he also played the younger Kyu (Kamiki's character) in episode 9 of "Tantei Gakuen Q"... What a small small world. Hahaha, my last random update.

1. This time also, let's proceed~
2. Director Takemoto's hot bloodiness!
3. Power UP!!
4. To become worthy of being a hero...
5. Even when injured, use your whole power!
6. Ei!
7. He also won't go easy on Professor Amachi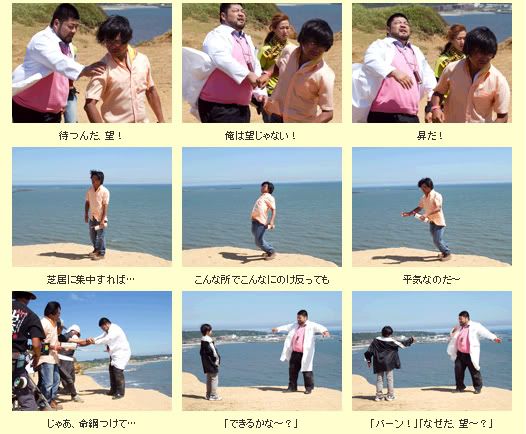 1. Wait, Nozomu!
2. I'm not Nozomu!
3. I'm Noboru!

(Takemoto Noboru is the director's name.)


4. When you're concentrating in the drama...
5. Even if you arched this much at this place
6. I'll assure that it's going to be alright~
7. Then, my life is in your hand...
8. "Will I be able to do it~?"
9. "Bang!" "Nozomu, why~?"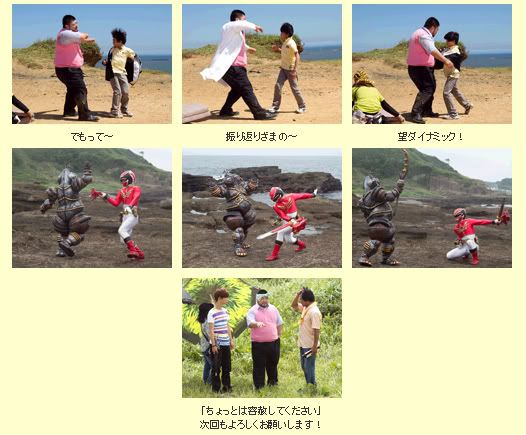 1. However~
2. The way he turned his head~
3. Nozomu Dynamic!
4. "Even if a bit, please forgive me"
Please also look forward to next time!

☆

Stage Greetings



1. Wakayama's talk show
At the end of the greeting, Chiba-kun's eyes became teary...
2. As for Kyoto's talk show
The challenge to reproduced the famous scene.
3. When everything was finish, the 5's faces are
Fully refreshed with determination

☆

Movie Action Scene Making Of


1. The world of Takeda, the Action Director
Is an nondestructive zeal
2. In the sea type, Hamao-kun!
3. Chiba-kun and Izoyama-san jump!
4. Watanabe direction is also at a 3D scale!!
5. Spectacle and
6. Depth are fixated on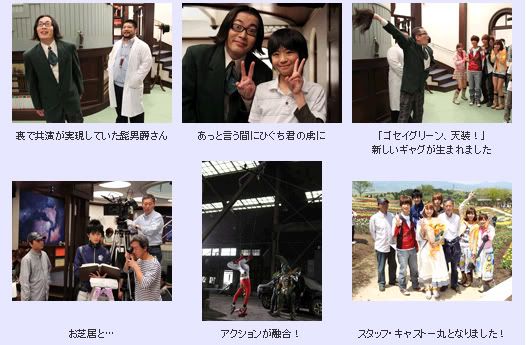 1. On the other hand, able to co-star together are Hige Danshaku-san
2. In a blink of an eye, Higuchi-kun became a captive

(Higuchi is half of the comedic duo Hige Danshaku, where Professor Amachi is the other half)


3. "GoseiGreen, Tensou!"
The birth of a new gag
4. The drama and...
5. The action fused together!
6. The staffs and casts lumped together!

☆