This week
Tensou Sentai Goseiger
Making Of. From
TVAsahi Goseiger site
.

P1. What's love?!  I'll teach you!
P2. Your chest is, for example, palpitating ne
P3. I experienced a lot of love when I was young
P4. The feeling of your heart beating when you commute to school...
P5. Also, the different heart beats after school...
P6. Unrequited love, you don't want it, but it's there
P7. "Iya~, I understand what you mean, director"
P8. When you're starting to loose your patience...
P9. Using your keitai, baki! (the sound of punching your phone number to call someone?)




P1. And then, various confession
P2. Slowly, but impatiently
P3. Em... It's embarassing...
P4. Anyways, it's this feeling
P5. "Director, what about the story of epic 19?"
P6. Ah, oops, I was a bit too excited talking about love stories...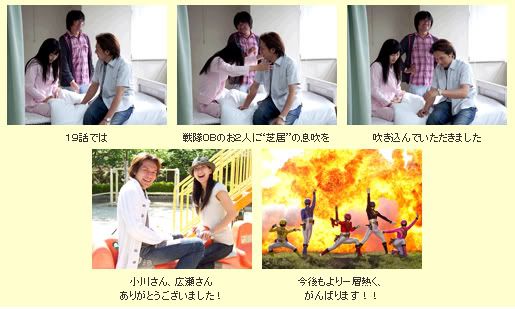 P1. Story of epic 19 is
P2. Included these two sentai OB (old boy) for this "drama"
P3. Accepted to appear
P4. Ogawa-san, Hirose-san
Thank you very much!
P5. Things will get hotter from now on,
We'll do our best!!

- Hirose Satomi and Ogawa Teruaki are from
Ninja Sentai Kakuyranger
, and Ninja White and Ninja Red, respectively.
- OB = old boy = retiree