Another Kamiki old interview. Taken from
Yomiuri
.
Decided to translate this because Kamiki's and Ghibli's 4th cooperation (
Karigurashi no Arrietty
) is going to be out in
July 17
! :D
Published on Febuary 28, 2008 in Yomiuri Newspaper.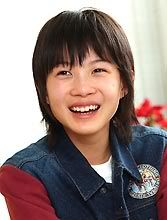 For '
Ghibli Museum, Mitaka
' in Tokyo, director
Miyazaki Hayao
created 3 newest short film, which can be chosen selectively and watch until March 13. One work from these 3, "
Hoshi wo Katta Hi
", is based on a story by painter Inoue Naohisa, who painted the fantasy work "
iblard
". Acting as the voice for the protagonist, Nona, is Kamiki Ryunosuke. (Interviewer: Yoda Kenichi)
-- Have you seen the finished work?
Kamiki
: Not yet. Though, some times ago, I watched the film without music with
Ooizumi You
-san...
-- Do you want to quickly see it?
Kamiki
: Yes!
-- How were you able to act as Nona?
Kamiki
: At first, when I learned that they haven't decided on anyone yet, I asked "I want to audition, can I?", it was a challenge. On the appointed day, when I went to the studio to try out my voice, director Miyazaki told me "Wait a second", when I was wondering what's going on, he said "Let's start recording like this.", and just like that, it became a real recording.
-- Were you surprised?
Kamiki
: I was shocked (laugh). Because, I didn't think it was really going to be a real recording.
-- What did director Miyazaki explain about the work?
Kamiki
: We had a discussion about Nona-kun, a boy who's running away from reality. I remember we talk about such circumstances of the story, but we didn't discuss about the little details.
-- Do you have a circumstance where you also run away from reality?
Kamiki
: U~n... It's actually something that happened recently, I broke something important in my house, at that time I had a strong wish, "Please let this be a dream!" (laugh).
-- What's something you can see yourself in Nona?
Kamiki
: When he fixedly gazed at the star seed and decided to raise it, I think that he's similar to me. Because I'm very curious, when I have an interest in something, I'll become absorbed and forget about other things.
-- What are you into right now?
Kamiki
: Train. Though I love the sound of the train when the motor goes gashagasha, right now, I love the body of the train. Also, recently, I've been bringing my digital camera with me, I've also been taking pictures of many things.
-- For example?
Kamiki
: There's a lot of scenery pictures. A rock from an area, for example. I don't really take picture of people.
-- It will be good if you have an exhibition.
Kamiki
: Yes! It's just that, I've been taking pictures that I think are interesting, but the people who look at them will think that the pictures are strange...
-- From participating in 3 of Miyazaki's work, "Spirited Away" as Bou, "Howl's Moving Castle" as Markl, and this, which character do you think you're closest with?
Kamiki
: Perhaps Markl. Normally, I'm very spirited, even at the site, I'm always talking. About "Howl", even though a lot of people record their voices individually, I was able to meet with
Kimura
(
Takuya
, who did the voice of Howl)-san only once, but I was extremely happy. He's like a prince, I thought he was "Cool!".
-- Is the director strict?
Kamiki
: He's always very kind. But, no matter which work it was, he always told me, "Be a little bit more normal!".
-- Did you frequently meet with the director?
Kamiki
: Beside from when I record, other than that we don't meet. When we met for "Hoshi wo Katta Hi", he said "Your voice is getting lower.", which surprised me.
-- You're going to be a junior high student in April. From now on, what kind of actor are you aspired to be?
Kamiki
: The person I respect is
Ikariya Chosuke
-san. Even with age, he's able to perform well, I want to be able to continue on as an actor.
(The way I translate this sentence may give the wrong impression... Kamiki meant Ikariya-san still always give great performance... Nothing bad about the age thing.)
"Hoshi wo Katta Hi"
While walking in a desert, a young boy, Nona (Kamiki Ryunosuke) suddenly meet a mysterious woman, Nigna (Suzuki Kyoka), and he begins to work on her plantation. One day, he was given a 'star seed' in exchange for the vegetables by two strangers. Approximately 16 minutes. Until March 13, you can choose 1 from this 3 new films, "
Yadosagashi
", "
Mizugumo Monmon
" and "Hoshi wo Katta Hi", to watch. The museum required date and time reservation.
------------
Onto other stuffs... So, because "
Karigurashi no Arrietty
" is going to be out in about 1 month, Kamiki also begins to appear in magazine...
These scans are from the newest
Awesome!
issue (I'm guessing July issue?). Scan by the gracious
king-kun
. Please click on the link to see more great scans by her(?). :)