While I think the movie "
Into the Faraway Sky
" is just plain weird, I do like the friendships between the 3 grown-ups as well as the 3 children. :) I think if the story isn't so strange, I would probably like it a lot more. XD;;

Translation may be incorrect!!
Old interview, taken from
CinemaCafe.net
.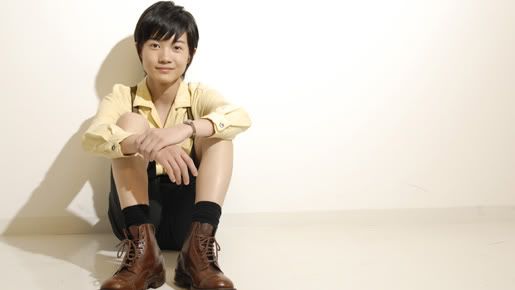 Even though he's 14 years old,
Kamiki Ryunosuke
already has 11 years of career experiences. Currently working on the television drama "Tantei Gakuen Q" and "Dondo Hare", acting as the lead magnificantly in the 2005 movie "The Great Yokai War", with "Little DJ ~Chiisana Koi no Monogatari~" will be showing this Winter (2007), as well as voice acting for "Spirited Away", "Piano no Mori", etc... literally, many versatility activities.
He will shed that image he had up until now, in order to act as Ryosuke, a boy with a bit of rebellious and lone wolf atmosphere, in "Into the Faraway Sky". We will now listen to Kamiki-kun talk about his work with "Crying out Love in the Center of the World" director,
Yukisada Isao
, for this peculiar fantastic atmosphere film.
Due to the circumstances of his father's work, Ryosuke has to change school to a town in the countryside. Having living in the city, he has a bit refine atmosphere to him that make his classmates hard to approach.
"Even though, it's not that I did anything special for his character creation, but I tried my best for his rebelliousness. His facial expression is of course, arrogant, the feeling of laughing at others, so I have to remember it in order to possess a bit of that portion."
In other words, does that mean Kamiki-kun's and Ryosuke's characters are different from each other...? "That's right. I'm the complete opposite." said the smiling Kamiki-kun. "At first, Ryosuke is rebellious, from there, he will bend forward." from the director, talking about his strong impression.
"From reading the script, it's sad, at first I thought, what a lonely boy. He changed school many times, and even in the city, he doesn't have any friends. And then, when he moved to Kohei's town, it's as if it's the first time he had friends, and best friends."
Ryosuke meeting Kouhei, who's like the boss, and slowly begin to make friends. Having a lot of co-actors around him who are his generation, Kamiki seems like he had a lot of fun.
"Because it's really like going on a school field trip with your class, it was extremely fun. The filming is at Hokkaido.
Obihiro
,
Nemuro
, and
Abashiri
(cities of Hokkaido, probably where the filming sites are). During our time off from filming, together, we would go to eat ramen together and buy things from the department store in front of the station (laugh). Even now, I still keep in contact with Sasano-kun (who acted as Kouhei) and them, and hang out together."
Ryosuke's father in this work is
Miura Tomokazu
, also Kouhei's father is
Kohinata Fumiyo
, mama of the bar is
Ootake Shinobu
, and others, actors and actresses with different strengths are gathered in this film. Acting and interacts together with veterans is also important.
"Particularly advices, were given to me, but we don't talk about our acting. But particularly, Miura-san is usually a very kind person, but when he gets in character, he became a strict, and cold father, because of that I thought it was really amazing."
"(Acting as a) different person, becoming a different person is very enjoyable." said Kamiki-kun. After this, "I want to try acting as a villian" he said boldly with a smile. "Because living normally, you can't be like that, so I want to try experience being bad". We'll be increasingly looking forward to his future.
Into the Faraway Sky (Toku no Sora ni Kieta) trailer