Taken from
The Television Web
.
Fukuda Mayuko
, after around 2 years of acting in dramas, will appear on
Ueto Aya
's drama "
Zettai Reido ~ Mikaiketsu Jiken Tokumei Sousa
" (Fuji).
In this drama, with the new Special Investigation Office that was set up by the Police Headquarters as the setting, new detective Sakuragi Izumi (Ueto) along with her colleagues are investigating unresolved cases. Fukuda will have a guest appearance on
May 11 (Tuesday)
,
episode 5
, and on
May 18 (Tuesday)
,
episode 6
. In episode 5, the serial case of "Animal Killing and Wounded" to be open, Sakuragi begins searching for clues. In the midst of this, a mysterious girl, played by Fukuda, appears before Sakuragi. This time, we will listen to Fukuda's interview.
- What are your thoughts when you learn that you're going to act in this drama?
Because I'd been following this drama, Is that right! I'm going to appear in this drama! I thought. Acting together with Ueto-san, who I always been watching, "Why am I (chosen to be) in this drama?" I wondered.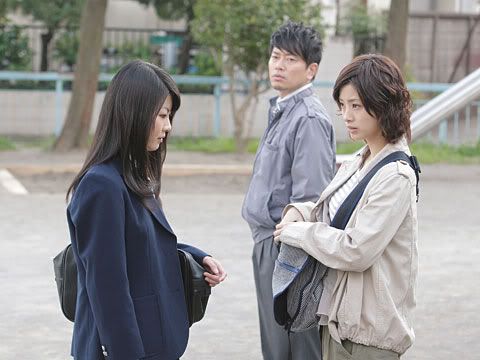 - How is your role a mysterious girl?
(Upon acting) I didn't really thought much of it, but when I thought "This girl is mysterious" so I think it would be nice to use that atmosphere to act.

- About guesting in episode 5 and episode 6?
To be able to give key point to the case, I'm very happy. So far, even though I'd been in suspense drama and movie, it's my first time in a detective story
(I have no idea what she meant by 刑事モノ)
, with a unique solution and tempo, what kind of trap I will fall in, I'm looking forward to it.
- How's the atmosphere on the set?
For this drama, everyone are continuously filming, though it has a peculiar atmosphere, but for me to come into it, it's very friendly, while it may be true that I am separate from everyone else when I think I'm a hindrance to them.
- What's the highlight of the show?
"It's not just about who's the assailant and who's the victim, but about the injuries that many people receive from this case." I think is this drama's, and along with episode 5 and 6, important message that it's trying to convey. Not only the feelings of the assailant and the victim, but also to be able to convey the feelings of the people around them, I think that's really nice.
-------------
- Translation may be incorrect.
- Her character's name in the show is
Miyata Yuki
.
- She will appears in episode 5 and episode 6. :)
- I think by 2 years, they meant having to meet again since
Piano no Mori
(?), but the thing is,
Piano no Mori
is made in 2007... So shouldn't it be 3 years? They can't mean her acting in drama alone, since she had been acting for 10 years already. Strange...
- All these news about the show is making me nervous about her acting. >_<;; It had been so long since I'd seen her acting in a drama.
- Very random but I think she cuts her bangs for this drama! >w<;;