The names are out. Information taken from
Baidu
(because Chinese fans are super devoted and amazing). :) Took me some times to figure out that I need to switch from the Chinese hanzi to Japanese kanji in order for the name to show up on search engine. ^__^;;
For some reason, d-addicts wiki doesn't work for me, so I linked their profile from their official talent site instead.
1. 新井 美生
Arai Miu
(aka
Arai Moe
荒井萌;
blog
)
2. 岡本 杏理
Okamoto Anri
(Seira's best friend from
Shokojo Seira
;
blog
)
3. 香川 サヤ
Kagawa Saya
(
blog
)
4. 川口 春奈
Kawaguchi Haruna
(Himeji Rinka in the drama
Yankee-kun to Megane-chan
)
5. 小池 彩梦
Koike Ayame
(
blog
)
6. 清水 富美加
Shimizu Fumika
7. 栂野 理紗子
Togano Risako
(won the music category from
12th Japan Bishojo contest
)
8. 溝口 恵
Mizoguchi Megumi
(a
Nicola model
,
blog
)
11. 小越 勇輝
Ogoe Yuuki
(
blog
)
12. 北村 将清
Kitamura Shousei
(Amuse's member; appeared in THE GAME Show w/Kamiki et al.)
13. 須賀 健太
Suga Kenta
(
blog
)
I hope this is not the complete list, because there are only 3 guys. :x What ever happen to all the Johnnies? lol I'm happy that Suga Kenta got in though. :D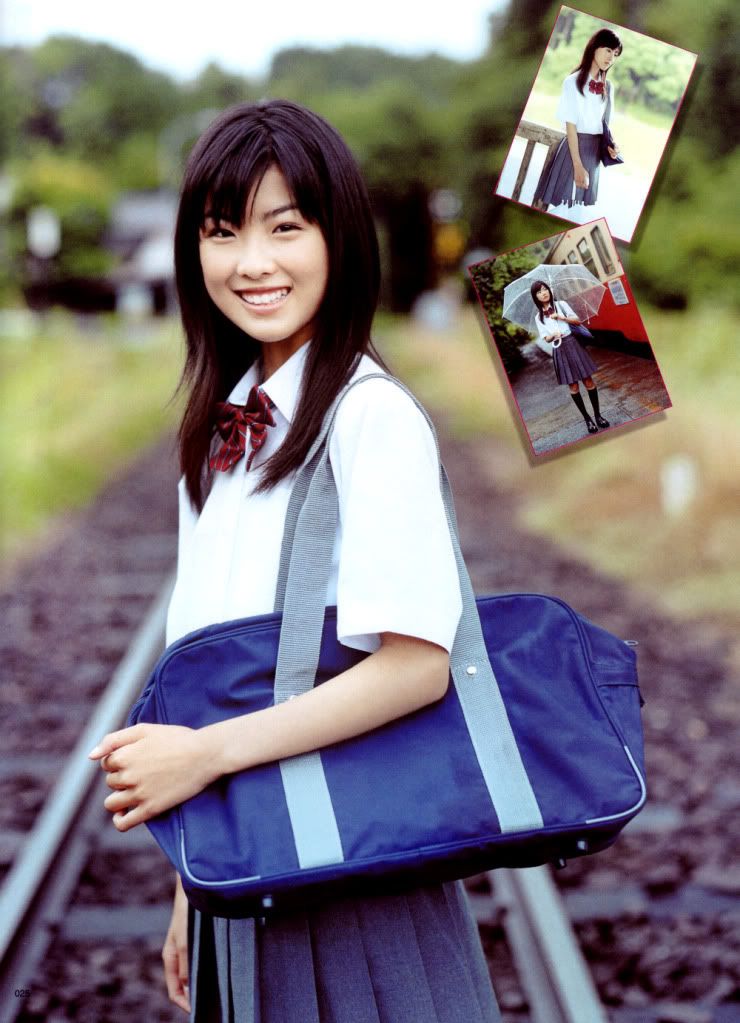 As you can see from this list, Fukuda Mayuko is not listed. She ended up not going to Horikoshi nor the school that Ueno Juri and Hongo Kanata went (
Hinode High school
; surprise, it's also Takahashi Ai-chan high school). While I am quite amused at the response of the despairs from the fans, but not all is lost!
Instead, from the
rumor
I gathered from the internet is that she's going to
J.F. Oberlin High school
(
桜美林高校
or
OBIRIN
Senior High School) instead. Remember, rumors are only rumors until it's proven with proofs, so
take this with a grain of salt
.
From a little bit of researching, J.F. Oberlin is a co-ed,
escalator
, Christian, private school. Escalator school basically means that when moving up a system (junior high to high school), it's not required to take the entrance examination. It seems to have a connection to university as well. I think this kind of schools are hard to get into, but once you are there, you don't have to worry about entrance exams every 3 years. It's also a sister school to Oberlin College in Ohio, USA. School curriculum included English, Math, Language, Social studies, Bible studies, and Science. Every morning, there's a worship before class. There are worship events during the week as well. Some students from this school are
Maeda Ai
(model/actress),
Maeda Aki
(model actress), etc... (mostly people I don't know). But you can check the
wiki site
for the list.
This excerpt which described the school. You can read more about it
here
.
J. F. Oberlin University and Affiliated Schools was established in Japan in 1946, and has expanded steadily over the next sixty years into the present institution. The Machida campus, located on the outskirts of the Tokyo Metropolitan area, encompasses an educational complex which consists of a kindergarten, a junior high school, a senior high school, a four-year university, and a graduate school. In total, there are over 10,000 students studying here.
I'm actually impressed that Mayuko thought that far ahead into her university age and choose this school instead of others. It seems like a famous school. So to get accept into this type of school, she must have studied a lot. But the whole religious worshiping kind of worried me. I think it's more because I read too many Christian school stories/manga (none of them are bad, just... scary).
Of course I'm disappointed that she's not in Horikoshi. I think it would be awesome if Fukuda Mayuko and Suga Kenta are classmates!! It's such a shame they are not... >__<;; But on the other hand, as long as the school allows her to continue working and making dramas/movies, I'm happy!
!!Please allow her to continue working!! PLEASE!! >A<;;
After taking a look at the school site, I think she will have plenty of fun there. That's what she wanted isn't it? To gather a lot of life experiences and enjoy them.
Though, my ultimate dream would be having
Mamayu
(
Fukuda Mayuko
) and
Mayuyu
(
Watanabe Mayu
from AKB48) in the same class... Hahaha. Their nicknames are cute and similar, and they are the same age too. But since Mayuyu's birthday is at the end of March, I don't know if she's in 2nd year or 1st year of high school (school start in April after all). ^^;;