Late on my part (lazy), but you might be able to catch it!
Taken from
"MaiMai Shinko to Sennen no Mahou" production blog
.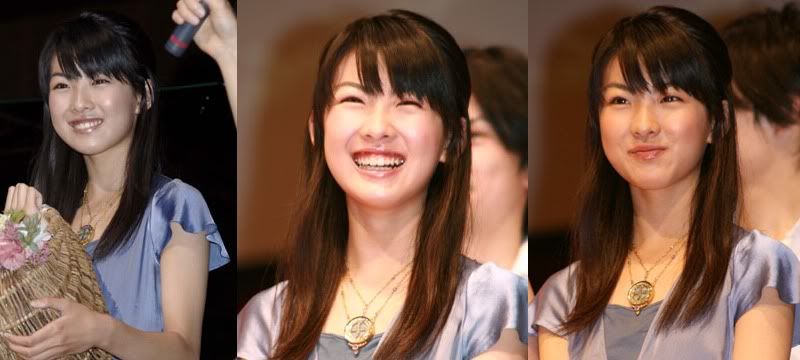 The day before yesterday, the 17th (Saturday), Kichijoji Baus Theater begins showing (MaiMai Shinko) as late show.

On the 23rd (Friday), it was decided that there will be a stage greeting!



Stage Meeting Outline - Date: April 23 (Friday)
- Place: Kichijoji Baus Theater
- Time: 20:30-21:00 (8:30pm - 9:00pm)


(at 21:00/9:00pm, the movie will start, so please be careful of the time!)


- Who: Director Katabuchi Sunao, Fukuda Mayuko (voice: Aoki Shinko)

For ticket details, please look at the

theater's web page

.



Web Double Live Broadcast (of the stage meeting)

There will be a live broadcast of the meeting at

NicoNico Douga "MadHouse Channel"

!

-->

http://live.nicovideo.jp/gate/lv15355745


Further more!

USTREAM

, working together with Twitter, will also show the live broadcast!

-->

http://www.ustream.tv/channel/maimai-shinko
- For USTREAM
During the live broadcast, there will be a corner where Twitter users can ask questions to the people up at the stage!

- Please be sure to follow official account "@maimai_shinko"!
The harsh tag is #maimai_shinko. Important Announcement

There will be an important announcement for "MaiMai Shinko"! Please anticipate it!

--------------

It's a

LIVE BROADCAST

of the stage greeting!

Need I say more? It's a rare chance to see

Mayuko

live! So be sure to watch!

It will be Mayuko's first time, since becoming a high school student, to be out in the public again!

Also, don't forget that the time specified is Japan time, so be sure to convert it into your own time!

---------------

Edit

: Just finished watching the live broadcast. I stayed up all night in order to catch it (because if I go to bed, I won't be able to wake up in time =___=;;).

The whole thing was 30 minutes, but they only uploaded 12 and a half minutes of it so far. I'll post the rest if it show up. The more interesting part is the second part.

Mayuko-chan looks pretty and all grown up here. I'm surprised. Did my best to took some captures, but all of them are blurry. We'll have to wait for the official sources for the clearer ones.

The host introduced Mayuko right away as just entered high school.

Mayuko said at how surprised she is about the long running promotion, and how happy she was when she learned about it.

They had some questions and answers from the twitters. Most of the questions (though not a lot) were directed to Mayuko. I didn't really hear clearly most of the talk, but they will finally be releasing the DVD for MaiMai Shinko. That is the special announcement. It's really funny that the twitters at the sides was "Please quickly release it as DVD!"

In order to commemorate this special announcement of MaiMai Shinko to release as DVD, they brought out this globe thing (I forgot what it's called, but when you pull the string, streamers and a banner with words of congratulation will come out, see pictures). Mayuko was appointed as the one who pull the string as the audience finish saying "Omedetou~" (Congratulations~). What's funny was that the ball was stuck and so nothing came out after she pulled, director Katabuchi had to help out, while the audiences were trying to elongate their "Omedetooooouuuuu~". It was really cute.

After that Mayuko received flowers from the audiences and they began taking pictures for the press.

Here's the first half of the live broadcast.



If the video doesn't work, go here for the clip.