Taken from
goo
. Not direct translation as it's probably incorrect.
Mizusawa Nako
: She does not look like she's a year younger! Mayuko-chan is very adult-like with a calming atmosphere.
Fukuda Mayuko
: Nako-chan is very easy going (laugh). I think it's nice that her smiling face is always sparkling.
- As you try to perform your role, what's is a point to look for when you are creating your character? And likewise, what's the most difficult?
Fukuda
: First, it's Yamaguchi dialect! In order to say it naturally, I practiced a lot at home. Even at the site, I accepted the instructions. Anyways, I need to be able to speak dialect properly, is what I thought. When Shinko is feeling down, or happy, her emotional change is very intense. But even though I'm not Shinko, even when she's depressed, frankly I'll be very worried. When the take wasn't good, we will try to correct it many times, when you think about it, one after another, it comes to look like an imitations of each other. At that time, the director will say "Reset 1 more time, lets try to make it more naturally" to ease the situation. It's not a one person work, it's a work with Nako-chan and other coactor's voices working together to make it possible, and it became easier.
Mizusawa
: It's my first time being an anime voice actress. At first the rhythm of my mouth when I speak wasn't good. On the animation screen, I keep thinking that the tone of my voice doesn't seems to be in sync with the picture... The most difficult part was the narration without picture! Using just voice to convey is extremely difficult. But I was very glad that everyone was recording together. It give me a sense of relief (laugh).
- After watching the finished product, what are your thoughts?
Fukuda
: The pictures are very beautiful and the music is great as well... I was greatly moved that there are many possibilities with animation. The conversations are very nice! While watching this movie, I was frantically holding back my tears (laugh). Even the serious scene doesn't have a gloomy feeling. It easily give off a good message. Even when Shinko and her friends are feeling down, or troubled, they will still give the feeling that they immediately advance forward. I thought this frank nature is cool. It really sparkle (kirakira)!
Mizusawa
: I had a different viewpoints when viewing it the first time with the second and third time. First, at the begining, I would be ashame at my own voice (laugh), but after the 2nd and 3rd time watching it, I noticed other portions of the film. When I watch the children playing happily, the scene gives off a harmonious feeling than, on the other hand, when they are worried about something. That time, together with your friends and climb over your troubles, I thought that was really nice. I noticed the importance of friendships and it gave me great encouragement and happiness.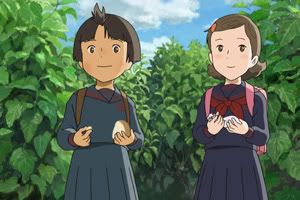 - The setting is year 30 of Showa. What's the responses from your family about this movie?
Fukuda
: My father is from Yamaguchi prefecture Houfushi city, my grandfather is currently living in Yamaguchi prefecture. I was glad to work on this movie (laugh). They want it to be show soon.
Mizusawa
: I usually I listen to talks about their childhoods. My mother is a tomboy similar to Shinko. From her house, she would walk along the drainage, carrying a knapsack on her shoulder as she go to school (laugh).
- How are the mothers' impression when they watch this movie?
Fukuda
: Even though it's an anime, I think there is something that can transmitted across generations. Even though I also able to experiences many things, there are many things that my grandfather and my mother went through that I'm unable to experience. It's vexing when I don't understand them (laugh). Of course for me, I would want to learn about others' thoughts from the same generation, but I also want to hear the impressions from other generations. The 9 years old elementary students like Shinko, I also want to hear their thoughts (laugh)! Also, later on when I'm older, I would like to see if my thoughts have changed.
Mizusawa
: I also have an 8 years old sister who's a elementary 3rd grade student same as Shinko and Kiiko. This time, I observed my little sister in order to work my role (laugh). The children from my little sister's generation are playing in the city, so I think to be able to play in the mud is great and I would be happy if given that chance.
- What are the similarities and differences between the children from Shinko's era and the children from today?
Fukuda
: The children of today use tools like game to play, while the ones from Shinko's period have each others as playmates. Even though that's the differences, but I think the basics are the same. Even if fathers, mothers or us, the way we play are different, there's not a big change despite the different eras. It's still lonely when you don't have any friends, and only when you have friends that you can be happy. I also think everyone have friends.
Mizusawa
: Even if you don't have the tools to play, and even if you don't have a place to play, just by having friends, you are able to enjoy yourself. With a companion, you can have conversations. That's why I think, even with different eras things won't change.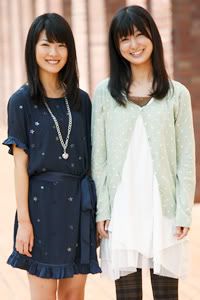 - What's the highlight of the movie?
Fukuda
: The children are very honest, each characters are different, and even though each have their own troubles, they never give up. Always holding on to your beliefs and facing forward. This frankness in this movie is wonderful. Just being with a person allows you to be able to do things together, it's a important feeling. After watching it, it's a warm work. Definitely, please watch it!
Mizusawa
: I am similar to Kiiko's obedient and quiet character, even though I didn't play so many things with my friends, I was happy that I'm able to define a lot of my friends in the characters while making this movie (laugh). The high school and middle school student of today watch it, as well as myself when I become an adult, I think this movie will be able to instruct the children many different things. I think taking advantage of such experiences would be nice. I want the people of our generation to be able to watch it!