Excerpts/summary from
presepe
.
On Nov 11, 2009, at the technology building, science hall, the event for "Come, Yamaguchi Premium Private Showing" took place. Before the private showing, there's a greeting on stage from Shinko's voice actress, Fukuda Mayuko, Shinko's mom, Honjou Manami, and director, Katabuchi Sunao.
They were also visited and presented a bouquet by the wife of the prime minister, Hatoyama Miyuko. Matsumura Kunihiro, who was the previous "Hometown Yamaguchi ambassador" was also there.
Fukuda Mayuko
: The setting for the movie is Yamaguchi in the year Showa 30. I know nothing about this time period. Even though the dialects, and the way to play are completely different, the scenery and playing even changed, what havn't change are the merits of "friendships". Right now, my grandfather is living in Yamaguchi prefecture, that's why I was delighted to do this work. Because I think that there are various different opinions from different generation after watching this, I hope that you'll watch it with your family.
------------------

Excerpts from
eiga.com
.
Fukuda Mayuko, before graduating from junior high, "I want to be honest with my friends".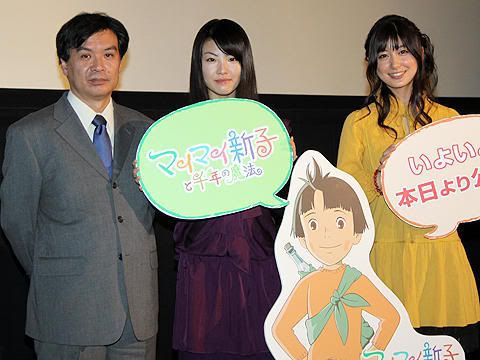 Serving as the voice actress on the first day of showing (Nov 21) for the long animation movie "Maimai Shinko to Sennen no Mahou", Fukuda Mayuko came to Pikaderi of Shinjuku, Tokyo, for a greeting event.
"Even thoug the era is completely unknown to me, however, I still can empathized with it. It's a wonderful story" said Fukuda at the PR. Right now, she's a 3rd year junior high student, getting ready to enter high school, "I was surprised at the large amount of High schools. I'm going to have to say farewell to my friends that were together with me from elementary. Shinko-chan and her friends are still possitive when they have to part, I think they are tied together by self cofidence. From this point onward, I also don't want to have any regrets, so until graduation, I want to be like Shinko-chan, be honest and frank with my friends." she said as she carefully connect her private life with the work.
On the other hand, the role of the new student, Kiiko, is Mizusawa Nako's first attempt at voice actress said, "Even though I was nervous the first time meeting with Mayuko-chan, I think as little by little, while working together, our friendships developed similar to that of the work. I want to continue to experience this atmosphere." Director Katabuchi earnestly talk about the appeal of the movie, "Even though there's only one circumstance from the adult world that can't be avoid, with this exception, this movie depicts it in a genuine children's world. When the adult watch this movie, they may be able to return to that time, with this, everyone may be able to find that important thing. Please think of that sort of feelings while watching this work."
-----------------