Taken from
Enta! 371
. Not direct translation. Just an overview, not actual interview. Perhaps the interview will come out some days later. :/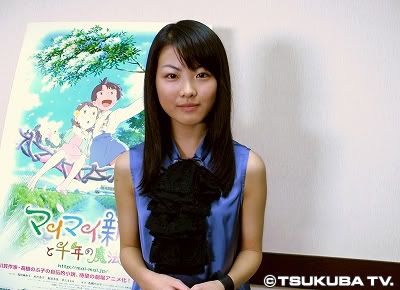 Appearing in one after another well-known works. Although still young, she is still very popular. In Takakura Fuminori(?)'s beautiful girl actress report, Fukuda Mayuko-chan served as the voice to the main character, Shinko. She talks about the charm of the anime movie "Maimai Shinko to Sennen no Mahou", and her private life.
Right now, before the official showing of "Maimai Shinko to Sennen no Mahou" on November 21, we are just before the actual "Please come Yamaguchi, premium preview meet".
Appearing in 2009 "Heaven's Door", "GOEMON", "20th Century Boys last triology: Our Flag" and etc... Appearing in various popular works one after another is a young, but popular actress, Fukuda Mayuko (15 years old).
Beside from frequently appearing in movies and drama for work, she is also a student preparing for exams. While a portion of the work is a relief to her, she also spend a lot of times with her friends from school. Until now, she's most like a 15 years old and has the most fun when talking about having fun with her friends.
On her day offs, she try her best to catch up with her studies. Even though she has to prepare herself for works, she also recently began to watch DVD, read books, completely enriched herself.
After entering highschool, she would like to quickly work in a drama, and to give happy words to fans. From now on, we will be looking forward to her activities.
Each responses are spoken in steady manners. You wouldn't think the composed and quiet Mayuko-chan is still a middle school student.
When compare with talents and actress from her own generation, you won't be able to find someone that possess a unique charm as her. Isn't this why she became heroine in such important roles for movies and dramas again and again.
This interview for "Takakura Fuminori's beautiful actress report" is broadcast on November 11th of "Cinema Actress" corner.