Mark your calendar everyone! Hanayome to Papa (The bride and father) is going to show on April 10 in Japan. :) Not that we, international people, can do anything about it, especially if we don't have Japanese channels! But we can always use bittorent. This had got to be my most anticipated drama in a while, right after is Kuitan2, then Liar Game, and then... I'll just watch every one of them and take my pick. :P
More informations and pictures and be found on Satomi's
journal
. :) Speaking of which, I should add it to my links! :D
----------------------------------------

These captures of RyoxSatomi are from
Teru Teru Kazoku
(てるてる家族). I want to see!! From the few clips on
Youtube
, it looks like an interesting musical drama. Each episodes only span for 15 minutes, and there are 69 (some say 70) episodes total! 見たい~!This drama span from Sept of 2003 to March of 2004, so it's a few years old show. The show take place in Osaka, so everyone speak with an Osaka accent. XD;; Fun!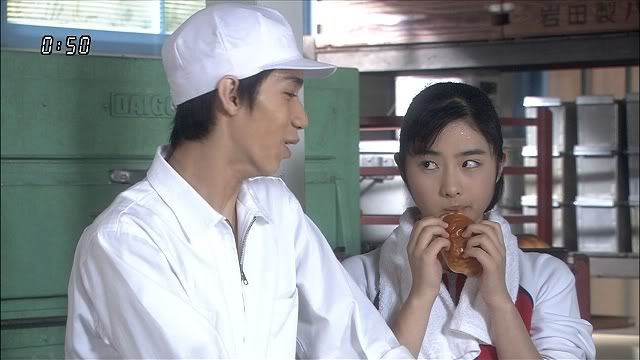 Ishihara Satomi (Fuyuko Iwata) played the youngest daughter of the Iwata family. I think Nishikido Ryo played her childhood friend/worker in her home's bakery, Kazu-chan? (not sure). I thought it was fitting to cast him since he's the "Sexy Osaka Man".. XD;; Other casts include
Ueno Juri
(Nodame of Nodame Cantabile) as the diligent and nice 3rd daughter Akiko,
Konno Mahiru
(wife of Goro in Asuka e, Soshite mada minu ko e SP) as the pretty oldest daughter Haruko, and
Uehara Takako
as the talented 2nd daughter who became a famous singer Natsuko. Also
Kishitani Goro
as the father (also the father of Amame Kaoru in Taiyou no Uta the movie; and Ryoma Echizen in Prince of Tennis movie), and
Asano Yuko
as the mother, Teruko.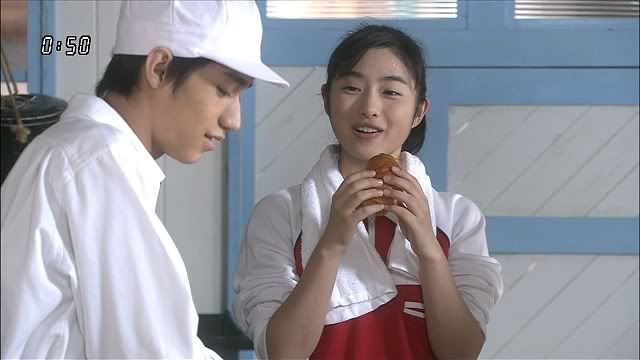 Synopsis taken from Wiki:
The 69th NHK Asadora Drama is
Teruteru Kazoku
. Locations include Ikeda, Osaka and Sasebo, Nagasaki. The story, based on Rei Nakanishi's novel, is about the Iwata family living in Ikeda, Osaka City between 1950's and 1960's. The story is told through the eyes of the youngest daughter, Fuyuko (16). The family runs a bakery. The mother, Teruko, is a very energetic woman who is determined to make her dreams come true. Responding to Teruko's expectations, the eldest daughter becomes a figure skater and the second daughter becomes a very famous professional singer. In contrast, Fuyuko finds her joy in bread making... ---
NHK
If any of the Ryo/Satomi/Ueno Juri fans could tell me where to get this, I would apprieciate it! <3 *hopeful*